Please have a look at our Forum Rules. Lets keep this forum an enjoyable place to visit.
A
A
A

Topic RSS
Tinny A-string
(0

votes)

tamami
Northern California
February 22, 2017 - 5:18 pm
Member Since: February 22, 2017
Forum Posts: 4

Offline
Hi everyone, 
I am a new adult violin learner and am hoping that you can offer some advice.
I bought a used violin about two months ago, which I love, but soon the A-string started to sound very tinny. It sounded awful -- very metalic and no resonance. I thought it was my poor playing technique, but my teacher noticed it and changed the string for me. That was about a month ago. What a difference it made! Sounded amazing, and it made the practice fun again.
About a week ago, I had to take my beloved violin to a luthier because the G-string peg broke inside the scroll. When it came back, the A-string started to sound tinny again. The string is three to four weeks old, so it can't be the string! I'm just so puzzled. My teacher is on vacation so I can't get his opinion. Can anyone tell me what I should check and correct? 
Really appreciate any pointers.

February 23, 2017 - 9:17 am
Member Since: June 7, 2016
Forum Posts: 157

Online
It would be unusual for a string to go bad that quickly, but it's possible. You might want to talk to the luthier. They're experts on how stringed instruments are put together and what can go wrong with them. (Or supposed to be, at least.)
If going to the luthier is not practical, I'd try changing the A string again. If that fixes it, then the question becomes what is killing the A strings so quickly. (Not knowing what brand strings you're using, I can't say much about how long they "should" last.)

tamami
Northern California
February 23, 2017 - 11:15 am
Member Since: February 22, 2017
Forum Posts: 4

Offline
Thank you Charles! I might just have to go see the luthier again. 
The string is Prelude, and I practice about an hour a day, every day. That means the string only lasted for 28 hours! 🙁
I think I need another stash of A-strings... I broke three A-strings in three days when I was just starting out (on my starter violin) because, basically, I had no clue on how you have to go by micro-millimeters when you are tuning. 
So much to learn!

February 23, 2017 - 2:05 pm
Member Since: June 7, 2016
Forum Posts: 157

Online
You might want to consider getting either Wittner or Perfection pegs to replace your regular ones if tuning is a problem. The traditional pegs are 1:1 (one turn of the head means one full turn of the peg body. Perfection pegs are 4:1, Wittners are 8:1.  I prefer Wittners, both because of the gear ratio and because installation of them is really easy.  Both of them hold their tuning when temperature and humidity change MUCH better than standard pegs.
It's still possible to break a string with them, but if you're trying to tune the string, it's not likely.
If you've been stressing the A string a lot when tuning, that might explain the premature aging. 
BillyG
Far North-west Scotland
February 23, 2017 - 2:52 pm
Member Since: March 22, 2014
Forum Posts: 1892

Offline




Are you aware of where abouts the string broke ? Same place each time or not ?   I've seen posts (in different forums) about perhaps a "sharp edge" at the point where the string leaves the nut (so it breaks there), or a string "caught" in the bridge channel when tightening that catches the outer binding giving a weak-point - and finally - someone who actually had damage on a deeply grooved (cheap, not ebony) "rough" fingerboard and it always broke around the "D on the A string" (whilst playing, not during tuning)...    just what I've read - never experienced a broken string...  ( yet ! LOL ) 
If you are afraid - or uncertain - about over-tightening - then consider a tuner ( a real one, or a 'phone app ).   On occasion I tune one of my fiddles a full tone up - not recommended, but well within the tension limits of the strings - and even then, they have never broken either whilst playing or during tuning....  ( and I relax them back to their intended tension once I'm done with what I'm doing )
I seriously recommend not copying my mistakes. D'oh -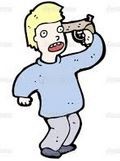 Please make your own, different mistakes, and help us all learn :-)

tamami
Northern California
February 23, 2017 - 6:14 pm
Member Since: February 22, 2017
Forum Posts: 4

Offline
Actually, all of my ever-traumatic string breakage episodes happened on my starter violin, the cheapy ($67 set!). Not sure where it broke, but all happened when I was tuning. Even with the tuner's help, I just didn't know how sensitive it is. 
I've been pretty careful on my current old violin, and have not broken any strings -- yet! But I am having a problem of A-string going tinny on me on this one.
I wonder if it could be the bridge? I might try experimenting with a different bridge tonight. Worst case I can always go back to the luthier. 
Thanks!

February 25, 2017 - 3:28 pm
Member Since: January 19, 2014
Forum Posts: 909

Offline
Well, preludes are steel core strings right?  They are likely, by definition, to sound more metallic than synthetic core strings.  If you like D'Addario you might want to try Pro Arte or Zyex strings instead of the Preludes.  They cost a bit more, but they're pretty much guaranteed not to sound tinny. 
A positive attitude may not solve all your problems, but it will annoy enough people to make it worth the effort. ~Herm Albright

tamami
Northern California
February 27, 2017 - 6:00 pm
Member Since: February 22, 2017
Forum Posts: 4

Offline
Forum Timezone:
America/New_York
Most Users Ever Online: 231
Currently Online: Charles
53 Guest(s)
Currently Browsing this Page:
1 Guest(s)
Members Birthdays
Top Posters:
coolpinkone: 3892
Mad_Wed: 2849
Barry: 2666
Fiddlestix: 2647
Oliver: 2439
DanielB: 2379
Member Stats:
Guest Posters: 1
Members: 4713
Moderators: 0
Admins: 3
Forum Stats:
Groups: 16
Forums: 56
Topics: 6663
Posts: 82855
Newest Members:
Steklobanki-bek, violinerman, bobking, AdminGiftCardRaffleglarl, Bruceerofe, Alisapam
Administrators: Fiddlerman: 12130, KindaScratchy: 1677, BillyG: 1892