Please have a look at our Forum Rules. Lets keep this forum an enjoyable place to visit.
A
A
A

Topic RSS
From California
New Student
(0

votes)

April 12, 2017 - 1:30 pm
Member Since: January 5, 2016
Forum Posts: 2

Offline
Hello from California:
I am another older person who is learning the violin.  I played in middle school for a couple of years.  Now I am 67 years old and have taken it up again.  My Violin has traveled with me for all these years, hiding in under my bed, in storage, and other places around my various homes.  Once or so, every ten or fifteen years I would take it out and play with it.  About eleven months ago, I decided to get more serious. I took the violin to a luithier and had him set it up. I took lessons for about seven months and now have been playing on my own.  I will likely take more lessons in the future but right now, I am playing sheet music downloaded from the web. I have taken great advantage of Fiddleman's downloads.  I plan to retire my old German Fiddle, so I have brought a Fiddlerman Concert Violin that is scheduled to arrive today.  I find playing (learning) very relaxing.  The challenge is something that I really enjoy also.  I have no goals of playing in a group or becoming accomplished.  I just am enjoying myself.  
April 13, 2017 - 8:53 am
Member Since: July 23, 2015
Forum Posts: 1193


Welcome to the forum @rommer25 🙂
You'll love your Concert violin, but unless you just really hate your old little fiddle, don't totally retire it 🙂 I have an old German fiddle I love for using outside. Plus I just enjoy hearing the different sounds each fiddle makes.
I look forward to hearing more about your journey 🙂

April 13, 2017 - 9:01 am
Member Since: June 7, 2016
Forum Posts: 175

Offline
Howdy. Welcome to the group.  From the sound of it, you'll fit right in - that's what a lot of us are here for. Not too many at all that are dedicated to becoming world class performers, or even performers in local orchestras. Performers in local (small) groups is about as ambitious as most of us get, and that's only a small percentage of us at that. Most of us are like you - playing for our own pleasure.

Helvetika
The Paris of the Prairies Saskatoon SK Canada
April 13, 2017 - 11:40 am
Member Since: February 2, 2013
Forum Posts: 78

Offline

April 13, 2017 - 1:37 pm
Member Since: June 8, 2016
Forum Posts: 213

Offline


April 13, 2017 - 10:37 pm
Member Since: January 5, 2016
Forum Posts: 2

Offline
Thanks for the welcome.  
I started playing the violin again because of the need to relax.  Three years ago, to relax, I was bicycle riding about 75 miles a week (sometimes less).  That took up a lot of my time.  I still try to be active. The violin relaxes me and I'm not getting any younger by riding that bike.  There are several instruments in my home from when the kids were here but the violin, I found, does it for me.  
I got my Fiddierman Concert Violin.  It came, like they said, ready to play.   Right now I'm playing it as much as I can to wear the strings in.  It sounds great. 
Thanks again for the welcome.  
BillyG
Far North-west Scotland
April 14, 2017 - 2:55 am
Member Since: March 22, 2014
Forum Posts: 1991




Welcome @rommer25 - and welcome back to playing !
I'm sure you'll enjoy the Fiddlerman Concert Violin - it has served me well for the last 3 years !
And I'd agree with Mandy - keep your old violin - as well as being a "stand in" perhaps for playing outside, or when travelling - it can become a "poor man's viola" by restringing it, or, if you ever consider some of the old-timey tunes you could leave it set up in some other tuning - DDAD or whatever....  
Besides, you can never have too many fiddles....

I seriously recommend not copying my mistakes. D'oh -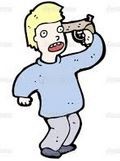 Please make your own, different mistakes, and help us all learn :-)

April 14, 2017 - 3:36 am
Member Since: September 30, 2014
Forum Posts: 310

Offline

April 14, 2017 - 11:17 am
Member Since: February 11, 2017
Forum Posts: 11

Offline
Forum Timezone:
America/New_York
Most Users Ever Online: 231
Currently Online: yellowdresses
58 Guest(s)
Currently Browsing this Page:
1 Guest(s)
Members Birthdays
Upcoming
estudy, augustoad, Mirrim9999, reedc83
Top Posters:
coolpinkone: 3944
Mad_Wed: 2849
Barry: 2666
Fiddlestix: 2647
Oliver: 2439
DanielB: 2379
Kevin M.: 1957
cdennyb: 1808
TerryT: 1701
Ferret: 1575
Member Stats:
Guest Posters: 1
Members: 5536
Moderators: 0
Admins: 3
Forum Stats:
Groups: 16
Forums: 56
Topics: 6718
Posts: 83586
Newest Members:
fayewm16, MichaellDot, Anthonyvoift, celiahz2, shawnjq4, ManuelShoup
Administrators: Fiddlerman: 12308, KindaScratchy: 1687, BillyG: 1991