Check out our Forum Rules. Lets keep this forum an enjoyable place to visit.
A
A
A

Topic RSS
Reading complex music sheets
(0

votes)

January 25, 2012 - 12:27 pm
Member Since: January 22, 2012
Forum Posts: 55

Offline
Hello !
Here will be my first question on this forum. Please not that it is just the beginning of a rainbow, a tempest of question coming. But let start with this one !
When i was young, i learned a bit music theory. I can read notes very slowly ( let say that 80 bpm is a high average of what i am able to read without having any problem (maybe i am a little bit optimistic, but i am working on it.)
The youtube video which bringed this question in my mind was :
I obviously now that it is not a beginner piece, and i am completely okay with this. But i came with a question. When looking to a sheet of music like this, do the player read while he is playing. Or does the player read before, learn some parts which are difficult to read, and when playing, just look at the sheet to keep the good temp, the good accentuation, the good accents, and to know where he is ?
I hardly see myself reading this kind of sheet of music, even in 20 years (actually, read 1 note at a 80 bpm tempo is already hard, what should i say with a 130/140 bmp tempo with 3 notes each beats...)
Thank you for your time !
alex.
January 25, 2012 - 1:15 pm
Member Since: September 10, 2011
Forum Posts: 1969

Offline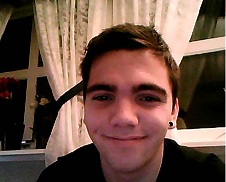 January 25, 2012 - 2:12 pm
Member Since: January 21, 2012
Forum Posts: 121
A friend of mine (That actually can read notes) says that the way he does it. Is that he practices really hard on the entire piece. So that he more or less know it by heart. So that when he sees the segment, he knows what to play.. 
Reading advanced notes consists of several stages, among them are
Analyzing. This is where you slowly and thoroughly go through the piece, reading note for note, visualizing every key.
Practicing. Often you practice a segment at a time. Possibly at half speed or something like that. Until you get a hang of it. 
Memorizing. This is where you try to stand on your own feet. A good analogy would be that someone holding a speech sounds way more sincere, and a lot better if he can talk without reading.. Just using the notes, the general look of the notes as keywords that reminds you of what to play 🙂
This works for him, and everyone he knows. 
As a sidenote this process is entirely dependant on your willingness to practice like a mad horse. It yields good results though.
"Art, as far as it is able, follows nature, as a pupil imitates his master; thus your art must be, as it were, God's grandchild."
January 25, 2012 - 2:31 pm
Member Since: December 9, 2011
Forum Posts: 221

Offline
January 25, 2012 - 3:20 pm
Member Since: December 9, 2011
Forum Posts: 221

Offline
Mad_Wed
Russia, Tatarstan rep. Kazan city
January 25, 2012 - 3:50 pm
Member Since: October 7, 2011
Forum Posts: 2849

Offline



January 25, 2012 - 3:58 pm
Member Since: August 27, 2011
Forum Posts: 178

January 25, 2012 - 4:04 pm
Member Since: January 22, 2012
Forum Posts: 55

Offline
Mad_Wed said
LOL!  /tries to count 6 extralines above.. counting with fingers...D? /

How one can read it ? It's much easier to learn... I can't play with music sheet anyway...
You told me that this forum was fun, this is one more proof 😀
Really liked this one !
@everyone : Thank you for your answers, i begin to understand the process of playing music with music sheets now... (I had music theory lectures, but we never applied what we have learned to the violin lecture i had, in my memory at least. It has been a long time but i never understood how good musicians were doing it)
As i did not receive my instrument yet i try to use my time struggling with music sheets again, it's difficult and painful but it might help later ! 

QuicheLoraine
Nashville, TN
January 27, 2012 - 8:41 pm
Member Since: November 12, 2011
Forum Posts: 84

Offline
Don't you just love those dog-whistle-range octave notes? Lol! Some of those way-the-heck-up-there notes are not instantly recognized by ear or sight alone, but going through fingering positions and counting notes up the scale- we would often write the letter value for them on the music in Youth Symphony for a frame of reference. And those lightning fast notes...36th, no, 64th???...notes. Yeah, no one could learn this by ear alone because no one could possibly hear all of those notes that fast. What Pierre said was our approach in Youth Symphony with some of the more complex pieces....or more realistically, a few people had those down pat, and the rest played air violin- ha!
Can you imagine if they had a "follow the bouncing ball" video (like Karaoke) following the notes while the tune played? That ball would be a zig zag streak.  
TerryT
Coleshill, Warwickshire
January 28, 2012 - 4:32 am
Member Since: December 15, 2011
Forum Posts: 1725
Big WOW!
I'm just chuffed that I was able to follow the music while it was being played.
But tbf, those tram-lines helped.
I guess if you break it down into manageable chunks rather that getting blinded by the whole page, it helps. (just like many challenges we face in life today)


I was born with nothing,
and to my surprise I still have most of it left!
Forum Timezone:
America/New_York
Most Users Ever Online: 231
Currently Online: bluesviolin
48 Guest(s)
Currently Browsing this Page:
1 Guest(s)
Members Birthdays
Upcoming
TKDennis, Ms-G, FiddleDetroit, Bobby, Michael Browder, EBurrell
Top Posters:
coolpinkone: 4081
Mad_Wed: 2849
Barry: 2666
Fiddlestix: 2647
Oliver: 2439
DanielB: 2379
Kevin M.: 1969
cdennyb: 1813
TerryT: 1725
damfino: 1637
Member Stats:
Guest Posters: 2
Members: 9206
Moderators: 0
Admins: 3
Forum Stats:
Groups: 16
Forums: 56
Topics: 7094
Posts: 88383
Newest Members:
HDuaneaz0523, ShelbyMark, manuelahl4, NathanLoume, hilarykc4, Jerrynuple
Administrators: Fiddlerman: 13045, KindaScratchy: 1714, BillyG: 2360