The click track is ready for our "O Holy Night Project". Please visit the Project Page to download.
Check out our Forum Rules. Lets keep this forum an enjoyable place to visit.
A
A
A

Topic RSS
Bad Hair Day? Bow quality question.
Did I get a bad bow for $70?
(2

votes)
      I am very new to playing the violin and I have questions on bow quality. Recently I picked up a Cecillio CEVN-1NA Yep, a very solid violin,but to keep prices down they ship with cheap bow. So, needless to say, after some research I bought a better bow for $70 What I got looked worst than the bow that came with the violin. I have yet to open the sealed plastic sleeve in case I need to return it. I need your opinion on this bow as I took some pics. Is my bow just having a bad hair day or is this a crap bow? Its been rather cool and dry here in Vermont,but had recently rained. Not sure if its humidity doing this.
I wish to share the hair on my new bow, so whats the best way to share the imaged? I have the image posted on my blog,but I don't wish to spam the forums.

November 5, 2014 - 10:15 pm
Member Since: November 5, 2014
Forum Posts: 35


November 5, 2014 - 11:30 pm
Member Since: September 19, 2013
Forum Posts: 234

Offline
Hey Outof ...
Name and model of yer new bow please ...read reviews of same ....look at videos of bow hair care ....and no , you can't tell much without tightening the bow hair to playing configuration ....may just need a wet or dry combing and some rosin ....i recomend powder rosin on a new bow ....but really , check some videos ...there's more than one school of thought on most every violin issue ...

BillyG
Brora, North-east Scotland
November 6, 2014 - 5:54 am
Member Since: March 22, 2014
Forum Posts: 2286




Welcome, @outoftune !!!
  Out of habit, I always relax the tension on my bow when I've finished playing (probably not so essential on the Carbon Fiber bow, but still advisable) - and my bow-hair when relaxed looks much like your images.
  Although, if you have doubts, do as Tucs suggested - name the make and model - there's a fair chance someone on the forum uses the same bow, or has tried it at some time.
Bill
I seriously recommend not copying my mistakes. D'oh -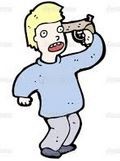 Please make your own, different mistakes, and help us all learn :-)

coolpinkone
California, the place of my heart
November 6, 2014 - 12:01 pm
Member Since: January 11, 2012
Forum Posts: 4007




November 9, 2014 - 10:19 am
Member Since: November 5, 2014
Forum Posts: 35

Thank you for all the great replies. I am a bit more confidant now and will be unwrapping and reviewing this bow on my Youtube channel. The bow in question is the Fiddlermans Carbon Fiber bow and I'm sure that the quality is awesome, I just don't know yet what to look at on a new bow. Unfortunately there is not a music store or violin shop within driving distance of where I live. (not even sure if there is a violin teacher in the area).

November 9, 2014 - 12:07 pm
Member Since: November 5, 2014
Forum Posts: 35

lol, I've already produce some 'chuckles' lol Took me two days of rosining my bow to realize I had to score the top of the rosin before any could get on to the bow. lol There will be lots of great chuckles on my youtube show. I've been using the rosin,bow and strings that came with my Cecilio electric violin.

November 9, 2014 - 10:38 pm
Member Since: September 30, 2014
Forum Posts: 387

Offline
Just a quick question all looking for some opinions/past experience - I have an Pernambuco bow that I re-haired 30 years ago, while the hair appears fine, It seems I have to rosin it quite frequently, every day or every other day to keep a good tone. Would it be money well spent to re-hair it now or wait till the current hairs are worn ready for replacement?  Any thoughts
Thanks,
Mark 
Master the Frog and you have mastered the bow.
Albert Sammons

November 9, 2014 - 10:58 pm
Member Since: September 30, 2014
Forum Posts: 387

Offline
Fiddlerman,
Hairs appear to be in good shape I have another bow that is 5 to 7  years old that I have to rosin frequently not a frequent as the original bow I got with the violin the hairs look good on it also. They just sat in the case all these years till i started playing again 4 months ago or so. Normally I practice 45 to 90 mins a day my other bow is 5 years old.
Mark
Master the Frog and you have mastered the bow.
Albert Sammons
Forum Timezone:
America/New_York
Most Users Ever Online: 231
Currently Online: yellowdresses
45 Guest(s)
Currently Browsing this Page:
1 Guest(s)
Members Birthdays
Upcoming
Reacher, Lenicus, wookieman, Gil, Longstride46
Top Posters:
coolpinkone: 4007
Mad_Wed: 2849
Barry: 2666
Fiddlestix: 2647
Oliver: 2439
DanielB: 2379
Kevin M.: 1969
cdennyb: 1808
TerryT: 1722
Ferret: 1575
Member Stats:
Guest Posters: 2
Members: 7563
Moderators: 0
Admins: 3
Forum Stats:
Groups: 16
Forums: 56
Topics: 6949
Posts: 86703
Newest Members:
Manuelzed, elinormo4, Movelbejam, madelynob2, Taksi154r, FiddleFrog
Administrators: Fiddlerman: 12802, KindaScratchy: 1706, BillyG: 2286