StoneDog is now in possession of the TRAVELING FIDDLE in Warrendale, Pennsylvania. :-)
A
A
A
Topic RSS
New bow
(0

votes)
May 4, 2012 - 2:35 pm
Member Since: May 4, 2012
Forum Posts: 1507
Offline
Ever notice how if you walk into a music store where you know the owner and you're carrying a new instrument, you never get out of there with quite as much cash as you thought you would?
I'd called a couple days ago to ask what brands of rosin they had (very limited selection) and ended up chatting with the owner, who has been selling me stuff since I was a kid.  He asked me to bring along my new toy the next time I came in, so he could get a look at it.
I *was* only after guitar strings on this trip, but I put the violin in the gig bag and took it along.  To make a long story short, he ended up selling me an A. Breton AB-110 after looking over the bow that came with my violin and telling me it was rather heavy and had no noticeable camber to it.  To the credit of the bow that came free with the violin, he said it had all the parts it should and was "very heavy duty".  He also gave me some W.E. Hill & Sons rosin that is quite dark.
 It makes quite a difference.  Just holding them, the new bow only felt a little lighter than the one that came 'free' with my violin (and it is noticeably thinner), but the balance is about an inch and a half closer to the frog and it makes a world of difference to my right hand after playing for a bit. 
Yeah, I'm sure the brands are nothing fancy, but the difference from the bow and rosin the factory included with my violin is very noticeable. 
"Every child is an artist.  The problem is how to remain an artist once he grows up." -- Pablo Picasso

May 4, 2012 - 6:49 pm
Member Since: March 28, 2012
Forum Posts: 822
Offline
Im happy for you! Trying to save some money to get a new bow also, mine is also very heavy though I'm starting to get used to it

I did not had the chance to go visit some luthiers in my city to play with the bows and instruments. I think I'm scared I will be dissapointed with my gear after and get demoralized!
"It can sing like a bird, it can cry like a human being, it can be very angry, it can be all that humans are" Maxim Vengerov
cdennyb
northern California
May 5, 2012 - 3:11 am
Member Since: February 13, 2012
Forum Posts: 1261
I have a few Chinese bows of questionable quality, but they work fine, and they are all 68-69 grams in weight. I have a pernambuco and carbon fiber pair that are tipping the scales at only 59 grams each! That's 10 grams lighter than the 'heavy duty' ones… and let me tell you, it IS quite noticeable when playing them.
I was using a lighter rosin on the heavier bows but find that the lighter weight ones really work better with a dark rosin (stickier) and thus take more pressure to work as well as the heavy ones.
I think you'll be very happy with your new addition… pictures please?
"If you practice with your hands you must practice all day. Practice with your mind and you can accomplish the same amount in minutes." Nathan Milstein
May 5, 2012 - 6:11 am
Member Since: May 4, 2012
Forum Posts: 1507
Offline
Following your example, cdennyb, I weighed the bows.  All I have that measures grams is a food scale, so it's not really accurate for the absolute weight, I don't think.  But even a crude measuring instrument can show difference.  The "old" bow that came with the violin weighs in at just under 70 grams, and the new one weighs in at a little over 55. So yeah, quite a difference in weight.
  In the pictures, the new bow is the darker one on top, the free bow is the lighter one on the bottom.  Near the head, the A. Breton is thinner, and the frog end is heavier, though it is slightly smaller.  It moves the balance point closer to the frog by almost 2 inches, and I think that is part of what makes the new one feel more.. "nimble", for lack of a better word.  Part of the weight difference on the frog is that the slide and eye are abalone on the new bow, while the bow that came free with the violin is some sort of pearloid plastic.  That is easy to test for.  Take a pin and hold it in a pair of pliers or tweezers and heat the point up to red hot and then touch it quickly to the material in question at some spot where it won't interfere with how the piece works.  Abalone or mother of pearl won't melt.  Plastic does.
The workmanship on the old "free" bow is also not quite as good.  Especially near the head you can some spots that weren't smoothed as well, and down near the frog where the thumb goes there's some square edges that are less comfortable to the thumb. But hey, for a bow that came free with the violin, it is certainly still usable and it'll do nicely as a back-up bow for now. 
Playing-wise, the A. Breton is easier to control when bowing near the head, and I can actually get at least a rough spicatto.  Haven't been able to do that with the bow that came with the violin.
The Breton was not expensive, it was listing at the store at $24.95, and he sold it to me for $17.  I don't assume it is a great bow, and I'm sure there are many out there that are much better, but it is definitely an improvement over what I had.  I can say that my right hand likes it better, especially the muscles in the ball of the thumb, since I can play longer before they start to burn.  (Hey, I am still a kak-handed noob.  LOL)
NoirVelours: I wish I could say that all shops are staffed by good people.  But some are and some are not.  I have known the owner of the shop I go to for almost 30 years now.  Even when I had a junk electric guitar back when I was first starting out, he would take time to have me try different instruments and amplifiers and would explain things I could do to make my instrument better.   When I finally bought a decent electric guitar, it was because he had called and told me he had a used Gibson in that he thought I'd want to see.  Sometimes it was an effect, sometimes a part, sometimes an adjustment, and I have learned a lot from him over the years, and got a lot of encouragement. 
A good music shop (or luthier, I would think) is mostly interested in you playing and enjoying playing.  Sure, they'll sell you stuff, they have rent to pay.  But it will be things that make your playing easier or better sounding.  It is worth the bother to find such shops.   If you try a shop and all they want to do is run down your current instrument as part of  sales pitch to sell you a new one, and they aren't people who encourage you as a musician.. Then they aren't good people, and you try another one.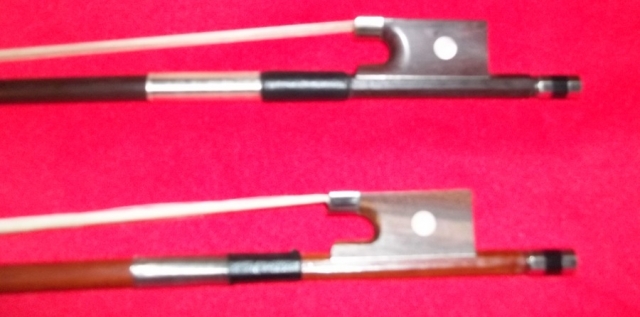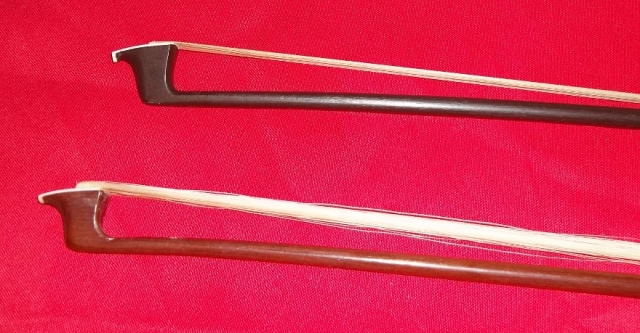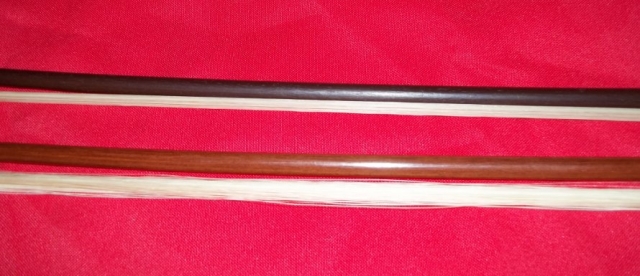 "Every child is an artist.  The problem is how to remain an artist once he grows up." -- Pablo Picasso
May 10, 2012 - 11:21 am
Member Since: April 26, 2012
Forum Posts: 5
Offline
May 10, 2012 - 12:38 pm
Member Since: February 28, 2011
Forum Posts: 2130
Offline
May 10, 2012 - 1:18 pm
Member Since: January 21, 2012
Forum Posts: 1766
AMEN Oliver,  the hair from two of my bow's disappeared while being stored in the violin case for a period of time.  I asked my luthier what caused that, he said "carpet mites"
I said I don't have bug's in my rug's, he said they are there, you can't see them. He said they get in where you wouldn't believe anything could get in.
I don't keep my bow's in case's no more, they hang on the wall, well you can see in the picture how they're kept.    

Forum Timezone:
America/New_York
Most Users Ever Online: 231
Currently Online: discountsale, RosinedUp
24 Guest(s)
Currently Browsing this Page:
1 Guest(s)
Members Birthdays
Upcoming
HeadCheese, Mad_Wed, ButteryStuffs
Top Posters:
Mad_Wed: 2442
Oliver: 2130
Kevin M.: 1886
Fiddlestix: 1766
Barry: 1707
TerryT: 1625
Member Stats:
Guest Posters: 1
Members: 1987
Moderators: 0
Admins: 1
Forum Stats:
Groups: 12
Forums: 35
Topics: 3821
Posts: 51205
Newest Members: jakop, Kdt, sovello, Beautiful Mind, antman, summerzayn
Administrators: Fiddlerman (7436)