Please have a look at our Forum Rules. Lets keep this forum an enjoyable place to visit.
A
A
A

Topic RSS
Time to plan: my 'first' fiddle (UK based). Advice needed!
(0

votes)

July 21, 2015 - 5:54 pm
Member Since: July 18, 2015
Forum Posts: 34

Offline


 Hi all,
Well, now...  At the end of August I shall be buying my first fiddle, and very excited about it I am too!
I'm aiming to spend about maybe £250-£300.  Less is good, but - well, whatever...
At the moment, I'm playing on a borrowed Stentor Student I.
Here's my current thinking:
I think it's probably a generally good idea to get as good an instrument as I can for the money, beginner or not.  Whilst I can always upgrade later, it's obviously helpful to not have to.
One option - of course - would be the Fiddlerman range - but I don't know if FM ship to the UK?  (The concert option at $399 falls into price range, at £256, and includes a great bow and nice case, etc, but this would be plus delivery, and, probably, taxes).  As far as I can tell, they're not available through the UK Amazon...
Another option would be the Cecilio CVN-500.  They seem to be around the £155 delivered mark ($240 by today's exchange rate).  I guess it would be good to factor in the price of a better bow.
Alternatively, there's always the Stentor Student II (I can't actually say I can muster much enthusiasm for this, but it is fairly well respected, I guess).
There's always the 'go the whole hog' option for the Cecilio CVN-600, at £305 (though currently out of stock on Amazon), but I haven't been able to find much of a comparison between the CVN-500 and the CVN-600?  The 600 might be 'overkill' for someone of my limited talents, though I'd hope to 'grow into it' at some point in the future...
Or there are likely to be other choices that I haven't thought of or come across (Stentor Conservatoire, for example..?).  I don't know enough about violins, in fairness, to brave the second-hand market, and I don't know anyone over yet who is sufficiently knowledgeable to rely on to make that decision for me - hence sticking to new brands.
Any thoughts would be very gratefully received!

July 21, 2015 - 9:38 pm
Member Since: June 21, 2015
Forum Posts: 240

Offline

Have you considered Gliga? I believe they are available in the UK through Elida online, and perhaps you can also find them at a local music shop. Here in my city (in the US) they are carried by at least one of the local violin shops.
I've only tried out a couple of specimens, but I found them to have a pleasant, warm tone that I liked. There are several different models of Gliga violins, in a variety of price ranges. The ones I tried were about $400 for an outfit (violin, bow, case).
BillyG
Far North-west Scotland
July 22, 2015 - 12:05 am
Member Since: March 22, 2014
Forum Posts: 1654

Offline




@Reptile Smile - a number of members here have the FM Concert, myself included.  Ordered directly from FiddlerShop, where it gets set up by Mike, and tested out by Pierre with a quick video posted of it being played.  Their service is second to none, you have nothing to worry about whatsoever in that regard.... (other than having to pay the VAT equivalent through customs - when that happened here I thought - oh no - another few days before I get it - but no - it all happened by a quick e-mail and online bank transfer to HMRC - and Connie ( my Concert! ) arrived the next day ! )
Whatever choice you finally make, I wish you success with your playing.  But be careful, be very careful - I have only been playing for a year and a bit, and I now have three viddles - the Concert violin (I could never call it a fiddle!), a viola-strung fiddle and an EV.....  and I'm giving very serious consideration to a further EV ( a 5-string )  LOL.  You could well be on a slippery slope here....

I seriously recommend not copying my mistakes.  
Please make your own, different mistakes, and help us all learn :-)

Jim Dunleavy
United Kingdom
July 22, 2015 - 4:15 am
Member Since: April 19, 2015
Forum Posts: 240

Bill, did you have to pay import duties? I bought some piano parts from the US and had to pay when they arrived here - I also had to pay the UK branch of the carrier a fee for kindly taking the money off me as well. Grrr!
RS, buying from Fiddlerman shop is one way of ensuring that the fiddle is properly set up when you get it - something that is not always the case when buying online. An alternative is to find a luthier or maker close by. They will usually offer student instruments alongside their expensive hand-made ones and you can be sure it will be properly set up.
I'm also thinking of getting a better fiddle (nearer Xmas though) and have found a violin maker close by who sells a student range properly set up in his workshop. He is also a pro violin player and will demonstrate the instruments for you if you're a beginner.
BillyG
Far North-west Scotland
July 22, 2015 - 4:41 am
Member Since: March 22, 2014
Forum Posts: 1654

Offline




@Jim Dunleavy - yes my friend, VAT at 20% - but I had expected that.   I think HMRC only bother if the value is above £50 - I've had lots of small items from USA and China (including a spare FM bow etc) and never had to pay anything.  This was the first (relatively) costly item I imported.
I seriously recommend not copying my mistakes.  
Please make your own, different mistakes, and help us all learn :-)

coolpinkone
California, the place of my heart
July 22, 2015 - 1:25 pm
Member Since: January 11, 2012
Forum Posts: 3767




July 28, 2015 - 1:34 pm
Member Since: July 18, 2015
Forum Posts: 34

Offline


Right, well - all plans have changed..!
My constraining factors were that (a) the violin I'd acquired to practice on turned out to be 3/4 size, (b) when I tried a full size violin, it was noticeably easier, meaning that getting a full size fiddle was preferable in the near future rather than the far, and (c) the impending summer holidays meant that I didn't have the available cash to buy *quite* the fiddle I wanted.
However - I turned out to have been in the right place at the right time to see this in a local second-hand shop: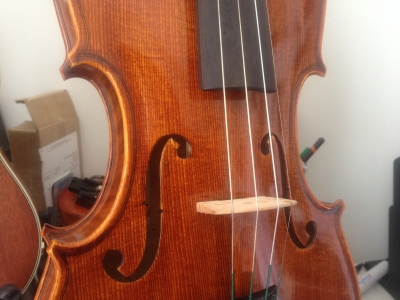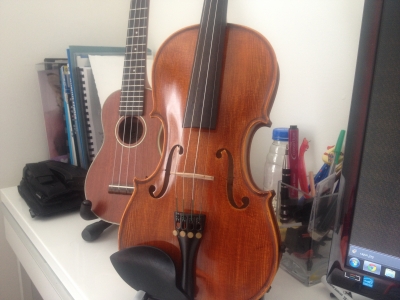 I hope the image sizes are ok - apologies if they're anti-socially large.
She's a Hidersine Piacenza I, in great condition.  I absolutely love her!  Love the two piece figured back, love the sound - just thrilled all round!  She has a lovely case, and is probably one of the nicest instruments I've ever owned! (In the big scheme of things, that probably doesn't say much about the quality of instruments I owned, but still...)
Inevitably, I've ended up with a couple of questions.  Does having fine tuners on every string mean that the tailpiece can't be wood?  The one I have seems a bit plasticky in comparison to the rest of the fiddle.  (It's not actually plastic - it's alloy, which I know because the paint is slightly flaking on one spot - another reason that it would be nice to replace the tailpiece at some stage)  Or are fine tuners on every string not really something I should be aspiring to..? (I gather that on higher quality violins they only tend to be on the E string, as you're kind of expected to be able to tune from the pegs).  Does anyone have any opinions about the Wittner Finetune pegs?

July 28, 2015 - 11:54 pm
Member Since: January 19, 2014
Forum Posts: 890

Offline
Pretty fiddle.   I like the looks of the grain on the front and good flames in the back. You can put fine tuners, such as the wittner style, on a wooden tail piece and the tuners don't cost much. 
A positive attitude may not solve all your problems, but it will annoy enough people to make it worth the effort. ~Herm Albright

coolpinkone
California, the place of my heart
July 29, 2015 - 1:02 pm
Member Since: January 11, 2012
Forum Posts: 3767



Forum Timezone:
America/New_York
Most Users Ever Online: 231
Currently Online:
35 Guest(s)
Currently Browsing this Page:
1 Guest(s)
Members Birthdays
Upcoming
HeadCheese, Mad_Wed, ButteryStuffs, kit, makinnoise
Top Posters:
coolpinkone: 3767
Mad_Wed: 2849
Barry: 2661
Fiddlestix: 2637
Oliver: 2439
DanielB: 2379
Member Stats:
Guest Posters: 1
Members: 3556
Moderators: 0
Admins: 2
Forum Stats:
Groups: 16
Forums: 56
Topics: 6443
Posts: 80364
Newest Members:
FerSZ, elaine a, Mukundan, MyMing, dbsimon, stirlingite771
Administrators: Fiddlerman: 11706, KindaScratchy: 1651