Join the forum discussion on this post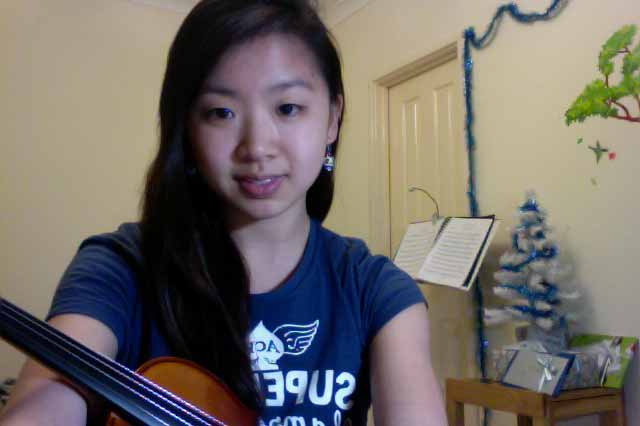 If you like, please begin by telling us anything you would like to about yourself. Age, place of birth, residence, etc.
Hi everyone, I'm Candice (aka Chinny) I'm 19, was born in Singapore but moved to Australia when I was 5. I still visit Singapore every year because of relatives. I'm currently studying a double degree at the University of Western Australia.
What made you decide to play the violin?
There's a funny story behind this one actually. When I was like 8 (possibly younger) I only knew of a few instruments, one being the violin. When mum was using the bathroom I went up to her and asked if I could learn the violin because I wanted to play concerts for her, in the bathroom. I don't know what I was thinking but mum ended up getting me violin lessons through the school. I swear I must have been out of my mind back then but just to clarify things, I never played a solo violin concert in the bathroom for my mum and I don't want to do it anymore either!
How long have you been playing the violin?
I played for 4 years starting in 2000. Picked up the violin for another 2 years in 2005. Picked up the violin again this year. It's been a bumpy road but all up I've been playing for a grand total of roughly 7ish years now.
How often do you play? How long are your practice sessions?
I play when I'm bored and want to procrastinate. I stop practising whenever I feel like it. (On average I tend to practise for about an hour I think)
In your opinion, what's your proficiency on the violin?
High Beginner/ Low Intermediate level. I only ever finished grade 3 books.
Your greatest personal experience with playing?
When you can have jam sessions with other people with all sorts of instruments.
What other instruments do you play?
I'm trying to learn the ukulele. I just bought one this year.
What does music mean to you?
It's a great stress relief but it also eats up a lot of time.
What or who has been your greatest influence?
My siblings. Them yelling at me telling me I suck contributed a lot to why I quit the violin twice. They don't tell me that anymore though. Maybe it's because I use a silent electric violin most of the time now.
What are your goals for playing violin? Short and long.
Short term goal: FiddlerMan Christmas project!
Long term goal: Learn more so that improvising at impulse jam sessions are easier.
What type of violin training?
The first time I picked up the violin I learnt Dr Suzuki method. Second time I picked up the violin I learnt AMEB method. Third time, I'm just winging it and playing for enjoyment.
How do you warm up?
I don't… does taking my violin off the wall/bookshelf count as a warm up?
What is your favorite type of music?
I don't actually know. I enjoy a large variety actually, ranging from mild dubstep to trance to pop to game soundtracks to 90's etc.
What is your favorite piece of music? Why?
Lemon tree by Fools Garden. I grew up listening to that. I also grew up listening to What becomes of the broken hearted (but I don't know who that's by), Cats and Phantom of the Opera both by Andrew Lloyd Webber.
What are your 2 favorite things to do other than playing violin?
1) Eating midnight snacks
2) Chatting with my friends
Do you come from a musical family? If so please tell us about them.
My brother and sister completed grade 8 piano, both played the recorder when they were little, both play a bit of self taught guitar. My sister also played self taught flute which she seemed to have really enjoyed. My dad likes to sing oldies to me, typically songs I've never heard of.
Are you a member of any orchestra?
Not anymore. I use to be part of my school orchestra when I was younger though.
Do you ever perform publicly?
No. Even if I tried busking, I think people would only give me money to get rid of me haha!
What do you work with?
I don't work. I'm still living off my parents, but I'm studying Engineering
If you don't mind, please share with us information about your violin and bow and if you have several please tell us about them as well.
I have two violins, both of which I love very dearly:
1) Acoustic Hofner violin, 4 strings (GDAE). Bought it in 2005 for $1.6k AUD. It was made in 2003. The model is 66 full sized. I like to use my Kun shoulder rest for this violin. I bought my wooden 'Jubilee' bow with my violin for $200 AUD.
2) Electric violin. Full sized Yamaha Silent Violin SV-255, 5 strings (CGDAE). Bought it mid 2011 for $2.5k SGD. I use my wolf shoulder rest for this violin. The bow was bought at the same time, it's carbon fibre and cost me $500 SGD.