A
A
A

Topic RSS

I SUCK !!
melt down





(4

votes)

coolpinkone
California, the place of my heart
July 1, 2014 - 6:47 pm
Member Since: January 11, 2012
Forum Posts: 4180






That is indeed a great list Barry. I do review it often.  I need personally to do a bit more on that list.
 I do keep the violin handy.  But sometimes we feel down... or frustrated.  Sometimes when we are down we just need our musician friends to understand.  The list is daunting and hard when we are at a melting point.
I had a great phone conversation with a fellow member here today about violin.  It motivated me  and when I get to ramble on to a fellow violinist, I get very excited to play and try new things out.  
Then a good bud (wink) sent me a link to Holistic violin today, it was VERY refreshing.  I liked what I saw. I am eager to find sometime tonight to check posture and try some of her stuff. 
All these nice things help me along my journey.  I hope that I can help others along the way also.
Love,
Toni


Vibrato Desperato.... Desperately seeking vibrato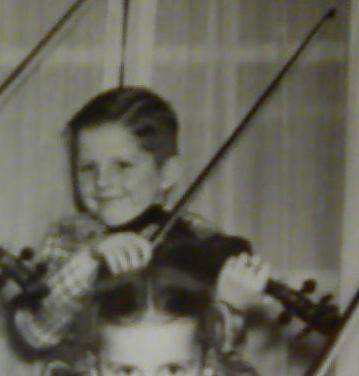 July 2, 2014 - 1:02 am
Member Since: January 21, 2012
Forum Posts: 2647

July 2, 2014 - 2:17 am
Member Since: August 22, 2011
Forum Posts: 485

Offline
This was discussed in the chat box earlier in the day:
Ratvn:we got one of our long time member, Barry, in a bad mood as he was wondering if he should quit violin, lol, don't know how to lift up his spirit, other than giving him some beers
...
.....
Ratvn:yeah, may have to post a reply to Barry ......
It happens to all and what Ferret said
"But what I think is most likely, Barry, is that as you've gotten better, you've also "raised the bar" on what you expect from your playing"
holds good for everybody else undergoing this phase.
If music be the food of love, play on;
Give me excess of it ..(William Shakespeare in Twelfth Night)

July 2, 2014 - 9:06 am
Member Since: December 25, 2013
Forum Posts: 878

Offline


You are raising the bar, absolutely true.  You have improved and it is wonderful.  Too bad all of us can't look at these assessments as amazing steps, leaps forward!!
I think it is natural to raise the bar as we improve.  When I first started I couldn't even tell the difference between my son's cheap violin and mine.  Now that is craziness, pure craziness.  Mine has such a deep rich tone and I couldn't tell the difference?   
Now me I completely bombed at the jam last night!!  I missed last week and I paid for it!!  Even though I practice every day my first tune was a horrible screechy mess.  I tried to start 3 tunes and when they got back to me I completely went blank, totally - nothing in my head only the breeze going through my ears!!
I gave the man who plays mandolin my violin and said play it!!  He did like a mandolin and it sounded very cool not taking a full break but just adding notes in here and there.  I want to be that free in playing!!! 
One highlight to keep me going.  I was ready to leave early.  I cry at the drop of a hat and I kept saying to myself - oh please do not start crying!  Someone asked me if I knew Ashokan Farewell and I said well the first part and started playing it. He was pleasantly surprised.
Hang in there @Barry!!
Violinist start date -  May 2013  
Fiddler start date - May 2014
FIDDLE- Gift from a dear friend. A 1930-40 german copy, of a french copy of a Stradivarius.  BOW - $50 carbon fiber. Strings - Dominants with E Pirastro Gold string.

Mad_Wed
Russia, Tatarstan rep. Kazan city
July 4, 2014 - 5:17 pm
Member Since: October 7, 2011
Forum Posts: 2849

Offline




Hey, Barry! 
I can't compare any instrument to the violin. When my dad bought me a guitar, i could play some tunes quite decently in a couple of month. Same things with the piano (synthesizer in my case) - couple of months - and i play some tunes with chords and arpeggios (having no idea what chords and arpeggios i actually play LOL!) and they sounded quite nice (not good, but ok). NO SUCH THING WITH THE VIOLIN!
3 years and 3 months with the violin and sometimes when i play i think that there was no all this time of learning, because i sound like a swarm of flies!! 
Violin is hard to learn. Mostly because no sound happends without the involvement of violinist (not considering pizzicato). You have to control everything: from the intonation (not piano or guitar thing) to the dynamics within every single note (again piano and guitar do it by themselves (unless someone plays guitar with the bow =))).
I think You're doing good. And i don't understand why You don't see much progress in theese 6 years - it's obvious.
Forum Timezone:
America/New_York
Most Users Ever Online:
696
Currently Browsing this Page:
1
Guest(s)
Members Birthdays

Upcoming
MikeV, Mikey, Alfi, muck, MikeM70, sampow, oldtimebanjo
Top Posters:
Mad_Wed: 2849
Barry: 2680
Fiddlestix: 2647
Oliver: 2439
DanielB: 2379
damfino: 1992
Kevin M.: 1971
cdennyb: 1815
TerryT: 1728
Ferret: 1575
Member Stats:
Guest Posters: 3
Members: 27391
Moderators: 0
Admins: 7
Forum Stats:
Groups: 16
Forums: 60
Topics: 8798
Posts: 109196
jessicatran, BlairFiddler, thekalkulator, Playingagain, Tomas
Administrators:
Fiddlerman: 15289, KindaScratchy: 1756, coolpinkone: 4180, BillyG: 3569, MrsFiddlerman: 2, Jimmie Bjorling: 0, Mouse: 2470
©
Simple:Press
—