Check out our Forum Rules. Lets keep this forum an enjoyable place to visit.
A
A
A



Topic RSS

What do you think?
I have an older violin here in sad shape...





(1

votes)

July 31, 2013 - 9:57 pm
Member Since: July 26, 2013
Forum Posts: 12

Offline
"Under the bludgeonings of chance
 My head is bloody, but unbowed."
~Invictus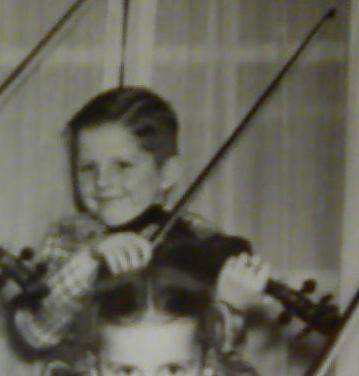 July 31, 2013 - 11:03 pm
Member Since: January 21, 2012
Forum Posts: 2647
Judging by the looks of the chin rest, it appears to be an old violin. I have a 130 yo violin with that same type chin rest, very small and basic.
I would think that for around $ 125.00, it can be put back in playing condition.
From what I can see, it need's a tailpiece adjuster, or tail gut, new string's, sensibly priced, and bow rehair job. Is the sound post still standing inside, even if it is, it would be wise to have a new sound post installed, they do wear out.
You may want to show more picture's from different angle's / view's for us to see. Are the seam's tight where the top and bottom attache's to the rib's?.  Violin's have a tendency of seam seperation at the chin rest end because of body heat and moisture, I think. My violin had seam seperation at 5 month's old and was brand new last August.
I think with a little bit of work, you have a keeper there.
Ken.

July 31, 2013 - 11:16 pm
Member Since: January 14, 2013
Forum Posts: 888

Offline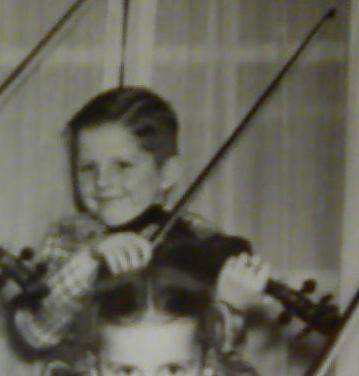 July 31, 2013 - 11:37 pm
Member Since: January 21, 2012
Forum Posts: 2647
@StoneDog;  I would go local, find a good luthier that you can trust, it's very hard to diagnose anything using the net and other's opinion's. On the other hand, you can probably do most of the diagnosis yourself,  by just looking at the condition of your, "viddle", lol,
You already have at least one in good playable condition,, begin by comparing the two. Begin by inspecting the top and back, check for crack's in the wood. Check where the top and bottom meet the rib's, any seperation need's to be repaired. They generally seperate at the chin rest end, more than not, if they are going to come apart at all. Check your tailpiece adjuster and by all mean's have a new sound post put in by a qualified luthier, the sound post must fit exact for the best sound. Maybe a new bridge will also be in order.
Good luck with it.
Ken.

August 1, 2013 - 1:04 am
Member Since: December 14, 2012
Forum Posts: 256

Offline


I don't see a bridge in Joseph's picture; hopefully it's in the case somewhere, otherwise add that to the cost of getting the violin playable. And make sure it's a 4/4 size; hard to tell from the picture but looks like it might be smaller. But as Ken mentioned, $125 might be a reasonable amount to get a working outfit.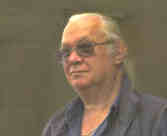 Ferret
Byron Bay Australia
August 1, 2013 - 2:13 am
Member Since: April 22, 2012
Forum Posts: 1575




August 1, 2013 - 5:53 am
Member Since: July 26, 2013
Forum Posts: 12

Offline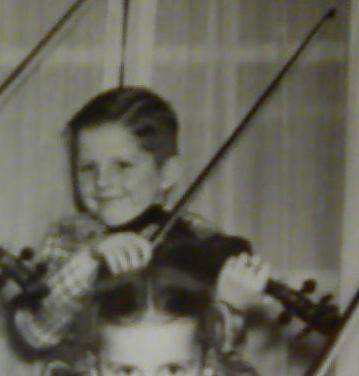 August 1, 2013 - 9:20 am
Member Since: January 21, 2012
Forum Posts: 2647
@JWHPC85
I definately think you have a violin worth fixing up.
Photo #1. Looks as if the string's are real gut and  "Piastro" brand. Two bridge's, which appear to be of different width's, no big deal a new bridge can be fit also. Those pesky bow bug's have attack the bow hair and it will need to be rahaired. Like I said in my previous post, you will need a new tail piece adjuster.
Photo #2. I see below the end pin there is some seam seperation. Several nick's and scratche's which are minor. I see no crack's in the top, what about the bottom.
Photo #3. Antonio Stradivarious label, more than likely/probably it's a copy, although one never know's. Stradivarious made over 1,100 stringed instrument's in his lifetime, no one really know's how many are still around that have not been discovered. Maybe some were lost in house fire's or just thrown away do to damage that was thought unrepairable. From the light shining in from the opposite F hole, you can see what appears to be the shadow of the sound post, (still standing) but you will need to have a new post fit properly by a qualified luthier. I also see the two nitche's in the F hole are not staggered, they appear to be directly opposite from each other, unless it's just the angle the photo was taken. I have no idea if that has any bearing on the age of the instrument or the violin maker.
Photo #4. It absolutely need's a new set of peg's. I would say that that violin has been played a whole lot, judging by the G string peg, it's been tuned and pushed in so many time's that the peg protrude's way past the outside of the peg box on the E string side and has greatly enlarged the hole, the thumb nut is broken off for the A string peg which is visible in photo #1, laying next to the two bridge's.
In my opinion it's definately worth repairing and made playable again. It has a nice grain in the top wood.
Get her playing again. 

Ken.

August 1, 2013 - 12:49 pm
Member Since: July 26, 2013
Forum Posts: 12

Offline
Very cool, thanks for all of the advice guys.  
There is indeed a sound post inside and it seems to be intact.
There are two bridges of different sizes and one of them appears to be angled in an odd way....or maybe it's normal, not quite sure....either way I'll post a pic.
Note how the bridge seems to curve down on the left side?  I've no idea if this is normal or what.
I think I may just try and fix this one up myself (or contact a local member, thanks for the idea on that btw).  It'll be a great learning experience.  
Any ideas on how to determine the approximate age of the violin?
"Under the bludgeonings of chance
 My head is bloody, but unbowed."
~Invictus

Picklefish
Merritt Island, Fla
August 1, 2013 - 2:11 pm
Member Since: June 25, 2012
Forum Posts: 1281
The only thing in my opinion that matters is what is it worth to you? The glued together parts are the only things that dont get improved upon anyways. mostly. I think its beautiful and if you dont want to restore it, send it to me.
"Please play some wrong notes, so that we know that you are human" - said to Jascha Heifetz.

August 1, 2013 - 5:25 pm
Member Since: September 7, 2012
Forum Posts: 985

Offline
I have a violin, probably of a similar age, that was in similar condition a little over a year ago, and I was able to set it up on my own.  As Pierre said, you can get this thing in shape for not much money.  It needs a new tailgut, strings, one peg, and possibly a sound post.  You already have a different violin you can play, so you don't have to be in a hurry.  You can study up and do the work yourself---and the question you asked about the asymmetry of the bridges indicates that you have a lot to learn.
I'll mention a few points.
Each peg is fitted to its particular hole, so don't go taking them all out at once without a way to be sure each one goes back in the right hole.  See the recent thread wherein @ozmous fits new pegs to his violin using sandpaper.
Don't go trying to clean it without reading up.
Yeah, make sure the soundpost is up and fitted in the right place before you string it, or you could crack the top.
I would not put the cheapest possible strings on it.  Preludes at about $15 make a good start.
Sometimes the spruce top ages and shrinks faster than the ebony saddle, and that can cause the top seam to open when you restring it for the first time in years. Removing and replacing the saddle and shortening it by say half a millimeter would prevent that.

August 2, 2013 - 10:07 am
Member Since: May 17, 2013
Forum Posts: 277



Forum Timezone:
America/New_York
Most Users Ever Online: 231
Currently Online: BillyG, Irv, MoonShadows
65 Guest(s)
Currently Browsing this Page:
1 Guest(s)
Members Birthdays

Upcoming
Shell, Squiryl, GlassTownCur, mcassidy2004, Reptile Smile, MyMing, CarolineNH, JamesRSmithJr, SethroTull86
Top Posters:
Mad_Wed: 2849
Barry: 2673
Fiddlestix: 2647
Oliver: 2439
DanielB: 2379
Kevin M.: 1969
damfino: 1907
cdennyb: 1814
TerryT: 1726
Ferret: 1575
Member Stats:
Guest Posters: 2
Members: 20471
Moderators: 0
Admins: 8
Forum Stats:
Groups: 16
Forums: 58
Topics: 7725
Posts: 96571
Newest Members:
marshayv2, juanitaym69, tanyacu16, Isisoleou, fyutkbychuryic, paigeck18
Administrators: Fiddlerman: 14219, KindaScratchy: 1732, coolpinkone: 4168, BillyG: 2820, MrsFiddlerman: 1, Jimmie Bjorling: 0, SimplePressHelp: 0, peopleshost: 0