Check out our Forum Rules. Lets keep this forum an enjoyable place to visit.
A
A
A



Topic RSS

Yet more fresh meat...





(0

votes)

September 17, 2012 - 4:03 am
Member Since: September 17, 2012
Forum Posts: 3

Offline
Heya folks,
Have been lurking about the forums and chat for about a week, and figured it was time to say howdy

Quick background on my relationship with the violin: I took a handful of lessons when I was a little fella, but only stuck with it for a few weeks before giving up. Having regretted that lack of perseverance on and off ever since, I thought it was time to try again.
I'm attempting the self-taught route this time around, with the aid of online resources and a couple of printed books - only a couple of weeks into the whole process currently, so am very, very much a n00b as yet.
Many thanks to FiddlerMan for this great site, btw - it's very approachable

Cheers,
Louie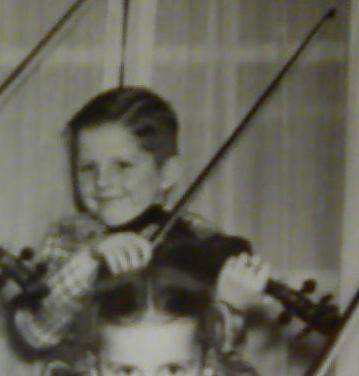 September 17, 2012 - 6:21 am
Member Since: January 21, 2012
Forum Posts: 2647
Welcome aboard, Louie.
You've come to the right place for learning violin. Many of us here played when younger and given up. I myself played for six year's, from 4 - 10 year's old, but that was back in the 40's. I played guitar for year's in different band's, playing in bar's and club's and picked up the violin several time's along the way, but never stuck with it.
When I found Fiddlerman last January, I had picked it up again. If it wasn't for this website, I more than likely would have put it down again. I have to face it, i'll be 69 (hmmmm) on Friday so if I put it down again,,, maybe i'll never pick it up again.
Anyway, enough of that,,,, welcome again, you'll enjoy it here, lot's of great people and alot of beginner's like yourself.


Picklefish
Merritt Island, Fla
September 17, 2012 - 8:15 am
Member Since: June 25, 2012
Forum Posts: 1281
howdy do! Dont underestimate the importance of developing a good tone by starting very slowly and going through the beginning paces. Its not so much a race to start playing twinkle twinkle as it is in mastering the art of fingerplacement and good bowing. We are all in it to win it! Nice to see you on here. pfish.

"Please play some wrong notes, so that we know that you are human" - said to Jascha Heifetz.

September 17, 2012 - 10:48 pm
Member Since: September 17, 2012
Forum Posts: 3

Offline

coolpinkone
California, the place of my heart
September 18, 2012 - 12:11 am
Member Since: January 11, 2012
Forum Posts: 4168







Mad_Wed
Russia, Tatarstan rep. Kazan city
September 18, 2012 - 4:40 pm
Member Since: October 7, 2011
Forum Posts: 2849

Offline





September 18, 2012 - 6:00 pm
Member Since: September 17, 2012
Forum Posts: 3

Offline
Thanks guys

coolpinkone: Am loving it so far; as this thread goes to prove, everyone here has been most welcoming - it's a really great community y'all got here

cdennyb: Is amazing the difference - I think as a kid I liked the _idea_ of playing the violin, but in the end my mother had to all but drag me to lessons before realizing I just wasn't going to get that far

Fiddlerman: Thanks for the welcome, and once again, thanks awfully for putting together such an amazing set of resources - it's by far the most comprehensive site I've found - kudos

Mad_Wed: Certainly seems that once it's under your skin, it just won't leave ya be - don't think I've heard a song featuring a violin in the last many years that didn't have me thinking "if only I'd stuck with that...". Nice to meet you too:)
Cheers all,
Louie


October 7, 2012 - 3:36 am
Member Since: June 14, 2012
Forum Posts: 4

Offline

Forum Timezone:
America/New_York
Most Users Ever Online:
424
Currently Online:
113
Guest(s)
Currently Browsing this Page:
1
Guest(s)
Members Birthdays

Upcoming
knpjdad, microcell, blueviolin, iamnotanoctopus, Abby, gruff, Deedee-
Top Posters:
Mad_Wed: 2849
Barry: 2673
Fiddlestix: 2647
Oliver: 2439
DanielB: 2379
Kevin M.: 1969
damfino: 1913
cdennyb: 1814
TerryT: 1726
Ferret: 1575
Member Stats:
Guest Posters: 3
Members: 23653
Moderators: 0
Admins: 8
Forum Stats:
Groups: 16
Forums: 58
Topics: 7889
Posts: 98445
letitiazm3, vasutaaderfory, Hollyker, josephbx2, christianyb69, nilaaderfory
Administrators:
Fiddlerman: 14472, KindaScratchy: 1736, coolpinkone: 4168, BillyG: 2921, MrsFiddlerman: 1, Jimmie Bjorling: 0, SimplePressHelp: 0, peopleshost: 0
©
Simple:Press
—