Check out our Forum Rules. Lets keep this forum an enjoyable place to visit.
A
A
A



Topic RSS

"Bowing parallel to the bridge"





(0

votes)

April 21, 2012 - 1:35 pm
Member Since: July 12, 2011
Forum Posts: 177

Offline
I kind of hate that simplistic statement that gets used over and over because:
a. on average you can bow parallel and yet lose the contact point many times
b. the ear is trained to listened to pitch change and not subtle dynamic change
c. I can't feel if I am on contact point 2,3, or 4 if I'm not looking at the bridge
I would say bowing parallel doesn't really get to the heart of the problem.   Its more like abrupt imperceptible movements that you are not aware of occuring cause loss of contact point.  You can bow crooked as long as its under smooth control.  The Pareto principle (80-20 rule) in violin seems to be focus 80% of the time on pitch patterns and the fundamentals of bow technique are glossed over as trivial. 
I would like to look away from the bridge, make one up and down bow with smooth bow change and then ask the question:  How many times did I lose the contact point?  And the answer for me is:  I don't know if know how to tell without always staring into a mirror.  I can't hear or feel subtle changes in contact points.

TerryT
Coleshill, Warwickshire
April 21, 2012 - 2:00 pm
Member Since: December 15, 2011
Forum Posts: 1726



April 24, 2012 - 12:30 pm
Member Since: July 12, 2011
Forum Posts: 177

Offline
Pierre, isn't it self-evident that bowing parallel to the bridge is natural?  I don't need Perlman to tell me thats preferrable to bowing erratically.  These cute mathematical abstractions of pressure, speed, and parallelism don't really work as well as advertised because the physics is more complicated.  I can't just draw an imaginary line in the middle between the bridge and fingerboard that is parallel to the bridge and fingerboard, label it contact point 3, and then practice bowing on that imaginary line with each open string and then call it a day.   The same values for pressure and speed would not work on all 4 strings.  The line would have to be drawn at an angle because the strings have different physical characteristics.  Also , as soon as I shorten a string by stopping it with the finger, a new combination of speed-pressure is required to maintain the Contact Point (CP) which is necessary for a parallel bow.  Parallel as a mathematical property isn't helpful.   For example, why is it so much easier to bow correctly on the D string as opposed to the A string?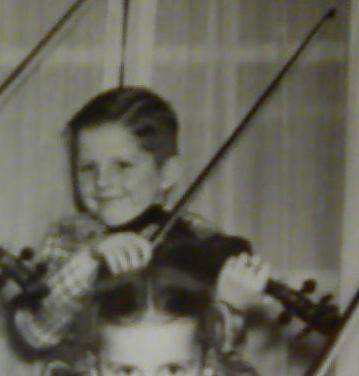 April 24, 2012 - 12:44 pm
Member Since: January 21, 2012
Forum Posts: 2647
You use the term, "imaginary line", then you should make a line you can follow.
Here's how, clean the rosin off your strings, over rosin your bow, make one pass across the string's in a straight pass. Make it parallel to the bridge, then follow your rosin line for each stroke. Don't waver off that line.


April 24, 2012 - 12:49 pm
Member Since: January 6, 2012
Forum Posts: 525

Offline

April 24, 2012 - 1:11 pm
Member Since: July 12, 2011
Forum Posts: 177

Offline
I guess I'm arguing that if, for example, you stare at the contact point constantly with parallelism in mind, its really not that helpful in developing fine motor control.   Why is it not possible that the contact point is being lost simply by erratic pressure fluctuations caused by not bowing constantly at a 90 degree angle to the string?  Nobody talks about this with the fanaticism of parallelism.  And yet, as a self-leaner, if I had to evaluate whats frustrates me with the bow:
a) persistent weak pinky prevents straight (vertically speaking) bow
b) the jolt bow change screws everything up in general
If I had to summarize the major stumbling block towards practicing scales, it would be the damn smooth bow change I have mostly ignored.  I've been practicing parallel bows for weeks now, and the only accomplishment has been that the neck pain has gone away completely.   I am going to practice nothing but Colle exercises (especially at the frog) for the next 2 weeks. 

April 24, 2012 - 1:34 pm
Member Since: July 12, 2011
Forum Posts: 177

Offline
springer said
Bowing parallel was the first thing that I practiced.  It will take me years to stop drifting around on the strings but at least I am usually close to parallel and not all over the place.
Thank you springer.  You have beautifully put into words the reason for my incessant whining.  Now what is the difference between drifting within a 1/2 inch range compared to 2 inches?  In both cases, the contact point is lost.  This is my beef with the Perlman video on Youtube.  The question he receives is that of a person practicing for a year and yet the contact point is still being lost.  His unremarkable answer is bow parallel to the bridge and develop flexibility in the wrist.  How the heck can someone practice for a year and not realize bowing straight is a first step towards controlling the bow?

April 24, 2012 - 3:12 pm
Member Since: July 12, 2011
Forum Posts: 177

Offline
Fiddlerman said

Composer said
Pierre, isn't it self-evident that bowing parallel to the bridge is natural?

Maybe not that it is natural but probably that it is optimal.
But does Bowing Parallel = A Singular Contact Point?
I say not necessarily.  You can fishtail up and down with the bow within a very narrow width and I bet almost everyone would say that is bowing parallel very well indeed.  Except I argue this is not maintaining a single contact point which is the objective for a beginner because the objective is to produce the best tone in the simplest possible manner.  Maintaining a *constant* speed and a single contact point in the most forgiving region (the middle) between bridge and fingerboard is the first step in bow control.  You can bow crooked and still produce a good tone if you are aware of your moving the contact point but this is not only necessary, but initially it is harder to master.  Much like there is continual confusion over why formal scale practice is important, the reasoning behind bowing parallel is also not perfectly clear.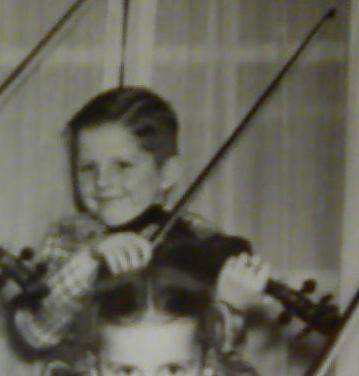 April 24, 2012 - 4:42 pm
Member Since: January 21, 2012
Forum Posts: 2647
@ Composer.... You may not be able to bow straigh, but you sure can entertain.
Not trying to be a smart ass about this, but are you holding your violin at a 90 degree angle to your body or maybe even a little higher. If your fiddle is drooping, this can have an affect on the travel of the bow.
Also, I improved my bowing with the moving of my  chin rest over the tailpiece, it moved my forearm farther around. Now when I bow, the bow actually is on a slight angle with the tip of the bow pointing more toward my left shoulder, which helps the bow from traveling toward the scrowl.
Another thing you may concider is, try to make sure your right shoulder is not drawn back like you were standing at attention. The farther your shoulder is pulled back the more your elbow and forearm will be pulled back, causing your bow to angle across the string's.


Forum Timezone:
America/New_York
Most Users Ever Online: 231
Currently Online:
57 Guest(s)
Currently Browsing this Page:
1 Guest(s)
Members Birthdays

Upcoming
estudy, vitthal36, augustoad, Mirrim9999
Top Posters:
coolpinkone: 4107
Mad_Wed: 2849
.: 2671
Fiddlestix: 2647
Oliver: 2439
DanielB: 2379
Kevin M.: 1969
cdennyb: 1813
TerryT: 1726
damfino: 1687
Member Stats:
Guest Posters: 2
Members: 10548
Moderators: 0
Admins: 3
Forum Stats:
Groups: 16
Forums: 56
Topics: 7171
Posts: 89229
Newest Members:
evelynpu3, cathryngj4, leonlk3, stellawh11, lesliesv11, reginacv2
Administrators: Fiddlerman: 13231, KindaScratchy: 1721, BillyG: 2406