Check out our Forum Rules. Lets keep this forum an enjoyable place to visit.
A
A
A



Topic RSS

Broke my E string.
Want to cry.





(0

votes)

February 7, 2014 - 6:56 pm
Member Since: February 1, 2014
Forum Posts: 14

Offline
So today was going to be my first full day of practice, because I have the whole place to myself this evening/night. I noticed last night my violin was horribly out of tune since I got it on Wed night, so I tuned it using the fine tuners and everything was good. Before I finished for the night I realized the fine tuner on the E string was all the way down so I loosened it before putting it away thinking I'll re-tune it today. The E string was the first string I went to tune and it was initially on D so I used the peg and it slipped right away, I got a little frustrated and started wiggling the peg and the next thing I know the string snapped and my thumb is bleeding. I was soooo excited to practice today, now I have no E string. I'm going to attempt to play on the other 3 unless for some reason I shouldn't. I also noticed last night when playing that my violin likes to buzz, at first I thought it was from the bow, but it isn't and I have no clue why. So there's my vent/cry for help thanks to whoever reads it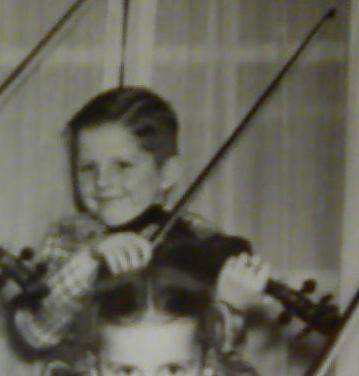 February 8, 2014 - 3:11 am
Member Since: January 21, 2012
Forum Posts: 2647
Yep, Calvin, that's the one most likely to break while tuning, but there's no harm to playing with only three strings. I remember playing a recital when I was about 7 years old, my E string snapped while I was playing solo on stage. Fortunately the song I was playing didn't require the E string so I just continued (after some laughter from the audience). That was 63 years ago. 
There's been a few broken since.
Ken.

February 8, 2014 - 8:43 am
Member Since: January 14, 2013
Forum Posts: 888

Offline


Mad_Wed
Russia, Tatarstan rep. Kazan city
February 8, 2014 - 3:14 pm
Member Since: October 7, 2011
Forum Posts: 2849

Offline




Well, at least You can look at this form the positive side - You had at least 3 useful lessons:
1) Tune carefully;
2) Have a set of backup strings (that's why i don't throw away my old strings);
3) How to have a good practice with 3 strings =)
Cheer up, mate, fiddler's allowed to cry for 3 minutes, and then should go back to practice =)


February 9, 2014 - 6:26 pm
Member Since: February 1, 2014
Forum Posts: 14

Offline
Thanks for all the tips everyone. It did turn out to be a blessing in disguise because like StoneDog said I really needed to work on my bowing and fingering, but more importantly holding the instrument comfortably which I'm still trying to figure out.
Mad Wed- Your response put a huge smile on my face, thanks for that 🙂 
I was able to make it into the shop yesterday, the luthier gave me a hard time initially (in jest) but had no problem throwing another string on there. I was using a K. Holtz fiberglass bow and I asked him for advice on the hair tension because a friend said I was bowing with a flat bow, he looked at it and was like "I don't like this bow, let me grab you another" so he went and grabbed what I'm assuming was his generic brazilwood bow and I've been using it but I don't know if I like it better than the K. Holtz or not. He also gave me a foam shoulder rest that he had forgotten to give me, and had me purchase one of those green tubes that goes in the f-hole which was $12 (sigh), but now I'm not so scared to leave the fiddle in my cold basement. I asked him for an extra E string in case it happened again, and he threw me a whole set of Preludes, which is a downgrade, but I think he's planning on me breaking a few more :p

Forum Timezone:
America/New_York
Most Users Ever Online: 231
Currently Online: steveduf
40 Guest(s)
Currently Browsing this Page:
1 Guest(s)
Members Birthdays

Upcoming
Shell, Squiryl, Schaick, GlassTownCur, mcassidy2004, MyMing, CarolineNH, JamesRSmithJr, SethroTull86
Top Posters:
Mad_Wed: 2849
Barry: 2673
Fiddlestix: 2647
Oliver: 2439
DanielB: 2379
Kevin M.: 1969
damfino: 1907
cdennyb: 1814
TerryT: 1726
Ferret: 1575
Member Stats:
Guest Posters: 2
Members: 20560
Moderators: 0
Admins: 8
Forum Stats:
Groups: 16
Forums: 58
Topics: 7728
Posts: 96608
Newest Members:
JassyJaneee, dfczchuryic, kimah18, costumechuryic, Konstantinchuryic, WalterVop
Administrators: Fiddlerman: 14222, KindaScratchy: 1732, coolpinkone: 4168, BillyG: 2828, MrsFiddlerman: 1, Jimmie Bjorling: 0, SimplePressHelp: 0, peopleshost: 0