Check out our Forum Rules. Lets keep this forum an enjoyable place to visit.
A
A
A



Topic RSS

A Half-fingered Half-vibrato?





(0

votes)

October 13, 2012 - 1:15 pm
Member Since: May 4, 2012
Forum Posts: 2379

Offline




What I mean by "half-fingered" are where you don't apply enough pressure to actually bring the string into contact with the fingerboard to get what we'd usually call a "true" note.  But it is not the light touch at a node one does when playing a harmonic either.  It is stopping the note with just the finger instead of pressing it against the fingerboard.
The concept came up when were were discussing another instrument the erhu, in another thread here a while ago.  Some might recall that I was thinking that using just the finger as the stop could have some applications as a playing trick/technique.  I think I found one.  I'm just going to call a note played that way a "half fingered" note because it is shorter.
When playing an open string, one of the problems is that you usually can't do vibrato.  No finger on the string, no vibrato.  Also open strings can sound a bit more harsh or bright than fingered notes.  A trick I had heard for taming the harshness when it is being a problem for the feel you are trying to get is to touch the string very lightly right next to the nut to dampen the brightness a little and make it sound more like a fingered note.
Obviously, for most notes you can use a fingered note on a lower string to get the same pitch and be able to use vibrato, but when you get down to your low G on violin, that isn't an option anymore.
So what I stumbled across is that you can put your finger down on the nut when playing an open string, press down just a little lighter than you would when doing a normal vibrato and do whatever vibrato move you normally do.  When the finger rolls to the part of the string that is not resting on the nut, the "half fingered" pitch can go smoothly a little above the pitch of the open string and you can get a sort of vibrato. 
I don't do it well (just thought of this last night), but here's a quick sound sample, first without and then with the "half fingered half vibrato"..
I would only call it a "half vibrato", because you can't go below the target pitch.  Any "wobble" you apply is only up from the pitch.  So far as I was ever taught, a true vibrato goes both above and below so it will average at the target pitch.  But what the heck, I'm a guitarist and guitarists have been stuck with only bending up for vibrato (unless they use a whammy bar) for years.
But it is at least a "sorta" vibrato that can be used on the open G string or other open strings if they are more convenient in your transitions. 
Another thing is you have to hold the instrument a little tighter with the chin when trying this trick, since doing a vibrato move on the nut will shake the instrument more if you don't. 
And yes, my vibrato sucks anyway.  LOL  I'm a 6 month noob, and my vibrato is narrow and fast, i don't have good control yet because I haven't put time into working on it yet.  But someone actually good at vibrato could possibly use this trick to get a better sound with it than I can. 
I'm just putting it up as a trick I stumbled across while playing when I wanted a little vibrato on a low G note for "feel". 
"This young wine may have a lot of tannins now, but in 5 or 10 years it is going to be spectacular, despite the fact that right now it tastes like crude oil. You know this is how it is supposed to taste at this stage of development." ~ Itzhak Perlman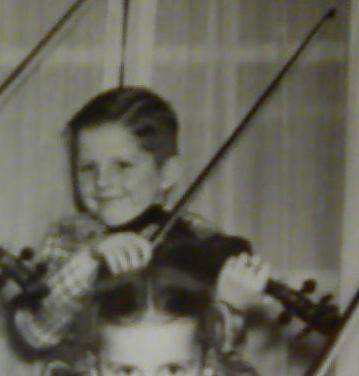 October 13, 2012 - 2:12 pm
Member Since: January 21, 2012
Forum Posts: 2647

October 19, 2012 - 5:53 am
Member Since: May 4, 2012
Forum Posts: 2379

Offline




@cdennyb:  I'd call it a trick, personally.  Like when some guitarists will vibrato or bend a note by reaching up and pressing the string above the nut or behind the bridge.  To me, anyway, a technique is usually something that is done with normal playing positions and surfaces, and this takes shifting the finger more towards the pegs than one usually would while playing.  So I consider it 'trick playing'.
The low G is the only place I have found it particularly useful in actual playing.  And then mostly only when pulling a long note at the end of a passage or piece.  I'll start the note steady, then fade in the half-vibrato and bring the note to an end and it sounds more 'finished" to me than just playing it steady for the whole duration. 
As Fiddlestix noted, it can be too awkward to try and use except on slow passages, anyway.  Having played with it a bit, it has gotten less awkward, so I am not sure how much of it is limitations of the trick and how much is just that I haven't practised it enough yet.  But because of having to almost shift to something lower than first position, I think at least some of it is that the trick itself has some awkwardness. 
It is also just not as good of a vibrato, since it can only go up in pitch.  My own vibratos are usually rather narrow and quick anyway, so it is less of a difference than it would be for some folks.  I make some use of the trick mentioned earlier of lightly touching the string near the nut to soften the timbre of the note slightly by controlled damping, so I may be a little more used to reaching down into that part of the string length than some folks. 
Honestly, I am not overly fond of vibrato.  There are some places where I like it, but some players overuse it to the point where I find it too "operatic" in the stereotypical and unpleasant sense of the word.  That is a matter of taste, though. 
This trick is something where I ran across it due to some experimentation, and where I think it may have some use once in a while.  Whether anyone would need it often enough to actually bother with practising it, I am not so sure.  But I have gotten so many tricks and tips from Pierre's tutorials and the talks on this forum that it seemed proper to share back when I stumbled across this one in the course of playing.
"This young wine may have a lot of tannins now, but in 5 or 10 years it is going to be spectacular, despite the fact that right now it tastes like crude oil. You know this is how it is supposed to taste at this stage of development." ~ Itzhak Perlman

Forum Timezone:
America/New_York
Most Users Ever Online:
424
Currently Online:
bocaholly
,
MoonShadows
,
GregW
,
NathanG07
157
Guest(s)
Currently Browsing this Page:
1
Guest(s)
Members Birthdays

Upcoming
ARCoyne, Gringo, blueviolin, Abby, gruff, Deedee-
Top Posters:
Mad_Wed: 2849
Barry: 2673
Fiddlestix: 2647
Oliver: 2439
DanielB: 2379
Kevin M.: 1969
damfino: 1913
cdennyb: 1814
TerryT: 1726
Ferret: 1575
Member Stats:
Guest Posters: 3
Members: 23403
Moderators: 0
Admins: 8
Forum Stats:
Groups: 16
Forums: 58
Topics: 7885
Posts: 98333
panyuaderfory, shawnxs1, dbifaderfory, NathanG07, jerixe3, luisakn69
Administrators:
Fiddlerman: 14457, KindaScratchy: 1735, coolpinkone: 4168, BillyG: 2914, MrsFiddlerman: 1, Jimmie Bjorling: 0, SimplePressHelp: 0, peopleshost: 0
©
Simple:Press
—