Check out our Forum Rules. Lets keep this forum an enjoyable place to visit.
A
A
A


Topic RSS

Fourth Finger Problem
Locking at the base knuckle





(0

votes)

December 25, 2012 - 1:09 am
Member Since: September 8, 2012
Forum Posts: 7

Offline
Hi all!
I've been having problems with my fourth finger lately and would like some help...
Basically, my pinky is always locking up at the base knuckle when I try to put it down. I read somewhere that this happens when your left hand squeezes. But for me, even with no squeezing at all, it just snaps forward at the base knuckle with the slightest movement and I can't control where it lands on the string.
The only way I can control it is to completely straighten my wrist (it is normally comfortably arched, but not so much that it's touching the neck of the violin), aim and land a little bit farther than normal, and then slide it back so that it's at the correct spot on the string. When it's on the string, my wrist automatically goes back to its normal arched position. This works but it's not a solution because there's no way to play fast like this.
I know that the fingers are supposed to hover over the fingerboard, but I just can't do this with my pinky because it locks up, and it's only at the darn base knuckle... Is this because my pinky is weak?
Any advice?

(Merry Christmas by the way

)

December 26, 2012 - 12:10 pm
Member Since: September 21, 2012
Forum Posts: 53

Offline
Schradieck has written some violin books that are full of exercises that strengthen all the fingers including the fourth.  You might google Schradieck or just enter the name into amazon search.  I am currently using exercises from Schradieck to improve my finger dexterity and intonation.  They work, at least for me!
December 26, 2012 - 12:16 pm
Member Since: April 22, 2012
Forum Posts: 448


Also, the first Sevcik book helps strengthen all the fingers (even better than arm-wrestling with Fiddlerman after 3 Red Bulls!)
Seriously, they are good exercises, and get straight to the point right away, on the first exercise and all exercises thereafter.
Can be got here :
http://www.el-atril.com/partit....._Book1.pdf
Mr Jim

December 26, 2012 - 3:00 pm
Member Since: September 8, 2012
Forum Posts: 7

Offline
Thank you everyone for your reply, and thank you for that link, Worldfiddler!
Actually, I made a mistake. My wrist is already straight, but in order to reach the string with my fourth finger in a controlled manner comfortably, I have to extend my wrist back so that my hand is pointing straight down. I heard this causes all sorts of problems like carpel tunnel so I'm concerned about it...
The best I can do right now is keep my wrist straight, but extend it back a little to plop my fourth finger down, and then make it go back to being straight. Extending my wrist back a bit allows me to control where on the string I put my fourth finger down, but I want to know if this is a viable option or if it will likely cause me wrist problems in the future.
I normally play on the tips of my fingers, but the problem is the same when I play on the flat of them. I also bring my elbow under the violin a fair amount, but no matter how much farther I bring it, I have to extend my wrist back a bit to control my pinky. It doesn't help that I have a short pinky...

I guess I'll experiment some more... Thanks so much!!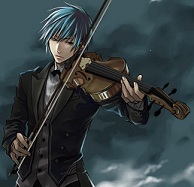 December 26, 2012 - 7:20 pm
Member Since: June 24, 2012
Forum Posts: 110

Offline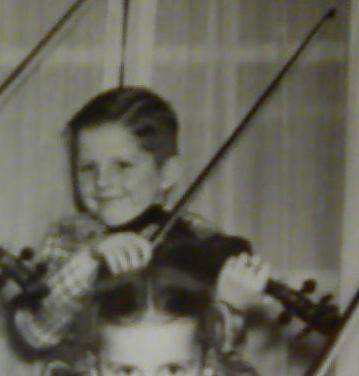 December 26, 2012 - 11:16 pm
Member Since: January 21, 2012
Forum Posts: 2647
I think it's important to keep the pinky finger bent rather than straight. The reason for that is when playing note's on the D and G string's, to be able to cross over the E and A string's without touching them, therefore try keeping the pinky finger bent. Keeping it bent give's added strength when pressing down on the string's. I think that way your first knuckle may not interfer.
As far as the bent wrist, I'm guilty of that myself. Speed is fine in first position, but when I play 3rd and 4th position, the speed slow's conciderably. I don't use a shoulder rest, maybe I should, perhap's that would improve my vibrato too.
Check out the fingering on the Fiddlerman tutorial's. Notice how his pinky finger is bent over the string's.

December 27, 2012 - 5:43 pm
Member Since: September 8, 2012
Forum Posts: 7

Offline
I made two videos which hopefully make my problem clearer.
In them, I first demonstrate how I normally put down my 4th finger (I have to extend my wrist back to make it land where I want on the string). Then I try to do this while keeping my wrist straight - and as you see, my knuckle keeps collapsing and I can't seem to do it.

I can't curve it because it just automatically snaps at the knuckle joint.
I'm sure I'm doing something basic wrong here. Maybe I'm not holding the violin correctly. I've tried all sorts of angles and played with bringing my elbow under more, but the problem persists.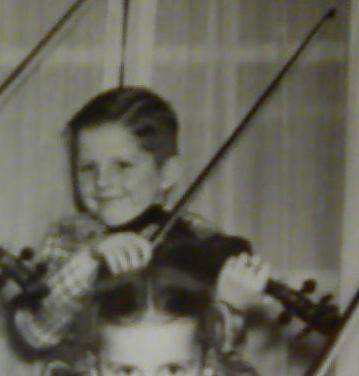 December 27, 2012 - 6:49 pm
Member Since: January 21, 2012
Forum Posts: 2647
In your video, you should probably include playing some note's rather than a dry run. Thing's are different when you actually put your finger's to work.
THe way I understood what you were saying in your original post, I thought that what you meant by a bent wrist is that your wrist was bent just the opposite of what show's in the video, with the palm of your hand laying flat on the underside of the neck.
A musical demo would be a bit easier to see what your problem may be. Looking several time's at the second video, it doesn't appear to me that you have a double jointed pinky, it does look like your pinky finger is snapping and locking in at the base of your finger, where it meet's your hand. That's what it look's to me.
Perhap's a wrist brace could be worn until you learn to control your wrist and the muscle's stiffen more.
Just my thought's.

December 28, 2012 - 1:22 am
Member Since: November 8, 2012
Forum Posts: 555

Offline

I had damage to my hand when I was younger and have a slightly similar problem on my thumb.
Try and relax your hand before you play. Your finger looks tense and stiff before it "snaps" back. You need to flex your knuckle more. Try this....
Let your hand drop to your side and wiggle your whole arm, shoulder and hand. Slowly make a soft fist slowly several times. Let your fingers roll up as it forms each time. Do not tense it or make it tight. Keeping the soft fist, raise it to the neck of the violin and let it open and allow the neck to slide in. with same pressure, see if you can finger from D string all 4 fingers then A string. Relax your hand again and do again until you can keep your hand relaxed.
Keep your little finger knuckle arced like it is in the soft fist shape while you play. It took me weeks to train my thumb to not snap grip across the G string. Each time i faultered I just did the relax fist and moved it back up. That was about 6 months ago. Since then, I've moved up from being "unable to play" to "down right horrible". But there's hope, soon I should move up into the "OMG What the hell is that noise" level of play. 


Keep practicing. you'll find a way that works. There's allot of support here and as long as you make the effort, people will appreciate whatever skill level you reach.
"I find your lack of Fiddle, disturbing" - Darth Vader

December 28, 2012 - 6:06 pm
Member Since: September 8, 2012
Forum Posts: 7

Offline
Thank you for your input, everyone!
Fiddlestix, I don't have anyone who can record me playing the notes, but I'll see if I can make a video of that somehow. Thanks for the encouragement and tips Tyberius! I'll give them a try as I grapple with this.

Fiddlerman, I am trying your advice, but I can't seem to curve my pinky. It locks up, high and low. The most I can manage is raising the first joint with the rest of my pinky straight. Basically it looks like this: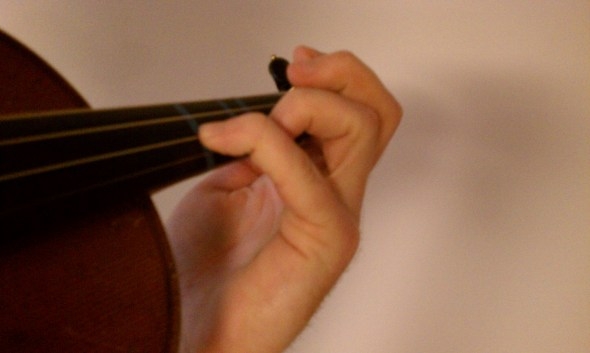 When I attempt to curve it, it snaps and locks up. It's like it has a mind of its own.
I know that this is a picture of a common problem, but is it normal for the base joint to snap and lock at the slightest movement?!
I never injured my hand. My right pinky is the same. I looked at my brother's hands too, and his pinky behaves the same way. I guess our hands are just not made for the violin.

But I'm going to keep trying. I'll let you know if I succeed. If I can do it just once, that will give me some hope!

December 28, 2012 - 6:50 pm
Member Since: September 8, 2012
Forum Posts: 7

Offline
Ok! Sorry for the double-post, but I think I kind of did it! I see the beginnings of what could be a beautiful curved pinky.

I am going to work on this for the next couple of weeks, and take it easy since this stresses my hand quite a bit. Thank you so much for all your help, Fiddlerman and everyone else who posted! 


December 28, 2012 - 11:16 pm
Member Since: November 8, 2012
Forum Posts: 555

Offline


January 3, 2013 - 8:36 pm
Member Since: September 8, 2012
Forum Posts: 7

Offline
Hi all!
My practice is going well - I have definitely improved and am excited about further progress.

I have another question though.
I've noticed that in order to have my pinky curved, I have to bring my thumb under the neck of the violin, and more importantly my arm under the violin much more than I ever thought. Like, a ridiculous amount! It doesn't hurt, it just feels awkward and I wonder if it's too much. When I look at other violinists play, their elbow is usually just hanging down. But I have to bring mine as far to the right as possible. It looks and feels silly...
Do you know of any other violinist that plays with their left elbow all the way to the right? I mean, I don't need to have it that way all the time, but if I want a nice, curvy fourth, I have to switch to that position no matter what string I'm on (maybe not the e string). Is this normal? Or is it a sign I'm doing something wrong?
Thanks again

Forum Timezone:
America/New_York
Most Users Ever Online: 231
Currently Online: ryonass, bocaholly, MoonShadows
47 Guest(s)
Currently Browsing this Page:
1 Guest(s)
Members Birthdays

Upcoming
AndrewAllanRoberts, uncledave, DanielB, pchoppin, Kmmoon
Top Posters:
Mad_Wed: 2849
Barry: 2673
Fiddlestix: 2647
Oliver: 2439
DanielB: 2379
Kevin M.: 1969
damfino: 1889
cdennyb: 1814
TerryT: 1726
Ferret: 1575
Member Stats:
Guest Posters: 2
Members: 18683
Moderators: 0
Admins: 6
Forum Stats:
Groups: 16
Forums: 58
Topics: 7559
Posts: 94761
Newest Members:
joshuaex4, jacquelinewg11, Efabeksic, jacquelinemu60, madelynjc1, jewellne2
Administrators: Fiddlerman: 13967, KindaScratchy: 1732, coolpinkone: 4168, BillyG: 2742, MrsFiddlerman: 0, Jimmie Bjorling: 0