Check out our Forum Rules. Lets keep this forum an enjoyable place to visit.
A
A
A



Topic RSS

Compare the Cecilio CVN 100 vs 200 vs 300





(0

votes)

September 1, 2012 - 7:28 pm
Member Since: September 1, 2012
Forum Posts: 2

Offline
Hello friends!
I'm a long time (read "old") violinist/pianist/bassist/finally decided to major in music as percussionist.  My 4th grade daughter who has played piano for 3 years now wishes to also play violin!  Bravo!  I'm so excited!
Of course, school wants to rent her a violin for some ridiculous price.  So I started the internet search & found FiddlerMan.com.  Great job on your website.
I see these inexpensive violins offered here and wonder if there is any published comparison between the Cecilio 100, 200, and 300.  Those package prices seem quite attractive.  I'd like to buy one, just don't know if there's a great difference.
Also saw Mendini line of student violins.  Anything better there?  Seems like the same as Cecilio.
Finally, the packages include two bows...any reason why?  Do these lose hair quickly or easily?
Thanks for the help & I'll post a review after purchase.
-SeaBass
ps. My darling wife wants to buy some quality earplugs to get through the first few months of skreeeeeching!  Ha!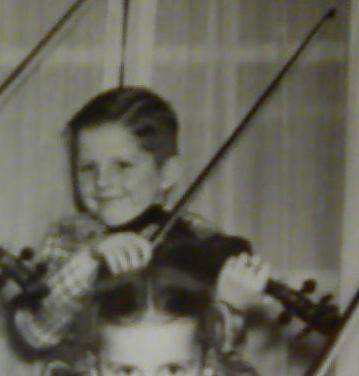 September 1, 2012 - 10:37 pm
Member Since: January 21, 2012
Forum Posts: 2647
Have you checked out Fiddlerman's violin review's.  They may help your decision.
My Grandaughter started playing flute last year in school, it was a rental. By the time my son would have been finished paying for it, it was gonna be about $1,100.00 for a used flute. He bought one for her at a pawn shop for $150.00, better than the one he was renting. A friend bought a 3/4 violin for his daughter at the same pawn shop "American Jewelry and Loan" AKA Hardcore Pawn for $57.00.
Good luck with your decision. But check with Fiddlerman also.


September 2, 2012 - 5:00 pm
Member Since: September 1, 2012
Forum Posts: 2

Offline
Fiddlerman said
SeaBass,

One thing I do quite often is test cheap violins. The only violins I post reviews of are the playable ones. When I get a bad violin to test I just have the distributor or maker pay return shipping and forget about the review. I don't want to destroy anyones business in case I am wrong. One violin can be bad and the next could be good, so I just post reviews of violins that are worth the money IMAO.

There are probably a few players here that have the CVN200 or 300 here that may want to give their opinion.

Between the three that you mentioned above, I think both the CVN-200 and the CVN-300 are well worth their price but the fact that the CVN-300 has the "REAL" ebony fingerboard makes a big difference. Also the pegs. Rosewood may be on the soft side for these two items.
Thanks for the feedback.  I found all your YouTube video reviews you posted on these models.  Very nice job!  I will order a 300 series just because my daughter likes the black pegs over the lighter wood colored 200 series.  I'll work on the violin before giving it to her, checking for correct set up.  I knew all my years of fiddling would finally pay off!  Might even inspire me to play some duets with her.  We already do on piano.
One last question:  are the bows so inferior that they send two because they will certainly break or lose hair quickly?
I'll send the rest of the 4th grade parents to your website before they make rental commitments of $20-30 PER MONTH for similar or maybe inferior instruments.
Keep up the good work,
SeaBass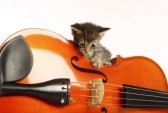 September 2, 2012 - 6:45 pm
Member Since: June 2, 2012
Forum Posts: 120
Hi seabass!
I have the cecilio 300. However I bought it before I found fiddlermans website. The only thing I had to do to set it up properly was to move the bridge to the proper spot and of course tune it. It sounds ok. But I am saving to get some ayes strings and fiddlermans cf bow. I think they included 2 bows so you have a spare. The bow is very basic. Not the best balanced. I have made do with it though. I think it is a good buy for what you get for the money. I do know that my next violin will be the concert master from fiddlerman. Hope my 2 cents helps you.

"The dictionary is the only place where success comes before work." - Mark Twain

September 2, 2012 - 9:29 pm
Member Since: May 4, 2012
Forum Posts: 2379

Offline




Hi SeaBass.
I have one of the cheaper Mendinis, the MV300.  I wouldn't recommend it.  Just as it came from the factory/vendor, it sounded pretty bad and the playing action reminded me of what it would be like to try and play a cheese slicer.
Even at the price, their lower level violins aren't really a bargain for a beginner that needs an instrument that is at least reasonably ok.  Maybe their higher priced ones are better, I don't know.  I don't think I'd risk it though.
"This young wine may have a lot of tannins now, but in 5 or 10 years it is going to be spectacular, despite the fact that right now it tastes like crude oil. You know this is how it is supposed to taste at this stage of development." ~ Itzhak Perlman

Forum Timezone:
America/New_York
Most Users Ever Online: 231
Currently Online: Gordon Shumway, steveduf, FortyNothing
56 Guest(s)
Currently Browsing this Page:
1 Guest(s)
Members Birthdays

Upcoming
AndrewAllanRoberts, uncledave, DanielB, pchoppin, Kmmoon
Top Posters:
Mad_Wed: 2849
Barry: 2673
Fiddlestix: 2647
Oliver: 2439
DanielB: 2379
Kevin M.: 1969
damfino: 1890
cdennyb: 1814
TerryT: 1726
Ferret: 1575
Member Stats:
Guest Posters: 2
Members: 18689
Moderators: 0
Admins: 6
Forum Stats:
Groups: 16
Forums: 58
Topics: 7560
Posts: 94772
Newest Members:
rosettayf16, JasonCox, jaynewy69, fredpt3, ClomidAFlono, amyph1
Administrators: Fiddlerman: 13968, KindaScratchy: 1732, coolpinkone: 4168, BillyG: 2743, MrsFiddlerman: 0, Jimmie Bjorling: 0