Check out our Forum Rules. Lets keep this forum an enjoyable place to visit.
A
A
A



Topic RSS

some pics of my violin's parts





(0

votes)

December 10, 2012 - 11:14 am
Member Since: July 8, 2012
Forum Posts: 328
ok...so i changed some stuff of my violin, I'm gonna show you guys some of it, here they are:
Bridge -i was experimenting with bridges to make different sounds, so here are my experimental bridges:
my very first bridge that came with my violin:

my second bridge, which i shaped and carved:

my third bridge, which i call "the devil", i carved/shaped it, and then drew those figures, since i noticed that original stradivarius bridges have decorations on them

and my fourth bridge, which i currently use and the most perfect bridge i have carved/shaped, i designed it the same shape with Paganini's bridge:

Strings -ahh...the strings, the strings I'm currently using was given by an awesome friend! it is the "Overture Ultra"...well, except for the A string, as you can clearly see, the Overture's A broke when i was changing the bridge...so i am now using  cheap A, it has, as you can see, almost the same diametre as the E:
Chinrest -I've added some cork to dd some height of the chinrest, since i don't use and i don't like shoulderrests:

and finally...the Label -I, once again, changed the label, as you can see, it says "OZMOUS FEROUS"(w/c is my latinized nickname) with the caption "proprietario del violino"(which means, owner of the violin):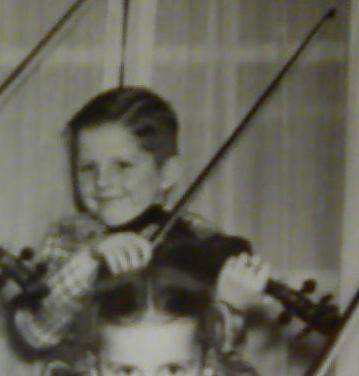 December 10, 2012 - 12:03 pm
Member Since: January 21, 2012
Forum Posts: 2647

December 10, 2012 - 1:21 pm
Member Since: September 10, 2011
Forum Posts: 1969

Offline



I agree with Fiddlestix, the grooves should only be half the thickness of the string.
I'm glad to see you trying out new things on your violin.  Next time try to thin the entire bridge instead of having sharp angles coming to the edge of the bridge.  The idea is to get the entire bridge thin enough to transmit the string vibrations without breaking under the strain of the string.  With the shoulder rest try gluing wood under the feet of it instead of more cork.  The cork will shrink down and you might find the chinrest becoming increasingly loose.
I tell you these things not to discourage you but to encourage you to continue.

December 10, 2012 - 10:16 pm
Member Since: July 8, 2012
Forum Posts: 328
@fidlestix, aye, it is too deep...but i did that for a reason, if i did not, the strings would be too high...that's why i call them "experimental"
@kevin, it is actually very thin, to the point that i stopped sanding them because they might break due to tension and the thin part , as for the shoulder rest, i did glued those cork...i didn't use regular wood like you said, because it makes a dent in the violin's wood, since cork is soft, i used it. actually, the cork is strong ,it doesn't shrink, I've been using it for the past months. and for my experiment, this bridge is the best sounding experimental bridge I've done, better than my older bridges
cheers


ratvn
Kent, Washington USA
December 10, 2012 - 11:14 pm
Member Since: October 14, 2012
Forum Posts: 550

Offline
Nice violin top plate you got there. It looks like Carpathian spruce.
From your pictures, I agree with Fiddlestix and Kevin M, deep groove and thick bridge.
As for the grooves (it would dampen string vibration/sound) you can remove excess wood from the top, just a few mm curving then all strings would sit 1/3-1/2 diameter.
Give us a side view of your bridge. It looks thick though, which will dampen your violin sound a lot. Should be close to a straight taper from the top edge, which is about 1.2 mm, to about 4.2 mm bottom, unless you're trying to tune it away from bright/hash E/D strings, but then it will remove your lower string power/volume. That is why a strong/quality/aging maple is used for violin bridge so it can withstand string tension/pressure.

December 11, 2012 - 3:32 am
Member Since: May 4, 2012
Forum Posts: 2379

Offline




I like the artwork on the bridge, Oz.   I have thought of doing that myself, since seeing it on some antique violins.  "The Devil" bridge came out looking very cool.  

I also thought about trying a bridge modelled after Paganini's, but I haven't seen any blanks available without the "heart".  It will be a project for another time, maybe.  How do you like the sound you get with your version of Paganini's bridge?  From a player point of view, how would you say it is different?
A very nice looking violin, Oz. 
"This young wine may have a lot of tannins now, but in 5 or 10 years it is going to be spectacular, despite the fact that right now it tastes like crude oil. You know this is how it is supposed to taste at this stage of development." ~ Itzhak Perlman

December 11, 2012 - 4:27 am
Member Since: July 8, 2012
Forum Posts: 328
ok guys, shaved a little of the top, here is a picture of the top, and I've also photographed the side so you can see the thickness:
@ratvn,i dunno if you can see that it is very thin, but it is, making it more thin will make it warp....thickness of foot : 0.3 cm or 3 mm...a regular violin bridge should be 4.4 mm, and thickness of top: 0.1 cm or 1 mm ......less than that and the tension will warp the wood. this is the most perfect thinnest i can do, it has great sounds too, it doubles the vibration of the whole body, when i play the the bass side, the middle of the top and back vibrates well, plus the whole body, and when i play the treble side, the whole sides of the violin's top and back vibrates loudly, creates booming sounds and fast reaction, perfect acoustics for me

@denny, ya

, the diametre of my bridge is perfect, i can do doubles stops, and yes, the G is higher and E is lower...

December 11, 2012 - 4:51 am
Member Since: July 8, 2012
Forum Posts: 328
@Daniel, thanks

, I've got the inspiration from Stradivarius original baroque bridges:
oh, and as for the Paganini bridge, there's one online:
http://www.violins.ca/supplies.....roque.html
and  a picture:
and as for my review for my "Paganini styled" bridge, it actually sounds good, the bass side is dark and loud, and the treble is a bit sharp, it is not really that different from other bridge....well, besides the height, it's kinda tall on the top and short on the foot...that's all for now


ratvn
Kent, Washington USA
December 11, 2012 - 5:54 am
Member Since: October 14, 2012
Forum Posts: 550

Offline
OK, ozmous, that looks much better than your previous one.
And you do have it very thin though, from your measurements, so bridge total mass is probably about right.
If it sounds good to you (from the way you described strings vibration), then that is perfect. I would not do any modification to that bridge thickness. You did a great job, ozmous (I spent a few months experiment with quite a number of them before I got one tuning in fairly good. If I do more tuning I start with a blank one, just to save the best one I got for comparison, and as each violin is different, due to material/construction etc., bridge tuning is not really the same, most of the times).
One suggestion/observation I like to present, may not be applicable to yours particularly, but hey, this is what I know and I like to share. You know that violin bridge function is to vibrate/transmit sound/frequency to the body through rocking motion pivoting one side at the sound post and vibrate the whole top plate with its bass bar along its length, and to dampen/filter unwanted frequency/harshness sound, so the balance of bridge thickness at various places, and thinness at others are desirable.
Violin bridge has a narrow section at the point where its heart and side wings met (about center area on a regular design), and that is the most flexible area where bridge vibration/rocking motion occurs. For maximum vibration, I usually keep it as thin and narrow as possible, so from the top to that point it's a straight thin taper. From there to the feet, it would be less for supporting/sound transmission and as a whole function, bridge mass is proportion to sound dampening.
It's just my personal opinion/observation. You may have better way of doing it which, of course, I like to learn from.

December 11, 2012 - 6:38 am
Member Since: July 8, 2012
Forum Posts: 328
thanks Ratvn

, btw, I've read that the bridge is shaped to emphasize the "singer's formant"...and also that all violin bridges shouldn't really be thin...the bridge's thickness only depends on the violin per se.
oh, and i also saw this asymmetric design:

December 11, 2012 - 1:38 pm
Member Since: September 7, 2012
Forum Posts: 985

Offline
ozmous said 
oh, and i also saw this asymmetric design:
Some radical designs there.  I have no problem with that.  But he has earned my hostility by claiming patent monopoly on using asymmetry in bridges.

December 12, 2012 - 9:14 am
Member Since: May 4, 2012
Forum Posts: 2379

Offline




Actually, if you read through the document and check the diagrams, the patent is for a very specific design of asymmetrical bridge, and wouldn't cover just any bridge that is not symmetrical.  It is described in a fair bit of detail in the patent document along with the reasons for each part being shaped the way they are.
There can be a lot of patents for items called "table lamp", but nobody would have a patent on the concept of a lamp that goes on a table.
It looks like he put a lot of work into developing a very specific bridge that he feels works better and doesn't happen to be symmetrical.  Sure looks interesting.  And this patent would protect him from someone just copying his work or making a close imitation, but it does not state anywhere that he owns a patent to *all* bridges that aren't symmetrical.  Every feature of one specific bridge is explained in detail with reference to the numbered diagrams.  
"This young wine may have a lot of tannins now, but in 5 or 10 years it is going to be spectacular, despite the fact that right now it tastes like crude oil. You know this is how it is supposed to taste at this stage of development." ~ Itzhak Perlman

Forum Timezone:
America/New_York
Most Users Ever Online: 231
Currently Online: yellowdresses, Uzi
49 Guest(s)
Currently Browsing this Page:
1 Guest(s)
Members Birthdays

Top Posters:
coolpinkone: 4107
Mad_Wed: 2849
.: 2671
Fiddlestix: 2647
Oliver: 2439
DanielB: 2379
Kevin M.: 1969
cdennyb: 1813
TerryT: 1726
damfino: 1709
Member Stats:
Guest Posters: 2
Members: 10915
Moderators: 0
Admins: 3
Forum Stats:
Groups: 16
Forums: 57
Topics: 7193
Posts: 89432
Newest Members:
taniash3, genevievedb11, cassandrabu3, alvinlm4, candacexb18, Shawnnub
Administrators: Fiddlerman: 13268, KindaScratchy: 1722, BillyG: 2411