If you like, please begin by telling us anything you would like to about yourself. Age, place of birth, residence, etc.
I was born in Northern Illinois on a farm on Oct 21st 1963. I grew up in a time when you could walk down the road with a shotgun over your shoulder and the local police would just wave as they drove by or maybe ask if you did any good on your hunt.  My family of Irish decent has lived in the hills of eastern Kentucky since the early 1700's, I was the first born out of Kentucky in some time  :).  I always knew the south was my home and moved to Tennessee. Ive been here for 20 years.
What made you decide to play the violin?
Ive always been attracted  to fiddle music and 3 years ago I took the plunge.
How long have you been playing the violin?
3 years
How often do you play? How long are your practice sessions?
I try to play everyday but like those of you who also have lives and bills it dont always happen. As for length, any where from a half hour to all night sessions depending on mood and time.
In your opinion, what's your proficiency on the violin?
Beginner, but working on it.
Your greatest personal experience with playing?
One night while playing it seemed like someone else took hold of my fiddle and played it like a pro, gotta love those moments.
What other instruments do you play?
I play or have played guitar, bass, drums, harmonica, piano, fiddle and Im planning to get a bodhran for Christmas.
What does music mean to you?
Music is the heart beat of life, it can convey any emotion and even change your emotions. A single song can bring back a memory and return you to another time.  You can walk out and look over some beautiful landscape, then bring your violin to your shoulder and play and watch the landscape come to life. Vivaldi seen this beauty with his four seasons.
What or who has been your greatest influence?
Too many to list because of my love of so many genres. But I guess Id have to give the nod to Credence Clearwater Revival for getting me started on guitar .  Long live Rock-n-Roll !!
What are your goals for playing violin? short and long.
Not sure I really have a "goal" I want to play well and continue to learn but not sure what if anything I plan to do. Maybe someday hook up with a guitarist and do some busking and small clubs playing Irish music would be cool.
What type of violin training?
Completely self taught, by way of books, internet and youtube.
How do you warm up?
Run through the two octave G scale a couple times then play some tunes I know before tackling any lesson.
What is your favortie type of music?
Irish Traditional
What is your favorite piece of music? Why?
I love "swallow tail jig "  its just cool, I can get lost playing that tune and just play it on and on…lol
What are your 2 favorite things to do other than playing violin?
Exercise (boxing, running, weight lifting, biking, swimming, etc) and fishing.
Do you come from a musical family? If so please tell us about them.
I hear that my Kentucky ancestors did some jamming  :slight_smile:  My wife is learning to play violin and my second oldest son plays guitar.
Are you a member of any orchestra?
No, Ive entertained the idea but  considering I like to choke up my bow like a lot of fiddlers and play it my way I just wouldnt fit in and hey,thats just fine by me.  :slight_smile:
Do you ever perform publicly?
1985-1986 I made my living playing and singing in a band. Ive played and sang in a few clubs and songwriters nights here in Nashville also. As for will I again, Im sure I will in some form.
What do you work with?
Not much I havent done, but currently I remodel homes and do landscaping.
If you don't mind, please share with us information about your violin and bow and if you have several please tell us about them as well.
My violin is a German made strad copy, built in 2008 by the Otto Jos Klier company, I use helicore heavies with a wound E string.  my main bow is a round stick brazilwood ,ebony frog and silver winding, nothing fancy but it works for me.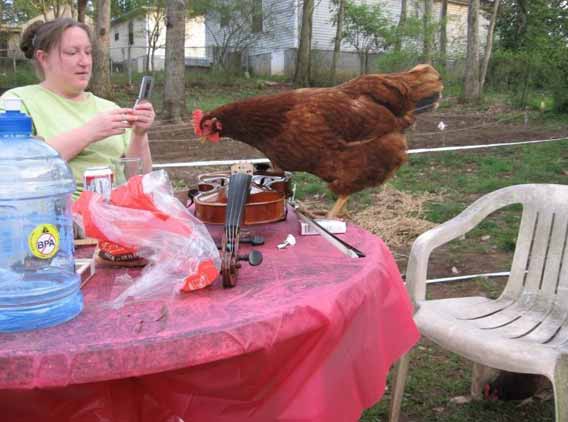 PS. Thats my wife LeeAnn and one of our chickens checkin out my fiddle in the picture. A friend once said, only in Tennessee would you see a person texting, a fiddle and a chicken all in the same photo."