Fiddlerman LLC is the maker of high quality and affordable products for stringed instruments.
Fiddlerman products are made for Fiddlerman LLC using Fiddlermans specifications and standards. All products are produced and distributed by Fiddlerman LLC.
The Fiddlerman bow
is a strong handmade carbon fiber bow made to weigh approximately 59 – 63 grams. The balance point, arching and shape was set precisely after Fiddlermans preferences. No other affordable carbon fiber bow is like the Fiddlerman bow.
Fiddlerman bows are available for violin, viola and cello. Violin sizes include 4/4, 3/4, 1/2, and 1/4.
The Fiddlerman Shoulder Rest

is made of solid maple for strength and resonans. The feet are height adjustable for a custom fit. The feet also collapse so the shoulder rest can fit inside almost any violin case. Solid wood body for a warm resonance. Padded with foam for maximum comfort. Available for 4/4 and 3/4 size Violins! (also fits 13″ and 14″ Violas)

Fiddlerman Violin String Set
These Synthetic core violin strings are of medium tension, optimized for most players! Each string is individually packed and sealed to protect from corrosion.
When compared to the world's most popular strings (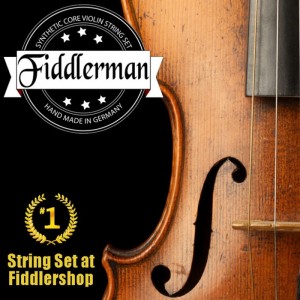 Thomastik Dominant), none of our professionals could tell them apart. Just like the Dominant strings, they are warm and resemble gut strings (while being way more resistant to humidity). They are soft, clear, and rich in overtones. But the best part, they're half the price of Dominants!
Available for 4/4 and 3/4 with a ball E
For more information on Fiddlerman products e-mail Fiddlershop
or call (954)530-5999
Fiddlerman LLC
1607 NE 4th PL
Fort Lauderdale, FL 33301
Fiddlerman products are exclusively made for Fiddlerman LLC and available only through Fiddlerman LLC, Fiddlershop or Fiddlershop Amazon.