A
A
A



Topic RSS

Kinda personal .. But not... Playing through personal duress





(4

votes)

coolpinkone
California, the place of my heart
August 24, 2015 - 11:25 pm
Member Since: January 11, 2012
Forum Posts: 4180






I thought we could open up a discussion about playing through hard times.  We all have sadness loss... Illness...
I think for me it always helps to play.  However when things seem bleak it is hard to push through and pick up the violin.  
And I don't mean always a serious disaster ... Life loss ... Some days just that bit of blue... Or sometimes the bleak outlook on life... The world gets portrayed as bad... Of course it's not... But you know what I mean...  Bleary hard days.
If you care to share, it would be nice to see how we cope with the world and playing.. Sometimes we have space.. Or play extra... Or get a new piece of music.. Play sad songs.. Play happy songs... Learn technique... Chat on the forum and neglect practice.
As musicians we are lucky to have this extra space in hard times.
Just thinking out loud... Also sending my best vibes to the FM group.  Xox
Vibrato Desperato.... Desperately seeking vibrato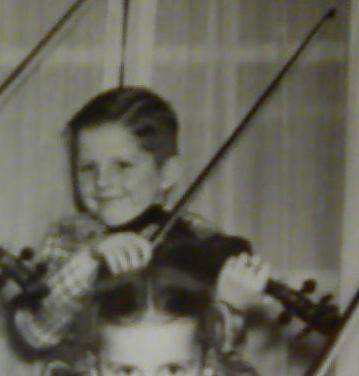 August 25, 2015 - 12:07 am
Member Since: January 21, 2012
Forum Posts: 2647

August 25, 2015 - 2:03 am
Member Since: January 2, 2015
Forum Posts: 38

Offline
Having PTSD from being a combat veteran I went through some years of not being able to concentrate on much and feeling very tense with depression and anxiety all the time. When I started playing I was like a bull in a china shop. very tense and deliberate with holding the instrument and bowing clumsy and getting a work out in. I was thinking I'm going to break this thing. I had exerted all this energy from my body and hadn't even made a sound yet. Not good. It took a lot for me to relax and be soft and gentle. Not that you can't work up a sweat playing the fiddle. 
For me I want to be able to relax and let go. I have to be conscious of my breathing and muscles and joints. let things flow with less effort. I can always tell when i'm less relaxed and my goal is to get in a place where all of that stress and strain disappear. I am much more comfortable with it now. It has helped me be much more calm and at peace internally. Meditation helps a lot too. 
I have friends that I served with that play the drums or guitar. For them it's how can I beat these drums until I feel calmer. I know I can not get the sound I want from the violin if my mind is filled with stress. I could wrestle with it all I want I won't win. When I take a deep breath and let all that stress go it just works. With the sound of the violin which I love, I don't think there is a way that I could trick it to sound good. It's going to pick up my tension. 
I'm not really talking about the music in terms of style like rock or fast or slow or happy or sad. I used to compare it to golf because that was what it reminded me of. There's a thousand little things involved with getting that little ball in a little hole hundreds of yards away. If you aren't relaxed and one with the club it's going to be a long day!
I'm am much more mindful and at peace inside with adding violin to my therapy. 
thanks,
Rob

August 25, 2015 - 2:10 am
Member Since: February 21, 2015
Forum Posts: 149

Offline
The violin does not distract from life, it enhances it.
It's been almost six months to the day that I've had a violin.   During that time I've faced a few challenges...   but in a strange way it's helped motivate me.
Had my FM Concert violin for two weeks when the wife developed some issues.   I went from working days to nights.  Now things are slowly getting back to normal. 
In hindsight, six months seems like forever.  But I'm almost done with the first book being used for my learning process on the violin.  It helped me deal with it.
Taking someone to doctors office at least once a week for months exposes a person to all kinds of people, along with their hopes and fears.  Yet we do it to help them.
During this process I discovered the emotions of the violin.  It's relaxing...   So without going into all the details, if playing enhances your life, then it adds something to others as well including us here on the forum that read your comments.
So keep on playing

BillyG
Brora, North-east Scotland
August 25, 2015 - 2:22 am
Member Since: March 22, 2014
Forum Posts: 3675








I second that @Fiddlestix !   And get yourself back to your normal daily routine as soon as possible ( I take it you're in there for the platelets "upgrade" - hope you feel somewhat better soon mate ! )
Oh : PS - I hit a "like" on your post, but the mouse clicked as I hovered over the stars and accidentally clicked the "one star" - and I can't change it - it was meant to be FIVE ! LOL
I seriously recommend not copying my mistakes. D'oh - 
Please make your own, different mistakes, and help us all learn :-)

August 25, 2015 - 6:36 am
Member Since: August 21, 2015
Forum Posts: 23

Offline


We hear over and over how having a pet is good for us, stroking a dog or cat slows our heartbeat, lowers blood pressure, calms us, makes us care and makes us smile, takes us walkies helps keep us stay fit. They even use dogs in hospitals and care homes for the benefits.
I think playing music is very similar. I am sure everyone here has at some point felt 'better' for playing when life has given us a kicking. 
No, it won't cure anything or make stuff go away, but by golly as therapy for a troubled soul, it hits that spot! 
I have played a few care homes in my time, guitar and singing, and there is something magical when 20+ old folk are all singing along to 'you are my sunshine' and one old boy with no legs in an electric wheelchair, head lay on his shoulder, drool spilling onto his chest is smiling and rocking his chair side to side in time with the music.... Totally humbling and sadly beautiful. The power of music eh? Sheesh.... 
And the wind takes your hesitation, and the sun burns your fear, and the rain on your face, make the tears disappear..

August 25, 2015 - 10:10 am
Member Since: December 25, 2013
Forum Posts: 878

Offline


Playing the violin is pure joy for me!!  AND the more I improve ..... the more joyful. hehe!!
Violinist start date -  May 2013  
Fiddler start date - May 2014
FIDDLE- Gift from a dear friend. A 1930-40 german copy, of a french copy of a Stradivarius.  BOW - $50 carbon fiber. Strings - Dominants with E Pirastro Gold string.

August 25, 2015 - 2:51 pm
Member Since: February 21, 2015
Forum Posts: 149

Offline
Rob C brought up PTSD.   It's something that is hard for a lot of people to grasp that it is real, and truly affects peoples lives.  Everyone deals with traumatic things in life differently.   Not combat related...  but I'll share a stressful story.
T'was a dark and stormy night...  reminds me onfa book with snoopy, but I digress.   Really, was a dark and stormy night, the power had gone out and the only lights were from some candles.   Wife says it sounds like a train outside as she is sitting on the couch by the wall.   I get up and grab her arm and say let's go and pull her up as I'm turning around...  The wind and the rain start to hit me a split second later.  About an arms length from where she was sitting, a tree had decided to cut our house in half.   Once everyone was accounted for and safe, I realized the water pouring in was more than just rain, so I went out and turned off the water to the house.   Upon walking back in, I grabbed a chunk of the ceiling and through it at the candles...  which kinda freaked everyone out until I said one word:   Gas.   I grabbed some pliars and opened the back door, and crawled under the tree coming out of the backside of the house from the front yard and found the meter and shut off the gas to the house.
To this day the wife will shake at sudden loud noises or sudden events.  Traumatic events really can scar a person for life and I'm glad the violin helps you deal with it.
There is no rhyme or reason to hurricane season....  yet living in a travel trailer with me, the wife, a teenager, three dogs, and a parrot somehow builds character and a understanding that life is all what you make of it ... 
So I guess if I have a point to any of my rambling...  it's friends and those you love that help you through stressful events that impact your life... even if some of them are "virtual" people on the internet that you share a common interest with.
Violins are just an added touch to help enjoy life, but hopefully give pleasure to others around us as well.
Somehow Hurricane Ike will always be etched in my mind for some reason.

coolpinkone
California, the place of my heart
August 25, 2015 - 3:27 pm
Member Since: January 11, 2012
Forum Posts: 4180






Thank you thank you @Fiddlestix hang in there and get rejuvenated. Hope you feel better soon.  Thank you for your kind words.  And @BillyG  too!

@Rob C  thanks for sharing.  So much to be learned from hearing people and their story. Thanks.  I had never heard that about the drums.  Very cool.. very cool.  I have some slow songs that I play now and I can feel better when I play them...I always feel good when I play Amazing Grace...I have many meanings for me.. "saved a wretch like me." might be about my playing. LOLOL  Violin Therapy.... I am a believer.

@Taper123 I would imagine there is so much to be learned from going to weekly doc appointments.  Not always good, but in then end we can use it to help us become a better human and better player.  Keep up the good work and keep enjoying that violin.  I like what you said about it enhancing our life and how that spills over to others.

@leftyuk  by golly.. I think you are right.  And for all the times that I have laid down and tried to sleep away a problem or hide.... I can say the times I got up and played.. it was certainly a better therapy. 

@Fiddlerman  thanks for chiming in.  I know of some sad times your have endured in the 3.5 years I have been hanging around.  And I can say that you really do have a great way of seeing life and goodness in the wake of some hard times.  Always such a good role model and teacher for us.  We are proud of you too man!!!!!!!! 

@Schaick  - I agree.. JOY.. and more JOY


@Taper123 - that is quite a story and quite moving.  Your story makes me think how lucky you are to have your family so close like that and how lucky we are when we can share another's trauma and understand. 
Good talks friend. good talks.
Love, Toni
Vibrato Desperato.... Desperately seeking vibrato

coolpinkone
California, the place of my heart
August 27, 2015 - 4:25 pm
Member Since: January 11, 2012
Forum Posts: 4180







August 28, 2015 - 5:15 am
Member Since: August 28, 2013
Forum Posts: 993






As many of you know, I bought my fiddle with my one time only survivor's payment from Social Security, $255.  I bought it because as broke as I was, that amount would have been gone in 5 seconds on any number of bills or groceries.  I bought it because I always wanted to play something and my husband had stuff he always wanted to do too that he never got a chance to do.  So I started to play as a type of memorial to him.
Now when I am sad, or miss him or am angry because I shouldn't have to be raising these kids by myself, I play.  When I am in one of those moods (which is not often now at almost 4 years out) I play stuff I know well.  
Those songs that you spend hours and even weeks or months learning come back as comforting and familiar.  The music, the physical act of playing, the not sitting there crying but getting up and doing something, is all very helpful.  There's no stress about correct timing or bow direction.  There is only losing yourself in the music and letting your mind have a bit of a rest.  These are the times that I am the most thankful that I have the violin and the music in my life.    
Opportunity is often missed because it wears suspenders and looks like hard work.

Forum Timezone:
America/New_York
Most Users Ever Online:
696
Currently Browsing this Page:
1
Guest(s)
Members Birthdays

Upcoming
Mad_Wed, Reacher, Andrew, Prudence, Lenicus, wookieman, ButteryStuffs, Gil, kit, makinnoise, wisco kid, Longstride46, Nathalie, marta, klezmerkat, vocaliw95, winxart, nancyjoshua
Top Posters:
ELCBK: 3154
Mad_Wed: 2849
Barry: 2680
Fiddlestix: 2647
Oliver: 2439
DanielB: 2379
damfino: 1992
Kevin M.: 1972
ABitRusty: 1913
cdennyb: 1815
Member Stats:
Guest Posters: 3
Members: 28440
Moderators: 0
Admins: 7
Forum Stats:
Groups: 16
Forums: 77
Topics: 9334
Posts: 116839
Administrators:
Fiddlerman: 15724, KindaScratchy: 1757, coolpinkone: 4180, BillyG: 3675, MrsFiddlerman: 2, Jimmie Bjorling: 0, Mouse: 3478
©
Simple:Press
—