Check out our Forum Rules. Lets keep this forum an enjoyable place to visit.
A
A
A



Topic RSS

Is it difficult to learn to play violin on you own?





(0

votes)

August 27, 2011 - 4:30 pm
Member Since: August 27, 2011
Forum Posts: 2

Offline
I am learning to play de piano, and I like it. I just need to keep practicing. I lost my job las year, and I am leaving with some friends meanwhile I found another job. I use my friends keyboard to practice, but it is not something that you can carry with you everywhere, so I want to get a violin because I like the sound, and it is compact enough to take it with me everywhere. I was wandering if learning to play violin will have the same degree of difficulty as learning to play piano, or if the violin is harder. I know that those are two very different instruments, but with piano I just took one class in college a few years back which gave me the basics to keep going. Would it be the same with violin? Or is learning violin more like trying to learn guitar that bunch of people buy a guitar and become frustrated with it?




August 27, 2011 - 5:34 pm
Member Since: May 30, 2011
Forum Posts: 157

Offline
Runner2, you are right about being able to carry a violin with you. I do just that, I keep one with me when I go to work, that way I get more practice time. I love to play, but only have been at it seriously for 3 months. I do not play the piano so I can't tell you if it is easer, but there are some here on the forum that play both. I do know that if you love the sound and have a passion to learn it, the joy of playing will be a lot greater than the frustration. Welcome to fiddlerman o hope you stick around.

August 27, 2011 - 5:37 pm
Member Since: June 16, 2011
Forum Posts: 1094
Welcome to the forum runner2...
I have been playing the violin just couple few months and I do find it difficult to learn but I'm getting their. Unlike a guitar the violin doesn't have frets so it takes time to learn the different hand positions and bowing techniques. I haven't had any in person lessons but their's lots of free lessons on this site as well as many places on the web that I've been using.
Fiddlerman does offer paid Skype lessons hear too that I will be using down the road. Hope you take up the violin. It's a fun instrument.

August 27, 2011 - 9:34 pm
Member Since: July 6, 2011
Forum Posts: 969

Offline

I think the key to learn to play an instrument is to make sure you practice everyday. No matter what instrument, during the process of learning you will hit a "bottle neck" -- frustration. Once you past that point, you promote to a different level, similar situation may occur again. Being persistent and never stop practicing will help you get through the bottle neck. To get through the bottle neck you may need help from someone else, like a teacher or even yourself. Hope what I said help a little.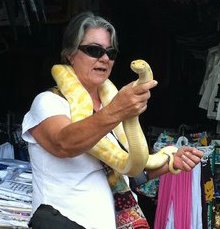 Robyn.fnq
Queensland, Australia
August 28, 2011 - 1:03 am
Member Since: July 8, 2011
Forum Posts: 585
Hi runner2, and welcome.   

I've played piano for about 7 years, and now I'm learning violin.  Learning both is very similar in some ways, although the techniques required are very different.  I played piano for about 2 years before I took proper lessons, and that's when I really became proficient, because a good teacher will show you firstly what you're doing wrong, and secondly, little techniques that the books don't show.  It's also a personal thing, and your hand placement, and even your posture will need correcting.  I'm trying to get some lessons, though there's nobody in my area that teaches.  I can't wait to get someone to help me in person, because I believe we all need that at some stage, even if, like you said, it's only one lesson.
Having said that, I believe I'm not doing too badly for a beginner by myself, so please have a go, it's a lot of fun.  We're all learning here on the forum, and people have been a wonderful help to me here, so stay around please.
Robyn

If you think you can, or you think you can't, you're probably right.

August 28, 2011 - 11:32 am
Member Since: August 22, 2011
Forum Posts: 485

Offline

August 29, 2011 - 4:03 am
Member Since: January 13, 2011
Forum Posts: 70

Offline
Hi!
If you every day know what are your goals of your every day practice and how to reach them, violin wont ever be a problem to learn. You need a teacher when you dont know what are the goals. This is the way how I have been working. Its a bit more difficult when working with chamber music rather than etudes, because then I think much more about phrasing, tone, and all this little things, repeat many more times, and therefore have someitmes more diffusely formulated goals.

August 29, 2011 - 10:45 am
Member Since: February 28, 2011
Forum Posts: 2439

Offline
I think that for someone to study violin on their own it is very important to be a violin scholar.  By this I mean being able to identify problems. 
It is not possible to fix something unless you know what is really wrong.  The internet and forums can offer a lot of answers but maybe not addressed to the right problem.
The student must be educated as a student AND as a teacher.  So there is a lot of homework to do with and without the violin. 

When you come to a fork in the road, take it.

Forum Timezone:
America/New_York
Most Users Ever Online: 231
Currently Online:
61 Guest(s)
Currently Browsing this Page:
1 Guest(s)
Members Birthdays

Upcoming
blueviolin, Abby
Top Posters:
coolpinkone: 4107
Mad_Wed: 2849
.: 2671
Fiddlestix: 2647
Oliver: 2439
DanielB: 2379
Kevin M.: 1969
cdennyb: 1813
TerryT: 1726
damfino: 1715
Member Stats:
Guest Posters: 2
Members: 11190
Moderators: 0
Admins: 3
Forum Stats:
Groups: 16
Forums: 57
Topics: 7197
Posts: 89484
Newest Members:
rickyro4, bobbie, leonardeb69, LeroyFromo, krystalcm4, Kalliespita
Administrators: Fiddlerman: 13281, KindaScratchy: 1722, BillyG: 2411