Check out our Forum Rules. Lets keep this forum an enjoyable place to visit.
A
A
A



Topic RSS

New - Old Violin
Fell in love...





(0

votes)
April 26, 2018 - 4:23 pm
Member Since: April 26, 2012
Forum Posts: 189

Offline

So Lorna and I on our travels stumbled on an old little music store buried downtown, and found this! The guy had bought it a few years back from an antique sale, he was a guitarist and had just kept it behind the counter for years. He was now getting ready to move the shop and dug it out for us. We visited for a while, we played some fiddle in there, exchanged life stories and such, he gave us a tour of the shop....we both played and just fell in love with it - feels like a 100 or so fiddlers had played it before us - maybe I'm being a bit dramatic here but it sounded awesome considering our playing skills! He told us to go think about it and get back to him.
Anyways we talked about it all the way home, no way did either of us have the money for sure - and we don't know anything about old violins (or new ones apart from whats on the fiddlershop website!)
But our husbands both said it seemed like a nice one, and maybe the age made it sound better...Lorna and my husband pushed me to offer the guy what I had in my fiddle fund....which I have been stashing for a little while - he told us to come back up - played it again, he asked what I was going to do with it - well "play it" of course!!! 
I gave him the money...he then gave me some money back and told me to get new strings and a case....we all cried and hugged and I couldn't believe it - as a musician he wanted it to be played and not traded or sold. He said Joey McKenzie had came in and played it and to take it to him to set up (small world!) we were at his fiddle camp couple weeks ago!!! Joey wasn't in, and I was too excited to wait so we went to another store and got strings.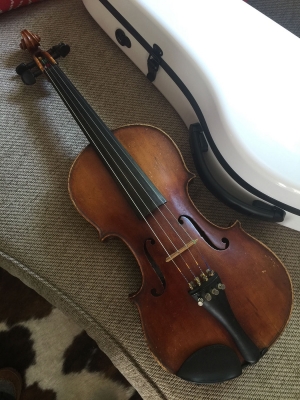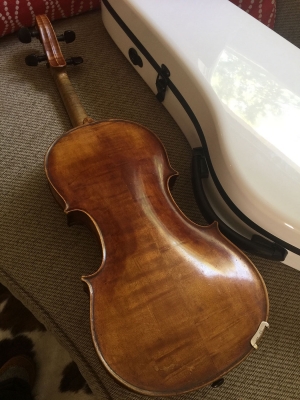 Anyways, both Lorna and I love it - playing it constantly...there is something special about it for sure. I imagine it wasn't a very expensive one in the beginning, but played a lot and passed down, it kind of kept that sound of great fiddle players in it (hard to explain, but I hope I don't break the chain with not being so good!!)...and then, when I'm old (well tons older!) that is what I am going to do too, pass it along to someone else that will cherish and play it.
April 28, 2018 - 8:00 pm
Member Since: April 26, 2012
Forum Posts: 189

Offline


April 28, 2018 - 10:53 pm
Member Since: September 30, 2014
Forum Posts: 703

Offline



coolpinkone
California, the place of my heart
May 29, 2018 - 3:58 pm
Member Since: January 11, 2012
Forum Posts: 4168







May 29, 2018 - 10:51 pm
Member Since: January 19, 2014
Forum Posts: 973

Offline
Interesting sticker.   It doesn't say "Made by" it says "Repaired by"  A. B. Clark 1897.  That old girl has been around a good long while and I'll bet she's developed a distinct voice.  A pity that she can't tell you all the places she's been and the things she's seen, but now that she's free to sing again she'll be happy.  
A positive attitude may not solve all your problems, but it will annoy enough people to make it worth the effort. ~Herm Albright
May 30, 2018 - 12:12 pm
Member Since: April 26, 2012
Forum Posts: 189

Offline

Yes Uzi - it does sound amazing, at least when played by my violin teacher who went nuts over it, and told us to look it up....
Hubby did a mini investigation, didn't notice there was another label above this one - thinking it was made by John Albert, Philadelphia. He was a german immigrant, started up shop in 1848. One of his violins is at the smithsonian. Died in 1887, had the prize winning entry at 1876 Centennial exposition.  His 2 sons took over the business when he died, EJ Albert and someone else John jr. (I think), one carried on the traditional and became a notable bow maker, the other went with factory manufactured violins.
The repair guy, AB Albert was a luthier from Indiana who had a great reputation for making violins, it was said that he would take an axe out into the woods and could tell by his first hit how a violin made with the wood from that tree would sound. (from an old newspaper article) 
The violin was played in the 1900's by a lady at the Dallas Phil Orchestra, (still trying to get a list of possible women that played) She apparently was a notable violinist during her time, the violin was found in her belongings after she passed when her grandchildren were gifted her estate, they knew she had played but didn't see it as anything. Her immediate children were not there so it was sold in that estate sale for $500 in 2011. I picked it up from there.
Not sure if its all legit, but nice story and was fun investigating!
May 30, 2018 - 12:13 pm
Member Since: April 26, 2012
Forum Posts: 189

Offline


damfino
my own little world
May 30, 2018 - 3:34 pm
Member Since: July 23, 2015
Forum Posts: 1907






bocaholly
Boca Raton, Florida
July 28, 2018 - 5:14 pm
Member Since: July 8, 2018
Forum Posts: 593

Offline



July 29, 2018 - 10:42 pm
Member Since: June 15, 2018
Forum Posts: 11

Offline
July 30, 2018 - 10:58 am
Member Since: April 26, 2012
Forum Posts: 189

Offline

Thanks guys - I looooove it! - this is my violin for life for sure - I think it makes my playing better, or helps it along, not sure which...possibly because I love playing it so much I'm just getting a little bit better every day.    
I think each of us has a sound that just is perfection to us...I was in the right place at the right time, and feel very blessed to have found mine!

July 30, 2018 - 12:41 pm
Member Since: July 29, 2018
Forum Posts: 260

Offline


August 8, 2018 - 2:41 pm
Member Since: June 8, 2018
Forum Posts: 10

Offline
August 10, 2018 - 9:57 am
Member Since: April 26, 2012
Forum Posts: 189

Offline

I sure will...love all my kids and gkids but my 7 year old grandson is kinda my bud, we pretty in tune with ideas, jokes and stuff...pretty cool fella!...he listened to the story with wide eyes, he loves the part about the axe in the woods...He said, "Mimi, when you go to heaven, this has to go to someone very super special just like you!"....so he's in charge!
PS - I did let him know that hopefully it will be a while as I really wasn't that old!

Forum Timezone:
America/New_York
Most Users Ever Online: 231
Currently Online:
63 Guest(s)
Currently Browsing this Page:
1 Guest(s)
Members Birthdays

Upcoming
fryserisnon8, Shell, Schaick, GlassTownCur, Violinista Italiano, VirginViolinist, CarolineNH, Cearbhael, JamesRSmithJr, SethroTull86
Top Posters:
Mad_Wed: 2849
Barry: 2673
Fiddlestix: 2647
Oliver: 2439
DanielB: 2379
Kevin M.: 1969
damfino: 1907
cdennyb: 1814
TerryT: 1726
Ferret: 1575
Member Stats:
Guest Posters: 2
Members: 20650
Moderators: 0
Admins: 8
Forum Stats:
Groups: 16
Forums: 58
Topics: 7735
Posts: 96673
Newest Members:
ibvotiv, DeeLee, evdoshchuryic, auzowohe, ilenelf60, Ragefirechuryic
Administrators: Fiddlerman: 14229, KindaScratchy: 1732, coolpinkone: 4168, BillyG: 2832, MrsFiddlerman: 1, Jimmie Bjorling: 0, SimplePressHelp: 0, peopleshost: 0