Please have a look at our Forum Rules. Lets keep this forum an enjoyable place to visit.
A
A
A

Topic RSS
Naming your instrument
Does anyone have a name for their violin or other instruments?
(0

votes)

September 10, 2017 - 10:09 am
Member Since: June 28, 2017
Forum Posts: 8

Offline
September 10, 2017 - 10:45 am
Member Since: September 21, 2013
Forum Posts: 488

Offline

I have named all my instruments through the years and many other items. I think any time we give an item, or an animal a name we make it personal and then give it a lot more attention. This will then cause attachment. All my instruments have names because, at least for myself, it makes me more excited to play. Especially when I have multiple violins. But to each his/her own. Some people may not name their instruments. Its a very personal choice!
I just play the until a name pops into my head that seems to fit them. My two current violins are named Equis and Maggi. My two previous violins were Snippet and Viero. 
Lead me, Follow me, or get out of my way!
             ~General George S. Patton

JamesRSmithJr
New Jersey, USA
September 10, 2017 - 11:05 am
Member Since: July 20, 2017
Forum Posts: 37

The day I received my fiddle I was talking to one of my sisters.  She asked if I realized it was the anniversary of our mothers death.
"Bertha Madeleine Ann McMahon Smith"
So when I get scolded, she is Bertha...  When I am rewarded she is just Mom...
Now I have to learn and do justice to the Blue Danube, moms favorite tune. 
Journey began on Aug 3 2017
September 10, 2017 - 1:39 pm
Member Since: August 13, 2017
Forum Posts: 108

Offline

September 10, 2017 - 1:54 pm
Member Since: July 23, 2015
Forum Posts: 1457



I've had good intentions to name my fiddles, but nothing felt right or stuck. My little old German fiddle I often refer to as Gramps, but my main fiddle (Ming Jiang Zhu 905) just gets called my Ming. 
☆•*¨*•¸¸¸.•*¨*•☆•*¨*•¸¸¸.•*¨*•☆•*¨*•.¸¸¸.•*¨*•☆
On a journey to learn the fiddle since July 24, 2015
☆•*¨*•.¸¸¸.•*¨* •☆•*¨*¨*•¸¸¸.•*¨*•☆
BillyG
Brora, North-east Scotland
September 11, 2017 - 12:06 am
Member Since: March 22, 2014
Forum Posts: 2225




Oh, all right, I admit it.... I have named my 5 fiddles....
The first was my old SkyLark which was the devil to play - so naturally he was originally called "Hermano del Diablo" - but - I subsequently did a lot of luthiery work and upgrading, including restringing "him" as a viola - the SkyLark has now had not only a gender-change but also a name change - she is "Violetta"
My second is an EV - and is called "Luci"  ( no particular reason - although I got her while Hermano was still Hermano, and also because at that time I was a very raw beginner I think I was continuing the "devils instrument" connection but didn't want to name it Lucifer, and gave her the benefit of the doubt..... 🙂 )
Next is my FiddlerMan Concert - "Connie"
Then my 3/4 1920's e-bay fiddle - "Yabé"   ( ya-bay )
Finally my MJZ 905 - "Li-hwa" ( Chinese for 'princess' )
Folks often say - "Bill, what's the point of having 5 fiddles dude 

, you can only play one at a time" - really - folks that say that - they just do not understand, do they ? 

I seriously recommend not copying my mistakes. D'oh -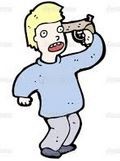 Please make your own, different mistakes, and help us all learn :-)

September 11, 2017 - 5:48 pm
Member Since: June 28, 2017
Forum Posts: 8

Offline

September 11, 2017 - 7:12 pm
Member Since: July 24, 2017
Forum Posts: 14

Offline
Over the last few weeks, I sold two of my three violins.  I'm still in the first year, and have upgraded in price and quality.  For my sole remaining fiddle, I imagine that I could name her, but once you name a fiddle, I would think it's a long-term (maybe life) commitment, from having that greater attachment.
September 12, 2017 - 3:17 am
Member Since: September 7, 2017
Forum Posts: 26

Offline
Forum Timezone:
America/New_York
Most Users Ever Online: 231
Currently Online:
41 Guest(s)
Currently Browsing this Page:
1 Guest(s)
Members Birthdays
Upcoming
Freq, Christine (moonlitday), 8r4d
Top Posters:
coolpinkone: 3978
Mad_Wed: 2849
Barry: 2666
Fiddlestix: 2647
Oliver: 2439
DanielB: 2379
Kevin M.: 1969
cdennyb: 1808
TerryT: 1722
Ferret: 1575
Member Stats:
Guest Posters: 2
Members: 7160
Moderators: 0
Admins: 3
Forum Stats:
Groups: 16
Forums: 56
Topics: 6905
Posts: 85973
Newest Members:
mabelfv60, peteojayy, brianor2, dellaoz60, Toranhq, Juliantax
Administrators: Fiddlerman: 12722, KindaScratchy: 1705, BillyG: 2225