The click track is ready for our "O Holy Night Project". Please visit the Project Page to download.
Check out our Forum Rules. Lets keep this forum an enjoyable place to visit.
A
A
A

Topic RSS
Non-Whistling E Strings -- Kaplan Solutions + Other Wound E Strings
(0

votes)

December 5, 2017 - 7:00 pm
Member Since: July 24, 2017
Forum Posts: 20

Offline
Hi everyone,
I was experimenting with the mandolin over the past few months and lapsed in my violin playing.  I just sold the mandolin, since I missed the violin (and was having trouble with mandolin finger pain, even after building up calluses).  Anyway...back to the main subject...unwound whistling E strings and the merits of wound non-whistling E strings.
To celebrate my return to the violin, I bought a Kaplan Solutions Non-Whistling E String (made by D'Addario).  I had been curious about the non-whistling strings for a while.  I had held off on the wound E, thinking that improved technique over time would solve this problem.  However, I still wasn't quite happy with my traditional E string sounds after one-year of playing (I started learning in November 2016).
My on-line research seemed to indicate that any wound E string would likely not whistle, so if I had a Helicore or Pro-Arte or something else where a matched E string of the wound variety was available, I probably would have stayed in my current string family.
However, my one and only violin right now is a violin I picked up used, and am not sure what strings it currently has installed (I checked those online string charts for the peg and winding colors, but didn't see my current strings; still of unknown type).
I decided to get the Kaplan non-whistling E string, based on online reviews that were generally favorable.  Some people said it was less-responsive and would be prone to breaking sooner that a traditional unwound string.  I can't comment on the longevity since I just installed this string today.  However, I can comment on the responsiveness, and can say that I didn't notice any difference.  The string is still pretty thin (being an E string) even with the winding.  It's not like I would have to dig into the string, like someone might do with the much heavier wound G string.
This morning I had a one-hour practice session with a set of fiddle tunes in the keys of G and D.  Before dinner, I installed the new wound E string, and had another one-hour session playing the same tunes.  I was pleased with my new E string, and plan to stick with the wound E strings.  Hopefully, they will not prematurely break, and even if they do, the added cost seems minimal, especially when paired against the improved playing experience.
If you have experience with wound E strings, I would like to hear about it.
Thanks, Ron
AndrewH
Sacramento, California
December 5, 2017 - 9:37 pm
Member Since: November 5, 2017
Forum Posts: 94

BillyG
Brora, North-east Scotland
December 6, 2017 - 3:50 am
Member Since: March 22, 2014
Forum Posts: 2286




@newbie-Ron - started playing somewhat over 3 years ago.   The E would occasionally whistle back at me.   Research suggested it was entering some kind of torsional vibration rather than lateral.   Commenting about it here on the forum, someone mentioned the difference between wound and plain strings, and also suggested the Kaplan E you talk about.   I now have that string fitted to my now 4 playable instruments - my 5th is in a permanent state of being re-built 🙂   
I have to say I have never yet had the Kaplan E break - and the instruments really do get a lot of playing.   And no, I certainly do not find it unresponsive in any way.  The Kaplan E is fitted on different instruments which carry variously Vision Solo, Fiddlerman, and Dominant stings - and - to my ear - is reasonably matched.   The E is ALWAYS gonna sound somewhat different.....
Congrats on your return to violin !  

I seriously recommend not copying my mistakes. D'oh -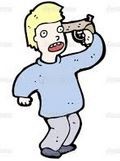 Please make your own, different mistakes, and help us all learn :-)

December 6, 2017 - 4:30 am
Member Since: September 29, 2017
Forum Posts: 89

Offline
I can't comment on wound E strings but I have a Warchal Amber E on my fiddle and I haven't had a problem with whistling.  It is what came on my fiddle, which I purchased about 2-1/2 months ago, and the only E string I have had on it.  I am waiting for this set of strings to die before I replace them.  I have a Helicore set with a Kaplan Non-Whistling E waiting to go on next and I'm interested to see if that E string performs better than the Warchal E and also which mates best with the other Helicores.  I practice 2 hours EVERY DAY so that Warchal E has a lot of time on it.  The Kaplan E has a tough standard to match, especially since it is more expensive than the Warchal. 
Have you tried a Warchal Amber E?   
Forum Timezone:
America/New_York
Most Users Ever Online: 231
Currently Online: AndrewH
62 Guest(s)
Currently Browsing this Page:
1 Guest(s)
Members Birthdays
Upcoming
Reacher, Lenicus, wookieman, Gil, Longstride46
Top Posters:
coolpinkone: 4007
Mad_Wed: 2849
Barry: 2666
Fiddlestix: 2647
Oliver: 2439
DanielB: 2379
Kevin M.: 1969
cdennyb: 1808
TerryT: 1722
Ferret: 1575
Member Stats:
Guest Posters: 2
Members: 7569
Moderators: 0
Admins: 3
Forum Stats:
Groups: 16
Forums: 56
Topics: 6949
Posts: 86706
Newest Members:
byroncf1, jessiesr11, zacforat, Kanding, liyazz, StevenAbago
Administrators: Fiddlerman: 12802, KindaScratchy: 1706, BillyG: 2286