Join the forum discussion on this post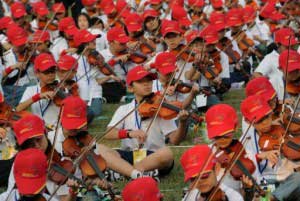 TAIPEI — More than 4,600 Taiwanese schoolchildren came together for a mass violin-playing session, breaking a world record that had stood for 86 years.
An official from Guinness World Records witnessed Sunday's event that brought together 4,645 children aged under 18 at a stadium in central Changhua county, the county government said.
The performance was 30 seconds longer than the required minimum of five minutes, it said.
"Creating a world record is not our goal. The event is to review a music education promotion programme for schoolchildren launched seven years ago," Chang Chueh-fen, a county official, told AFP.
The previous world record was set in 1925 in London when 4,000 violinists performed.