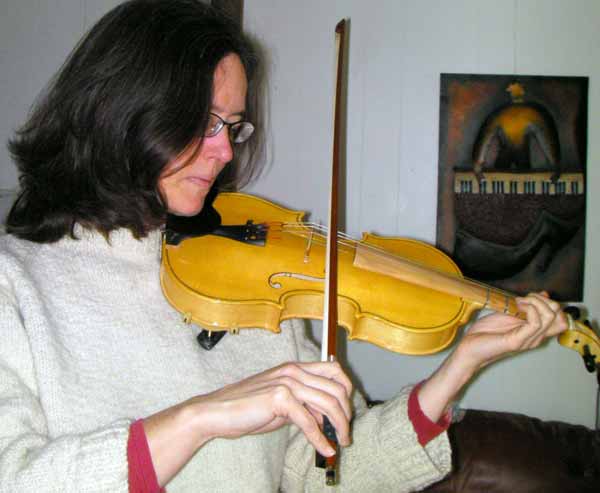 Please begin by telling us anything you would like to about yourself. Age, place of birth, residence, etc.
My name is Mary and I was born on April Fool's Day in Walla Walla, Washington. I've been told that I take myself a bit too seriously :wink: Grew up in Hood River, Oregon where my Mom still lives. I now live on the Central Oregon Coast with my wooden boat building/restoring partner of 10 years, two dogs, one cat who rules our world, and six angora rabbits.
What made you decide to play the violin?
I've always loved the sound of the violin but never gave playing much consideration as I have many, many hobbies and I thought it would be Too Hard. Every year at the Wooden Boat Show in nearby Toledo, Oregon, Kelly Thibadeaux (a fairly local pro fiddler) gives a free fiddle workshop, which I always listened to but did not participate in until 2010 when there was a man selling fiddles and other stringed instruments to benefit a children's music program at the show. The time seemed right to pick up the violin and Kelly promised that it was easy as pie (in his Southern drawl) and I could not resist.
How long have you been playing the violin?
1.5 years.
How often do you play? How long are your practice sessions?
I pick up my fiddle several times a day, usually for about 10 minutes at a time. There are so many other chores and obligations in my life that finding time to practice for an hour or more at one time is pretty rare.
In your opinion, what's your proficiency on the violin?
Rough advanced beginner, I guess. At this point playing the songs I really love isn't quite within my reach, so I always feel like I'm striving, which can be frustrating.
Your greatest personal experience with playing?
The first time Twinkle sounded like a real song and I realized that maybe I could learn to play after all.
What other instruments do you play?
I played flute in the band through school, but didn't like it much, mostly because of the music selection.
What does music mean to you?
As others have said, it's the Universal Language and becoming fluent is one of my lifetime goals. That the violin comes closest to the human voice is icing on the cake, IMO. I want to give voice to my feelings and passion through the violin in ways that I just can't express in words.
What or who has been your greatest influence?
I took up the fiddle strictly for myself with no one cheering me on. Even the cat left the room for a couple of months after I started :wink: Lora at Red Desert Violins made my early attempts productive (this was before Fiddlerman) and encouraged me to keep going and keep growing as a fiddler. YouTube has proven to be a great inspiration – seeing all of the young, enthusiastic musicians posting videos with some awesome technique and creativity is a constant source of motivation. Watching the videos on Fiddlerman has been inspirational, too, as we have the opportunity to get to know each other and give encouragement and constructive (and non-threatening!) criticism in a totally supportive environment, which is HUGE for those of us who are a bit shy in person.
What are your goals for playing violin? Short and long.
Short term to get my left pinky into shape and in tune – I'm double jointed, so my fingers don't like to cooperate for certain things and it's been a challenge to train them into proper violin habits. Long term to play some of the songs that inspired me to take up the violin – Boccherini's tune at the end of Master and Commander, the theme from Last of the Mohicans, Snowdon's Jig by the Carolina Chocolate Drops, Willie Taylor from Uncle Earl, and many Old Time fiddle tunes as well as some Blues.
What type of violin training?
7 months online with Loralyn Staples of Red Desert Violin. She teaches a modified Suzuki method to adult beginners and has been a great inspiration to me. The lessons are fun, very productive and fit perfectly with my learning style.
How do you warm up?
I generally play Lightly Row before anything else, even scales, because I find that it's already running through my head before I pick up the fiddle to practice. Then some scales, then whatever I'm working on at the time.
What is your favorite type of music?
Anything but rap, heavy metal (although there are some fabulous musicians doing covers with classical instruments that I love!) and Classic Rock.
What is your favorite piece of music? Why?
The theme from the Last of the Mohicans runs through my head more than any other song lately, so at least part of my brain loves it above all other songs. It's a very haunting piece – I've seen the movie a couple of times and can't help but think of certain scenes when the song goes through my mind.
What are your 2 favorite things to do other than playing violin?
If I'm not working on something fiddle related (building, research, designing in my head, etc.)  I like to read and work on my fiber arts projects. During the Summer gardening and working outside are top priorities. Can't cut it down to just 2 :wink:
Do you come from a musical family? If so please tell us about them.
None of my family (including myself) can carry a tune in a bucket. Luckily my fiddle stays in tune and, with the help of an electronic tuner, I can be fairly sure of playing in tune :wink:
Are you a member of any orchestra?
Not a member of any type of musical ensemble, but would like to be. I've recently met some local fiddlers and viola players and we hope to get together to play in the near future.
Do you ever perform publicly?
Not yet.
What do you work with?
My training is in architectural drafting, but the money is in engineering, so I've been drawing for civil and structural engineers for 20+ years now using AutoCAD Civil 3D. With the US economy in such bad shape, there is no new construction going on in this area, so I am pretty much out of work at the moment and looking to change careers. I would love to be able to make a living with the fiber arts (spinning, knitting, quilting, felting, weaving, sewing, etc.) but have been unable to make local connections that are profitable. A drafting gig that is related to the fiber arts would be perfect.
Would you please share with us information about your violin and bow and if you have several please tell us about them as well.
The fiddle I play the most is the one I built from a kit last year. It's blond and sweet, like the perfect cup of tea. I also play a Cecelio electric fiddle, which is a lot of fun. My bow was purchased from Oregon luthier Henry Strobel and is not expensive, but it is quite a bit lighter and more responsive than the bow that came with my first fiddle (which I passed on to my son) and I use a BowMaster grip to help with my double-jointed-ness.