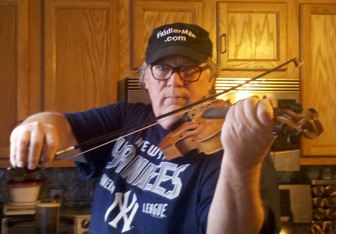 • Please begin by telling us anything you would like to about yourself. Age, place of birth, residence, etc.
I was born on February 7th 1954 in Amityville, NY, yes that Amityville, the horror house.  We grew up playing baseball all summer long.  At that time I was told I was going to learn to play guitar so for a couple of years I went to lessons but at a young age the only thing on my mind was going out and having fun.  While in grammar school we attended a concert. I was amazed at the sound of violins.  The only problem was, at that time girls played violins.  By the time I was 16 I took up SCUBA diving and kept up with it using mixed gasses until I was in my early forties.  While in college I had taken horseback riding and found my second love, horses.  By the end of 1995 my wife had died and 3 years later I found a wonderful woman from Pennsylvania. We married and moved to PA where we lived in a 17 room Victorian home in Scranton.  My wife's daughter had a horse that she had to sell a couple of years prior so we bought him back and gave her the horse for her birthday.  Next I had to get my own horse, Rio Steel.  He broke his knee and had to be put down so I searched for quite awhile for another horse.  Now you may not believe but the house we lived in was haunted.  There were always children laughing and lights going on by themselves, and then as I was looking on the internet for a horse I found one I liked and all through the house you could hear the clip clop of a horse.  This of course meant this was the horse to buy. Now my wife was without a horse until one day we took the trailer to an auction to transport a horse for a friend.  While sitting there a donkey and her foul came up for auction. The donkey had an old bullet lodged in her chest and the foul was only one day old.  As the auction was on someone behind me was bidding and won the bid.  With that my wife yells I won the donkey, very much to my surprise, but home they came.  I took the bullet out and still have it although she passed away many years later.  With all the horses and donkeys, we sold the house and bought a small farm.  My wife and I built the barns and we were off.  We now have over 200 chickens, 7 horses, 2 donkeys, 15 goats, 1 turkey, about 25 ducks and 10 geese along with 9 cats and 5 dogs and 5 rabbits, Thumper died just before Christmas. Now for the first violin. While at an auction, where we went to buy a Hosier and a violin came up for auction.  My wife's daughter, who from this point on we will call my daughter, played violin in school so I got her the violin.  By the time I got home I noticed it was cracked.  Well now I have to find out how to fix it.  I learned how to do it and took the violin apart repaired it and refinished it.  Now I enjoyed doing that so much that I bought another and another and another.  Now I decided since my daughter didn't want to play that I should learn to play it and in doing so found my first love, the one I wanted in grammar school.
What made you decide to play the violin?
Repairing broken violins
How long have you been playing the violin?
I have been playing since April of 2010
How often do you play? How long are your practice sessions?
Some days I go on for hours on end and usually pick up my violin every chance I can
In your opinion, what's your proficiency on the violin?
I would say I am about an advanced beginner.
Your greatest personal experience with playing?
That would have to be the first time I actually played a song and it sounded good, I remember it because my wife thought it was someone else playing
What other instruments do you play?
I can play pots and a kazoo
What does music mean to you?
Music to me is life.  When things are not going well or I just don't feel well I can always play my violin and forget about any problems I have.
What or who has been your greatest influence?
My wife, she is always there to encourage me.
What are your goals for playing violin? Short and long.
Short term goals are to play as well as I can even if that is only well enough to please myself.  My long-term goals are to play Handel's Messiah.
What type of violin training?
Besides what I have learned here I started learning from Violin Tutor Pro with Michael Sanchez.
I know I'm supposed to say I warm up with scales but I don't. I usually warm up by playing a piece I know well.
What is your favorite type of music?
I can't really say I have a favorite type. I listen to all music and enjoy all types of music.
What is your favorite piece of music? Why?
That would be Handel's Messiah and Ave Maria.  When I listen to these pieces I am just awe struck at how beautiful and moving they are.  It's like a movie by music.
What are your 2 favorite things to do other than playing violin?
Being with my animals and riding the horses and working with my hands and mind.
Do you come from a musical family? If so please tell us about them.
My family didn't even own a record player no less a record.
Are you a member of any orchestra?
No
Do you ever perform publicly?
Just to my friends, family and Fiddlerman projects.
I work our farm and repairing and building violins to give away to school children who can't afford one.
Would you please share with us information about your violin and bow and if you have several please tell us about them as well.
Right now I play a Karl Meisel and a Cecilio electric.  I have one of my own waiting to be finished and about 5 others in various stages of repair.  So if one which I repair is better than the one I am currently playing than that will be my new violin and the one I am playing will go to someone to learn to play.