• Please begin by telling us anything you would like to about yourself. Age, place of birth, residence, etc.
To begin my life with the beginning of my life, I record that I was born (as I have been informed and believe) On September 30,1965.   Toni Colleen is my name.
I have been in California all my life and until I know otherwise, I believe it is one of the best places to live.  I have two raised children that live away from home.  I am a first time empty-nester. Since I was 18 I have not lived in a home with children.  My daughter is 23 this year and my son 27. I have two grandchildren Elliott who is 6 and Abigail who is nine months.  Grandchildren are pretty much the most unexpected wonder of my life so far.
I am married and I have a 4 year old Basset Hound named Dexter, and a 11 year old Chihuahua named Le Le.  I live in Roseville, California.  I knit, spin, crochet, cross stitch, and cook, and I have a full time job that keeps me just busy enough to have my obsession have to battle for Toni time.  I have a book and knitting blog that I like to play with also.   Books and books and books are another passion.
• What made you decide to play the violin?
My sister played the violin when I was growing up.  She played well.  I am not sure why my parents put the violin in the wrong child's hands. But they did.  When she was not home, I would take it out and hold it, and play with the bow.  Part of the fascination of course… Horse hair!  I suppose I was going to play some instrument, but an unsettled home and life was the normal, and I think I just got left behind.    My babysitter could play about 7 instruments and she would bring them over and let me play with them.  I wanted to play so badly.   So it isn't that I now decided to play, I was always going to play and it wasn't unit now that I took control of my desire.  I can truly say that Youtube, Hilary Hahn, and the Sad Romance song were gentle nudges to follow my heart.
• How long have you been playing the violin?
Since January 2012
• How often do you play? How long are your practice sessions?
I play everyday.  I can practice from 20 minutes to two hours, depending on  my mood,  job, and family.
• In your opinion, what's your proficiency on the violin?
I am a beginner, with a few songs under my belt.
• Your greatest personal experience with playing?
I don't know that I have a great personal experience.  Every time I play a song I am  in awe and motivated to play and become a very good player.
• What other instruments do you play?
Zero other instruments.  However after I learn a song on the violin, I do enjoy pecking it out on my IPAD keyboard.  And I think to myself, it is so much easier on the piano.  Probably not, but it feels that way.
• What does music mean to you?
Music is everything me.  It always has been, from the very very oldies in old movies to the latest and newest top 40 music.  Music has saved me in many ways.  From Elvis, the Beatles, Abba, Heart,  Madonna, Whitney, Christina A. to Gaga.  Music makes the world go  'round.   I dance and sing my way through life for the most part.
• What or who has been your greatest influence?
Lately I guess it is Hilary, Pierre, and all the friends at Fiddlerman.com.   As relates to the violin.   Life role models, I am sorry to say there have been too few, I am still looking.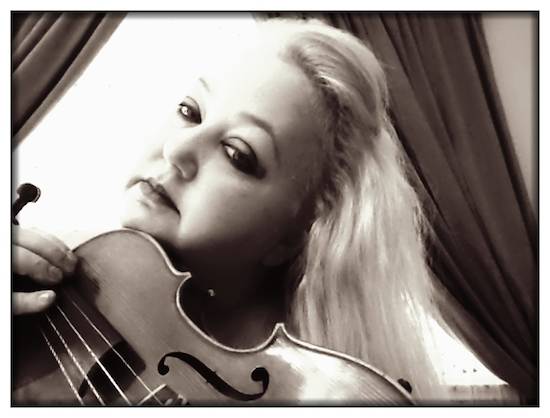 • What are your goals for playing violin? Short and long.
Proficiency in reading music as well as I can read a book is the first goal.  To play well whenever I want to hear music is the second goal, and some of that  is being realized.  I would like that on a grander scale.    VIBRATO… I am really hoping to get there, I will get there and for me I know I will have achieved a major goal.  And when it happens, you all will be the first to know it.   Long term…give me Bach and Beethoven, pretty please.
• What type of violin training?
7 months Fiddlerman.com, and 2 months of private lessons. (actually about 5-6 lessons)
• How do you warm up?
D-Major Scale, Twinkle.
• What is your favorite type of music?
I like it all.  I am one of the few people that doesn't really listen to country music, but I don't hate it.   IF it is violent, hateful, or racial, then I am not interested.   But I love U2, Depeche Mode, Pearl Jam, oh there isn't enough time in a day for me to list the music I love.
• What is your favorite piece of music? Why?
Currently.
A. Glazunov – Violin Concerto in A minor, Op. 82, by Hillary H.  (link:  http://www.youtube.com/watch?v=J_jnXPIEwis
Because when I hear it, I weep from the inside and it consumes me and nothing else matters, I am not sure I know why it has that effect on me. But most of Hilary's playing does that to me.   I feel enriched.
• What are your 2 favorite things to do other than playing violin?
That is a hard question.  But I love to knit and drink wine.
• Do you come from a musical family? If so please tell us about them.
No one plays music.  But everyone loves it.
My sister is a music freak like myself.  She doesn't play violin any more. ( I hope to change that as she moved in with me this past month).  She hasn't said NO to the violin.   About my sister, she is my "other half" in life.  We are polar opposites, but I feel her as my twin in life.  I have that connection with her.
• Are you a member of any orchestra?
Nope, not yet.
• Do you ever perform publicly?
Yes, OMG.. last month.  I played two songs in a recital.  It was unnerving and fabulous. Yay for me!  You all got me through it, did you ever think I was going to shut up about it?
• What do you work with?
I am in Marketing and Sales, but I'd call it admin work. Customer service.  I work for a great company but my job isn't one to envy.  Except the fact that I have one, right.  Gotta eat and pay rent.
In another life I worked with mechanics and engineers in a Semi Conductor Facility.  I also taught preschool. (12 – four year olds  that should tell you something about me).
If I would complete my degree I would be a liberal arts major and teach.   I don't like the business world, but I had to raise a family.
• Would you please share with us information about your violin and bow and if you have several please tell us about them as well.
Franz Hoffman Concert Violin with a Shar Fusion bow
Mendini Pink Violin.