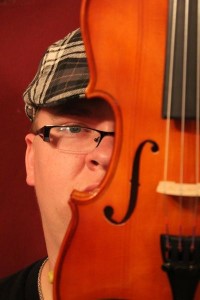 Please begin by telling us anything you would like to about yourself. Age, place of birth, residence, etc.
Hello, everyone!! Well for starters my name is Clint. I am 31 years young and I live in Amarillo, TX. (Yes…another Texan, woohoo!!!) I was born in a smaller town about 50 miles south of Amarillo, called Hereford. (Yes, Hereford; as in the maroon and white cow –sigh-.) So I am actually a small town boy. I have lived in California, Oklahoma and Florida, (the Orlando area for the Floridians in here.) My stint in California was in San Diego and the Camp Pendleton area… that's right, Marine Corp., baby!! Oorah!! I was in the service for a short period of time. I was discharged early due to tearing up my right leg in Camp Pendleton. But I am still a very proud supporter of our service members. Semper Fi. I am happily married to my second wife and between the two of us we have 5 kids total. Their ages range from 10 down to 4, and I love all my kids as equals. No "step" in any of my kids. I also have 5 dogs, two cats and 18 chickens. (I only claim one dog, though, my Rottweiler, Tater. He is my buddy and best friend.)
What made you decide to play the violin?
I tried to learn the piano a few years back. I bought a $200 keyboard from a music store that was supposed to "teach you to play." I really enjoyed it. Never really learned to play, but I loved to sit and create whatever sounded good to my ear. I lost my keyboard off the trailer when I moved to Amarillo and it was destroyed on the side of the road. (I was VERY upset.) I never picked up another instrument until the violin 4 months ago. What brought me back to the world of instruments? One word, David Garrett. I was on YouTube one day listening to Metallica S&M and saw another video about some weird guy who broke the Guinness record for Flight of the Bumblebee. So I watched it and thought he was pretty cool. Then I saw his Smooth Criminalcover on the violin and was amazed. It sounded so rock, but also so Classical. David Garrett was the inspiration behind my wanting to become a violinist, (even an amateur one.)
How long have you been playing the violin?
I started playing shortly after joining the Fiddlerman family. So mid-May? Yea, we'll go with that.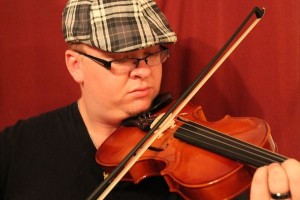 How often do you play? How long are your practice sessions?
I play just about every day. My violin sits beside my recliner and whenever the mood hits me, I pull it up to my chin and I'll play. I've been known, much to my wife's dismay, to begin playing quietly while a movie is going. When I do begin to play, sometimes I will play for 5 minutes or sometimes I will play for a couple of hours. It just depends on how the mood strikes me.
In your opinion, what's your proficiency on the violin?
I am not very good. I can play a few simple pieces, but nothing major. I started taking actual classes in the fall, and I am learning the Suzuki Method. It is interesting and it seems to really click. So taking this into account, three weeks of actual classes, totaling 1:30, four months of Fiddlerman.com and my own personal practice routine…I suck! Ha! But I am learning and I am still enjoying it!
Your greatest personal experience with playing?
So far, my best experience is when I finally got Ode to Joy sounding like, well, Ode to Joy! I know what it is suppose to sound like, so when it finally started sounding good, that was pretty impressive to me. Not a big deal, I know, but to me it was showing I could do this violin thing.
What other instruments do you play?
I can whistle really well.
What does music mean to you?
Ah music! To me music is the only truly pure thing left in this world. With technology taking over every aspect of our lives, to me music is the one escape from everything. The sounds of ever type of music can play to many different aspects of my life. I am very eclectic in my music. Rock, Classical, Heavy Metal, R&B, Soul, Motown, Big Band, Cool Jazz…anything I find I like, I put on my iPod. To me, music is EVERYTHING. (Ok, next to my kids…music is everything.)
What or who has been your greatest influence?
In the field of music, my only influence is myself. I am the one that brought music into my family. My wife listens to the radio, but has no appreciation for it. I fought, tooth and nail, to get my wife to let my eldest daughter start violin this school year. Now that I have my "screeching" going through the house, my wife is starting to like it. Soon, my daughter will be screeching along with me and those sounds will be the sounds of progress and the sounds of a father and his daughter doing something together that does not include Xbox or Wii. And THAT is the legacy I want to leave my family.

What are your goals for playing violin? Short and long.
Short term goals? I want to be able to learn to read music well enough to help my daughter. Long term goal? I want to be able to pull out my violin on the Fourth of July and play the National Anthem, or play A Night on Bald Mountain during Halloween or Carol of the Bells on Christmas Day. I have no aspirations to be great at the violin. I do, however wish to be able to go into a music store or pawn shop, take a violin off the shelf and play a song that makes people stop and listen. I want to take my violin to the lobby of some busy bank or office complex and begin playing a song in the lobby that they will keep with them all day. My dream is to bring the sound of an instrument back into places where all the music they hear is poor sounding "elevator music" that no one cares about. That is my goal!
What type of violin training?
As stated above… 4 months of Fiddlerman.com and 1:30 of professional one on one training.
How do you warm up?
I warm up with a Twinkle Twinkle from my Suzuki book. Once I get the sound right, I then look over my homework and other material I have.
What is your favorite type of music?
Anything with a great sound. I can listen to anything, Classical, Rock, etc… My all time favorite style of music is Classical Rock. At least that is what I call it. I love Andrew Lloyd Webber's Phantom of the Opera, Metallica S&M, Trans-Siberian Orchestra, David Garrett's Rock Symphonies and other styles of rock music that have an orchestra behind it. The two sounds together are beautiful.
What is your favorite piece of music? Why?
Beethoven's 5th Symphony. I first heard it on TV and thought it was cool. Then I heard TSO's Requiem, the Fifth and fell in love all over again. Then David Garrett and ever rock style version of Beethoven's greatest piece ever sense. Beethoven was the first true "rock star."
What are your 2 favorite things to do other than playing violin?
I am an avid NFL football fan. I am a huge fan of the Tennessee Titans (former Houston Oilers). I also enjoy spending a lot of time listening to music on my iPod as I draw or write comic book fan fiction.
Do you come from a musical family? If so please tell us about them.
No. My family has never been big on music. My dad will listen to the radio, classic rock, at work as will my other. Other than that; nothing really musical about my family.
Are you a member of any orchestra?
Heaven help the orchestra if I was!!
Do you ever perform publicly?
So long as no one is around. :wink:
What do you work with?
My hands and my brain, so not a lot of work there.
Would you please share with us information about your violin and bow and if you have several please tell us about them as well.
I have currently, one violin. I have no idea what brand it is or how old it is. Ole Roy is a free violin I got from my aunt. It was my little cousins. He left it after he moved away from home. My aunt was cleaning out her closet one day and found it. Having remembered I was looking for a violin via my obsessive Facebook posts, she called and asked if I would like to have it. I got it and it was in pretty rough shape. I had new D'darrio Pro-Arte strings put on, a new bridge fitted and a nice cleaning. It sounds pretty good for a freebie! My bow is a Fiddlerman Carbon Fiber bow. I also have a Brazilwood bow that came with the violin, but I never use it. It is just a nice backup. My CF bow is my favorite and even my instructor liked it. She said it handled really well. (She said she had never heard of a Fiddlerman Brand, but I told her it was special.) Finally, my violin and bows rest nicely in my Embassy Courier case I bought from Fiddlershop.com. A very nice case, I love it!!