Join the forum discussion on this post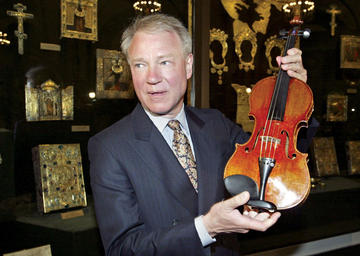 via: The Independent. An internationally renowned German violin dealer nicknamed "Mr Stradivarius" for his unmatched expertise in the antique instruments was jailed for six years by an Austrian court yesterday after being convicted of practising large scale fraud and embezzlement over decades.
Dietmar Machold, 63, a once-wealthy Austrian celebrity businessman and society host, was convicted of swindling creditors out of an estimated €100m (£79.8m) by using an assortment of real and faked Stradivarius violins to dupe them into bogus transactions.
State prosecutors at the Vienna court, where Machold was sentenced yesterday, said the accused had adopted the practice of using expensive antique violins as collateral for large bank loans instead of selling them for his customers as he had promised to do.
Prosecutors said they also assumed that Machold had underwritten documents testifying to the authenticity of alleged Stradivarius violins, and had sold off the faked instruments at grossly inflated prices.
However, prosecutors said they required the evidence of one of Machold's co-accused to confirm their suspicions that he had faked authenticity certificates for the violins. The co-accused has been unable to stand trial because of illness, and judges said any further convictions were dependent on his ability to attend.
Machold was one of the world's three leading Stradivarius experts and ran offices in Chicago, New York, Tokyo, Seoul, Zurich and Vienna. He drove a yellow Rolls Royce, lived in a 700-year-old castle outside Vienna and relished playing the role of celebrity businessman and society host. The Austrian authorities were so honoured that the north-west German born businessman had chosen to make their country his home, they awarded him an honorary professorship.
But Jörg Beirer, the chief judicial administrator overseeing the Machold case told Der Spiegel magazine before the trial: "He knew how to use an extremely flattering image of himself complete with castle, camera and clock collections, expensive cars and companies scattered across the globe, to pretend to be something he was not."
Machold's Stradivarius empire collapsed in 2010 when his international network of businesses were forced to declare themselves insolvent. He amassed debts totalling €80m with the banks and his own customers.
Using faked Strads and occasionally genuine instruments, he used his reputation to persuade creditors to hand him huge amounts of collateral. But the cash was used to pay off his debts.
Investigators finally exposed him as a con man in April last year when suspicious officials at a bank in Bremen, his home city, called in a forestry expert to examine two supposed Stradivarius violins which Machold had given them as collateral for a €5.9m loan.
Machold had claimed the instruments built by the famed 17th and early 18th century Italian violin maker were 294 and 325 years old respectively. However the forestry expert examined the rings in the wood of the violins and established that the trees used to make them were felled decades after Stradivarius died in 1737.
It emerged that the two instruments the bank was holding in its safe were worth a mere €2,000 a piece.
via Dietmar Machold: The renowned violin dealer who duped clients with fake Stradivarius – Europe – World – The Independent.