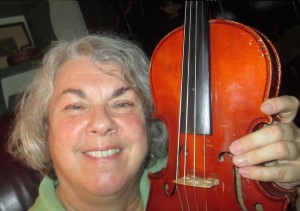 I was born in Lancaster, Ohio in 1955. Dad was a high school and college football coach so we moved around a lot, Wilmington College, Yale University, IU and Northwestern. The only time IU went to the Rose Bowl was when we were there. Dad coached offensive backfield and then later at Northwestern was the offensive coordinator.
When we lived in Bloomington Indiana we lived across the street from Coach Knight. After every football and basketball game Dad and he would get together and analyze the game, their coaching techniques and players.   My only claim to fame was babysitting for his kids, Tim and Pat.
I played flute for a couple of years in high school and tried to pick it up again as an adult on a couple of occasions, but playing made me have coughing fits – "sports asthma". I changed to the tenor recorder which takes less air but still had trouble with the coughing.
Two years ago my daughter [her hubby not so excited about the idea] and I decided to have my grandson learn Suzuki violin. The teacher wanted an adult learner to come with him, so I joined in. YAY!!
Around Mother's Day, May 2013 my grandson and I took our first lesson. We found out very quickly that my grandson was too stubborn to listen to directions. We tried a couple of more lessons – no luck. I decided to take a few Suzuki lessons without my grandson tagging along. A year later around the time of my 6th lesson I decided to look at bluegrass music.
I have always enjoyed bluegrass but the Andy Griffith show was my only fix!!! Bluegrass was considered backwoods, hillbilly stuff.   We always lived near a university so my exposure to music was classical, jazz and some rock bands that would visit the University.
My children each had piano lessons and one went onto to violin, but none stuck with it. Sports got in the way!! My grandmother was a piano teacher. I was not a student of hers because we lived in another state, but every visit I would ask her to play this https://www.youtube.com/watch?v=9fFf0ClVLao for me.
When I started this journey I was watching my grandson during the day and I was able to practice every day but only in snippets of time. At present I am playing every day for 1-2 hours. At one of the first Suzuki lessons I was introduced to a family with 4 small children. I told one of the little girls I was going to practice every day so I could catch up with her. I have continued to practice every day.
I choose a tune and learn it. I don't do scales!! When we learned to speak did we recite declensions? I practice what I will be playing for people!! I learn the technique I need to play the song.   Just recently I started to shift positions with the song Maiden's Prayer. I warm up with any tune I have memorized.
I want to be able to speak fluent fiddle. It would be cool for people to ask me to play! I am improving steadily. At present I can lead a song at jam and take breaks for a few songs. As in most cases I usually take two steps forward one step back but always forward a bit.
A huge step forward for me – overcoming my horrific stage fright. In the 6th grade I was forced to try out for choir and then they did not let me join!! Why make a child try out and then not let them join?! Taking up the fiddle I decided I had an excuse for my poor playing for at least a year or two. I am a beginner and learning a difficult instrument! I forced myself to play in front of my family and then at a local bluegrass jam.
I have learned so much from the jam sessions I attend. All the people have been very kind and encouraging. I have had no trouble playing in front of people after the first few bow strokes. Sometimes there are 20+ people present counting the people playing and those listening.
To date my greatest experience was when I led Ashokan Farewell at a jam and a much better player played harmony. She got up and hugged me at the finish! A fun experience just last week was being able to partially play 2 new tunes by ear!!
Midnight on the Water might be my favorite tune as played by Benny Thomasson. Maybe my favorite is the tune I am playing at the time? I am learning Jerusalem Ridge as played by Kenny Baker so that might be a favorite too!! Two years ago I didn't even know who Benny Thomasson and Kenny Baker were!
The old time fiddlers have been a great influence. They didn't have fancy instruments or teachers but their music is amazing. Some just as difficult as a classical piece. What I find so interesting and fun with bluegrass music is putting your own twist or bit of flavor on the song.
My friend gave me my violin, Berty, after about 6 months of playing. It was sitting in her deceased father-in-law's damp unheated house for years. It is one of those 1930-40's German copies of a French copy of a Stradivarius. My bow is a new carbon fiber bow.
Music is joy!   It used to be that gardening was my joy – now it is fiddle!!!
Here is a picture book of my garden  https://pleasantcreekgarden.shutterfly.com/ Password: irvington
I also knit and felt hats and scarves for pin money.