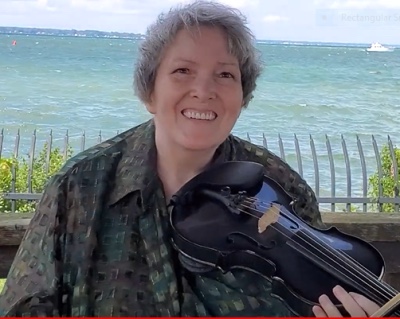 ELCBK has been a member of Fiddlerman's Fiddle Talk since June 10, 2020. She has posted in about every room on the forum and is quite active in the Genres. More importantly, she is more than willing to help out and encourage a fellow member with answers to their questions. This has helped her obtain her most recent badge, Booster. 
We thought it would be great to dig a little deeper and find out more about ELCBK, aka, Emily. She has willingly agreed to let us know a little about her and what makes her tick, or fiddle. Here is an interview for you all.
Mouse: ELCBK, Please begin by telling us anything you would like to about yourself. Age, place of birth, residence, etc. As much as you would like to share.
ELCBK: The body I inhabit turned 66 years old this past June! I have always & still LOVE music, even though it never became one of the many skills I've mastered over the years. I grew up in Michigan, served in the Military, ventured out & eventually returned – where I share my life with my Soulmate, our Daughter, SEVEN Grandkids, critters & friends.
Mouse: What made you decide to play the violin and later the viola?
ELCBK: February 2019 – I had just completed a full horrid year of weaning myself off prescription pain medication. One of the benefits – I was interested in music again! It was kind of crazy, because it seemed everywhere I heard music I liked, I noticed a violin or fiddle – even The Beatles! YouTube music was new for me, my spirits needed a boost and was looking for a distraction from what pain I still had to deal with. A little later, I discovered tutorials! Then, I found the Fiddlershop!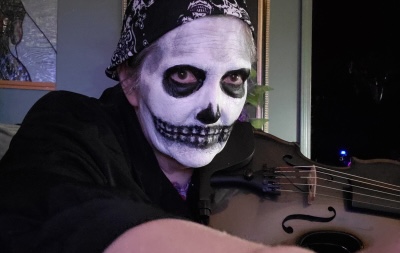 Mouse: How long have you been playing the violin? The viola?
ELCBK: Next month I'll have played 3½ years, total – 5-string Violin, then approximately 9 months of it playing the 5-string Viola.
Mouse: How often do you play?
ELCBK: I try to play every day – don't think I've missed more than a handful of days each year. Sometimes I play once a day, sometimes more.
Mouse: How do you warm up?
ELCBK: I usually just warm up slowly with a few simple tunes I love or even just parts of a tune – probably 10 to 15 minutes. I kind of warm up with each new thing I try or play and I consider everything I do is 'practice', unless I'm recording a video.
Mouse: How long are your practice sessions?
ELCBK: I don't pay attention to practice time. If I only work on one thing, maybe only a half hour, but I usually work on more than one thing.
Mouse: What are the three things you do during your practice or playing time that help you the most with playing your instrument.
ELCBK: I relax/listen. I challenge myself with variety. I correct what mistakes I hear, as soon as I hear them.
Mouse: I think we all have days when we just seem to hit the wrong notes no matter what. What do you do when that happens? How do you get back on track? Do you just decide, maybe later? Or is there something you do, ie some tune you play, some exercise you do, or something you tell yourself to get back on track?
ELCBK: I ALWAYS make sure I end on a good note! I'll step back, slow things down, or switch to something easier. Sometimes just the act of trying something new can be a positive – no matter how bad it may be. Listening/watching how others tackle a problem can help me realize how to deal with it more, during my next practice.
Mouse: In your opinion, what's your proficiency on the violin?
ELCBK: I'll be a beginner until the day I stop learning. I'm a MUCH happier 'beginner' than I was a year ago!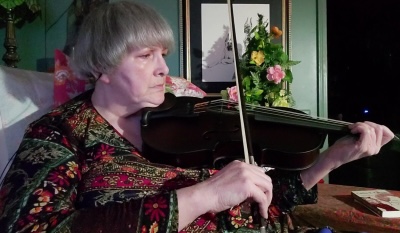 Mouse: You have mentioned on the forum that you play the 5 string violin and 5 string viola. Did you start with the 5 string of each or did you start with a 4 string and switch to a 5 string? Why did you choose or switch to a 5 string, and why did you add the viola to your instruments?
ELCBK: I like low sounds. When I discovered 5-string Violins at the Fiddlershop, they weren't as scary as Viola – thought it was the best of learning both instruments! Since I was just starting out, thought one more string wouldn't make a difference… and I was right. After 2 years, I got brave enough to go bigger & darker!
Mouse: Do you play other instruments?
ELCBK: I can honestly say that anything I've ever done to another instrument, cannot be considered 'playing'.
Mouse: What does music mean to you?
ELCBK: Music – is like when what's inside my head/heart gets taken outside for a walk & a romp… without a leash!
Mouse: What or who has been your greatest musical influence?
ELCBK: My Grandmother had a Baby Grand, loved/played Ragtime & old Show tunes – she entertained other senior citizens (but I never saw that side). When I was 9 or 10 she took me on a bus downtown Detroit to the Fox Theatre to see "The Sound of Music" – the idea that music could have such an effect on a family, left a lasting impression. My Grandmother & Father told me tales of the Grandfather I never knew – how he could play the piano, accordion or any string instrument he picked up. My Father loved music, played 3 little tunes on piano & accordion… I'd rather not hear again.
Mouse: What are your goals for playing violin? Short and long.
ELCBK: My only goal when I started, was to be able to play a couple 'sea shanties' well enough by the end of my 1st year so friends & family wouldn't need to cover their ears. Btw, at that time, I didn't know the difference between a 'sea shanty' and an 'Irish Jig', but still reached my goal! Over this past year I've given goals more serious thought. Besides the little ones I randomly make up each day, I've decided I just don't need any long term goals – I have never-ending ODYSSEYS (4)!
Learn how to express myself with music, using my 5-string Viola & 5-string Violin.
Learn to verbally share with others what it is I love about music and why it involves the Viola & Violin.
Discover how to help others while I am helping myself.
Discover why I love or dislike music I hear & play.
Mouse: If you could meet one violinist/fiddler, who would you choose and why? If you could ask this violinist one question, what would be the one thing you would ask?
ELCBK: I look up to so many fiddlers/violinists, more each day – and I've had so many big questions answered since I started… I honestly don't have any burning question to ask anyone in particular, anymore.  I just feel like a sponge.
Mouse: What type of violin training have you had, or are you self-taught?
ELCBK: My Grandmother taught me to read the Treble Clef when I was little. I did have a few violin & piano lessons when I was a child in 4th Grade. I regret they didn't pan out for me back then. My Father took me to 2 live, local Fiddle Festivals (more than 20 years ago). I've learned from; Fiddlerman tutorials, Forum members, YouTube tutorials, Wikipedia, internet articles, books, thesession.org, FIDDLEVIDEO.com, Martin Hayes Patreon Masterclasses, many workshops at 3 Online Fiddle Hell Festivals, observation, trial & error… and a long ways to go. I'm self-taught!
I can't say enough about how much I appreciate Fiddlerman's tutorials, advice and the Fiddlerman Forum – I very easily could've given up without them!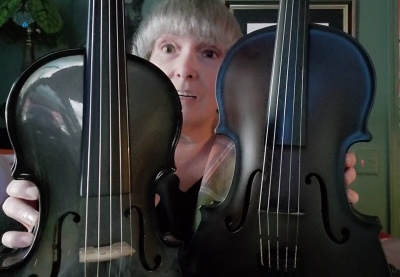 Mouse: I know you look at many genres of music, and share your knowledge about them on the forum, but what is your personal favorite genre of music?
ELCBK: I have no one favorite piece of music or one favorite genre, but I'm drawn to underlying rhythms that make me sway while a melody dances all over it – preferably in a minor key, that modulates.
Mouse: I know you love fiddle music. What is it about fiddle music that hits the right notes for you?
ELCBK: My definition of 'Fiddle Music' has broadened to include EVERYTHING that can be played on my instruments. There's NO one type of music for me, just interesting rhythms & melodies. I love 'Early' music, Rock/Popular, Classical/Baroque, Blues/Jazz, and Traditional music from all over the World.
Mouse: What are your 2 favorite things to do other than playing violin?
ELCBK: I've been pretty disabled for a while now, so besides music – my life revolves around finding fun & challenging ways to get my Grandchildren excited about EVERYTHING.
Mouse: Would you please share with us, information about your violin and viola and bows and if you have several please tell us about them as well.
ELCBK: I have both a Glasser 5-string acoustic Viola and a Glasser 5-string AEX Violin. I use a couple Fiddlerman CF & CF Weave Violin bows and an Arcus P5 Octagonal CF Viola bow. I also have a couple ½ size Violins I'm getting ready to let some of the Grandkids try.
Mouse: What would be your best advice to any child who is interested in learning to play any bowed string instrument? And, what would you say to let the child know it is not going to be learned over night and to stick with it?
ELCBK: Ask questions and practice EVERY day! The Fiddle becomes a life-long friend you share feelings and adventures with. Each step of the way might be challenging, but there's always a chance to find treasure around the next corner!
Mouse: Same 2 questions as above, but for an adult?
ELCBK: Ask questions and practice EVERY day! I see adults learn differently than children, so lesson plans for children may not be helpful. Try to use all your senses for learning & look at the ways many different people teach – use what helps you best from everywhere. Focus on listening & comparing sounds from the start, I think it takes years to develop a good ear.
Mouse: What was the best advice you have been told or read that helped you learn to play your instrument, or was it your own drive to learn? If it was something you read or were told, how did this help?
ELCBK: I found a lot of good advice everywhere. I feel it's always important to look for alternatives and different perspectives, so I can choose.  I think what's kept me going, besides my love of music, is my insatiable curiosity & need to know "how/why"… and stubbornness.  Prof. William Fitzpatrick videos helped me through many of my early "whys".
Mouse: What was the funniest, strangest, or out-of-the-norm thing that ever happened when you were playing your instrument, either performing in front of an audience, or when you were alone, or both?
ELCBK: Two occasions come to mind. First was when my Violin was new. I heard a loud rattle & thought I broke something! It was a loose fine tuner. Second, was when my Viola was new. I heard a loud buzzing when I played one string – got scared I might have a 'wolf tone'! The viola body touched one of my shirt buttons & made it vibrate!
Mouse: Is there anything else you would like to add that was not asked?
ELCBK: I just can't be limited to one 'favorite', one 'greatest' or one 'best', when it comes to learning & playing the Viola/Violin.  There are too many great people & things that have influenced me & helped me.  I've learned about more wonderful things than I ever imagined possible, and I've learned to play WAY too many different types of music to pick a 'favorite' – it's like looking up at the stars at night!  I've shared a couple year's worth of my favorites and my questions throughout the Fiddlerman Forum.  
Mouse: Thank you, ELCBK, for agreeing to do this interview, and for letting the forum members know a little more about you.