Check out our Forum Rules. Lets keep this forum an enjoyable place to visit.
A
A
A


Topic RSS

hobbies
why do you do the hobbies you do?





(0

votes)

January 15, 2014 - 9:06 am
Member Since: September 21, 2013
Forum Posts: 489

Offline


hey ya'll,
So i was bored for a moment and though i'd see what hobbies most people have and why ya'll do them! Obviously im assuming playing/learning the violin in pretty much one of your hobbies but do you have any others? I love to ride horses, and compete when i have the time and money, as well as learning traditional archery with my new recurve bow.
I love my hobbies, purely because it lets me escape from the stresses and over all suck of the modern day world. Especially with my horses, i can just forget about everything going on and enjoy the moment. There's no worrying about tomorrow or how well/badly i preformed. its stuff i love doing just for the sake of doing it! 
anyone else want to share their hobbies? 
Lead me, Follow me, or get out of my way!
             ~General George S. Patton

January 15, 2014 - 10:18 am
Member Since: October 11, 2012
Forum Posts: 251

My main hobby is training my dog and working with him. I plan to compete with him in obedience and freestyle/music to heelwork, but I train him in all kinds of sport for fun. Flyball, agility, creative obedience, dog frisbee, all sorts of things. He's still too young to compete, but it's such a bless working with him. And, of course, the violin. I also collect manga and anime, but it's limited now. 
'Armed with theory, practice becomes meaningful. Through practice, theory becomes fulfilled.' - Egon von Neindorff.

January 15, 2014 - 10:31 am
Member Since: December 25, 2013
Forum Posts: 878

Offline


Yes violin - my new amazing hobby!!
I garden, for 48 years now.  I have helped many neighbors design and get their yards under control.  I am definitely a tree hugger and have had a chemical free garden for many years time and energy has been strained so I do use Round-up on my brick paths, but only my brick paths!!  I collect Alpine plants.  These require quick drainage so I make hypertufa troughs that mimic the stone tufa found in nature.
I have been a knitter for 53 years!  Now my hobby earns me money.  I water felt scarves and knit and felt hats that I sell at a yearly art show and through a gift shop.  The art show was started by a few neighbors and myself some 20+ years ago.  We have grown to over 40 artists.  
Over the years I have tried every type of art/craft, stained glass, paper making, glass fusing, painting water color and oil, macrame' [anyone remember macrame'], etc..  
lol!!  I once traded a macrame belt I made for a very cool antique metal purse that my cousin owned.  My aunt was livid with my cousin.  Aunt asked, Do you realize how old and expensive this is?  I said yep and took it home with me!!
Violinist start date -  May 2013  
Fiddler start date - May 2014
FIDDLE- Gift from a dear friend. A 1930-40 german copy, of a french copy of a Stradivarius.  BOW - $50 carbon fiber. Strings - Dominants with E Pirastro Gold string.

January 15, 2014 - 10:56 am
Member Since: September 21, 2013
Forum Posts: 489

Offline


@HP  working with animals is so rewarding isn't it? I don't compete much with my horses, but i absolutely love training them. they are such amazing creatures that are some of the most forgiving beings i've even had the pleasure to deal with. I find they really do reflect the soul of the person who is working with them

 I have only ever trained my dog at home but well i'm definally an animal lover and just enjoy every moment i can with them! how exciting it must be to train them for that

I do mostly 3 day eventing with my horses and its always a fun and exciting challenge!
@Schaick Wow, gardening has always been fascinating for me. my grandfather always grows a garden, even at 97! but as hard as i try i don't have a green thumb to keep it alive and produceing. thats such an amazing talent and i envy you!! Congratulations on getting the art/craft show going. its amazing how something small between friends can grow into something so huge and bring so many people and talents together! 
Lead me, Follow me, or get out of my way!
             ~General George S. Patton

Picklefish
Merritt Island, Fla
January 15, 2014 - 4:52 pm
Member Since: June 25, 2012
Forum Posts: 1281
I don't have hobbies oddly enough. They have all turned into jobs or are being turned into a future job.
I love to cook, watch cooking shows, tease Coolpinkone about her cooking, etc...I'm a foodie. I guess thats a bit of a hobby, although I have been interviewing lately to get back into a professional kitchen. I went to culinary school and worked as a chef for many years.
Computers, I enjoy learning about them. So much that I am finishing a degree in Computer Information Technology as we speak. I would like to work with networking or cybersecurity in the near future.
Violin is my only true hobby. I really enjoy playing it and learning how to do that better.
I don't consider my exercising a hobby, not fair a hobby should be an enjoyable activity. I bike ride alot to and from college and around town. I don't own a car, not sure I ever will again actually. If I did, when would I exercise?
"Please play some wrong notes, so that we know that you are human" - said to Jascha Heifetz.

HDuaneaz
Chandler, Arizona
January 16, 2014 - 12:37 pm
Member Since: February 27, 2013
Forum Posts: 239

Offline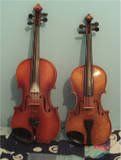 fishnrodds
northwest minnesota
January 16, 2014 - 4:26 pm
Member Since: August 3, 2012
Forum Posts: 117

Offline
before i was fiddling I ran a fishing guide service, so i spent alot of time fishing, still do some but it got to be more work than the money was worth, I ended up with a ripped rotor cuff in my shoulder and had to stop. Love my dogs and hunting... I went to school for automotive mechanics/machine work, cant stand new cars but have a big honkin garage where the neighbor and i fix and restore old chevrolets and build the occasional hotrod. Ive been welding all my life so metal working skills is how i make my living, Belong to boilermakers local 647. Glad to be fiddling for fun...

January 17, 2014 - 5:11 am
Member Since: May 4, 2012
Forum Posts: 2379

Offline




@Picklefish:  Hmm.  If hobbies can't be enjoyable or occasionally end up being jobs or sidelines, then I guess I never had any.  LOL  Not sure why anyone would do them, if they aren't enjoyable activities.
In my teens, cooking was a hobby.interest.  But I did end up working as a cook for some years later in life.  Didn't go to culinary school, I worked my way up from dishwasher, in full service cuisine as well as oriental.  But cooking is a "life skill", really. 
Electronics was a hobby interest, I guess.  Then I spent some years doing it professionally in a couple different electronic plants.  Now it's a hobby again.  LOL
I do some jewelry making.  Once in a while I'll do a piece for commission, but mostly it's for presents for family and etc.  And it's a good excuse to have and play with pretty things like silver, pearls and bits of gemstone.
I do some perfuming (which covers anything from making sachets and pomanders to incense to floral waters, colognes and actual perfumes), again, occasionally for some paid work but mostly for gifting.
Ditto for small wood carving.  Nothing as tricky as violins, but I make wooden toys and little "fancy" boxes.  Again, mostly for gifts, since it is hard to find/afford actually decent kids' toys anymore.  It also gives me an excuse to play with different finishes and see what I can come up with.  I don't like commercial varnishes and etc, since I'd rather know what is in them, especially if it's for a child to play with.
Do some leatherwork sometimes, some sewing/needlework.  Nothing really fancy, though.
Sometimes I write for fun, usually sci-fi.  When I write for pay it is not generally so much fun. LOL
I do some other stuff too, but they'd be more minor interests, where I learned enough to be able to do a decent project or two, so I am basically familiar, but don't necessarily spend even a day doing them some years.
Music, I won't count as a hobby.  I may not be doing a pay gig or etc at this moment, but to me, "hobby" implies less of a serious interest.  My degree is in music, and some years music was the main thing that put the food on the table and paid the bills.  Music is my art, and one of the great joys of my life.  The other things can be hobbies or "just jobs".  But not music.  Music has been more of a life-long love affair.  LOL
"This young wine may have a lot of tannins now, but in 5 or 10 years it is going to be spectacular, despite the fact that right now it tastes like crude oil. You know this is how it is supposed to taste at this stage of development." ~ Itzhak Perlman

January 17, 2014 - 12:04 pm
Member Since: September 21, 2013
Forum Posts: 489

Offline


@Fiddlerman  Wow, what an awesome thing to have as a hobby. being in the navy i've spent my fair share of time on small 28ft security boats, but i don't think i could do sailing, i just love the speed to much

As for the barista you can make me coffee anytime!lol i love making coffee in my old school percolator on my stove. i don't think coffee can taste better black that way. but as far as making all those cool designs with the milk(my fav's almond milk) its way beyond my skills but i definitely envy it! I always thought making your own beans would be hard to do! i'm more then slightly jealous on that front

do you get your beans from in the states? do you have special stuff to roast them? 
@fishnrodds  sounds like you love being out doors. i never had the patience for most stream fishing, though i did enjoy deep sea fishing before

do you do much hunting still? I'm trying to get good enough with my bow to go bow hunting this next year. hopefully for some deer or possibly a moose if i can work myself up to a #50 bow. I like rifles but i love the feel of a bow. do you use your dogs for any hunting? 
Lead me, Follow me, or get out of my way!
             ~General George S. Patton

January 17, 2014 - 11:42 pm
Member Since: January 19, 2013
Forum Posts: 113

Hobbies...Hmm lol, I would have to say that many of my hobbies are similar to Picklefish and Daniels where I guess some could be considered a hobby but with formal education on some as well.  I can in a way count Music as a hobby since I didn't major or minor in that field during college though recording music was so it's a grey area there haha.  My main 'music' hobbies are playing the flute (for a very long time now) and now learning violin. 
I love anything computers and technology...though I have worked extensively in the field and held a position as a technician for a couple years I still mess with them on the side for fun.  Building a computer from scratch and putting it to the ultimate test running whatever operating system I can get to work with it, hence my one 'Mac' which is actually a PC with a legally purchased copy of OS X running on it.  Saved about 1200 dollars and still got the perks of the system

.  Mobile technology is also on this list though not so much a hobby since I'm currently working for a major cell phone manufacturer.
Audio production/engineering...though this is what my actual degree is in, since I'm not working in the field at the moment I'll add it to the 'hobbies' list lol.  I have a Mic cabinet of around 8-9 microphones as well as 3 audio interfaces, a mixer, broadcast mic boom and enough cables to probably outfit a local music store ha ha.  It's a passion, when I have extra time I record voice overs, commercials and other radio bits for fun and practice.  I love recording music though I am my own worst critic (working on getting over that).  I do have a few regular clients but nothing big yet, it's more about practicing the craft so that if and when another studio position opens up I'll be ready to go.  Finding the right equipment for a recording session is a bit of a passion as well, looking over the frequencies picked up and comparing between microphones/interfaces, plugins etc. can keep me active for hours just for the science of it all.
Fishing..At times when it's not freezing outside.  In my younger days I would go Ice fishing all the time, now my joints lock up if I even think of it lol.  During the summer/fall I do love going on an annual Salmon fishing trip up north here in MI.  Plenty of rivers to choose from and my buddy and I will hit nearly every one that has a fish in it to catch that 'big one'.  2 years ago we lucked out and each dragged a 25lb salmon out of the Platt River up north.  Just getting outside is enough though for me.
Cross Country Mountain Biking..Another passion/hobby in the spring and summer.  Just got a new Trek this past fall so as soon as the weather breaks I'll be spending some hours at the metroparks and state parks hitting the trails

.   Pretty much have some sort of hobby for every season here lol.  Love this thread, it's great to see what everyone has an interest in!  Keep it going

.

Mad_Wed
Russia, Tatarstan rep. Kazan city
January 18, 2014 - 4:34 pm
Member Since: October 7, 2011
Forum Posts: 2849

Offline




Fiddlerman said
I know we've had this topic/forum/post..... before but I'm too lazy to dig it up.  
Here it is =) :
https://fiddlerman.com/forum/breakroom/withot-the-violin/
I have an update on mine:
Ginnysg
Southern California
January 19, 2014 - 8:27 pm
Member Since: May 13, 2013
Forum Posts: 256

Offline

Besides music I have way t0o many hobbies.... too much to do, to little time.
I write fiction - every November you'll see me absent from the forums because November is National Novel Writing month - the challenge to write a whole novel (at least 50,000 words) in one month - I've done that every year for 9 years.
I also Geocache... which is a sort of GPS treasure hunt (but really no treasure

) it involves a lot of hiking and climbing. 
Off roading, traveling, photography, painting, woodwork, all kinds of crafts.... the list could go on and on.
"Music expresses that which cannot be put into words and that which cannot remain silent" 

January 20, 2014 - 12:28 am
Member Since: May 12, 2013
Forum Posts: 197




Music:  Well, guitar for 45 years, harmonica about 38, dobro and lap steel about 30, violin about 9 months. Currently play lead guitar in three bands: Two rock and roll of the 1970-90s cover bands, and one little jazz and blues trio covering songs by Norah Jones, Ellis, Patsy Cline, Eva Cassidy, Etta James etc.  Even with paid gigs it is still a hobby; a lot more costs than covered by what gigs pay. I'm working some violin into a song or two in all of these bands.
Ski:  When my wife and I lived in Montana we cross-country skiied a lot. Now in Washington state we only get out a few times a year.
Kayak:  Last year my wife and I bought kayaks and got out about 8 times. It is only upper body workout I really get. We like it a lot   Flatwater pretty much; ie, not whitewater. (I walk about 7+miles (12k or so ) most days but its not a hobby but is a plot to live to a ripe old age) 
Reading: I read a lot of books, fiction and non-fiction.
Genealogy: Don't know why this is interesting to me; maybe just researching and discovering connections. 
 gary
"Make every note beautiful", Ivan Galamian
"To play a wrong note is INSIGNIFICANT; To play without PASSION is INEXCUSABLE!" , Ludvig Van Beethovan
"It ain't rocket surgery"

January 20, 2014 - 3:36 pm
Member Since: November 16, 2013
Forum Posts: 6

Offline
Like many, I also have more hobbies than time. I hope to correct the time part by retiring in the next few years.
I enjoy photography, particularly wildlife photography. I shoot Canon equipment.
I also like to fly. I've had my pilot's license for several years and have built and flown a couple of homebuilt aircraft. The increasing cost to fly/own a plane has had me grounded for a few years until I recently learned to fly a powered paraglider. It's lots of fun and a relatively cheap way to get in the air and buzz around locally.
I live on a Mississippi River oxbow lake so fishing, kayaking, etc is a given.
Also like metal detecting, digging old bottles, etc.etc.
Randy

Forum Timezone:
America/New_York
Most Users Ever Online: 231
Currently Online:
62 Guest(s)
Currently Browsing this Page:
1 Guest(s)
Members Birthdays

Upcoming
Sofia Leo, TKDennis, FiddleDetroit, CookiesViolin, Stephen, Bobby, Dorque, Elaisa, Michael Browder, EBurrell, Gordon Shumway, ViolinD, dougga
Top Posters:
Mad_Wed: 2849
Barry: 2673
Fiddlestix: 2647
Oliver: 2439
DanielB: 2379
Kevin M.: 1969
damfino: 1906
cdennyb: 1814
TerryT: 1726
Ferret: 1575
Member Stats:
Guest Posters: 2
Members: 19779
Moderators: 0
Admins: 7
Forum Stats:
Groups: 16
Forums: 58
Topics: 7673
Posts: 96063
Newest Members:
gaylefy69, ericabh60, nadyachuryic, yolandayl69, Cornychuryic, kristinath60
Administrators: Fiddlerman: 14138, KindaScratchy: 1732, coolpinkone: 4168, BillyG: 2782, MrsFiddlerman: 0, Jimmie Bjorling: 0, SimplePressHelp: 0