A
A
A


Topic RSS

Original work from the 80's
A few original songs from way back when...





(1

votes)

BillyG
Brora, North-east Scotland
November 15, 2014 - 5:11 am
Member Since: March 22, 2014
Forum Posts: 3741








Well, I was de-cluttering my study and came across some old tape cassettes.  They have original songs with instrumentation I put together back in the mid 80's.  At that time, before the super-fine audio processing software and DAWs we have nowadays, the height of technology was a Tascam Porta One 4-track mixer/studio, electronic drum-kit/box and the occasional FX pedal.   Ahaaaa - this brings back memories - found an image of the old Tascam online -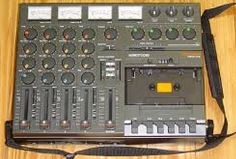 Although "only" having a four-track head, you could mix-down any two tracks to a new single track (which if course is a next-generation track, the more you did this, the more tape noise came into play).  The most complex over-laid piece I did came to a total of 9 tracks (which is not posted).  
  I think the most complex piece on the four uploaded pieces contains 5 tracks, electronic drum kit, guitar 1, guitar 2, keyboard and voice. Unfortunately, I no longer have the individual, original tracks to each song, so I cannot re-mix them and get that darned phaser/wah a bit less present - but anyway - here's a link to 4 of my original pieces.  Some of them "run on a bit" - that was intentional at the time to allow subsequent splitting-down and extracting "only the good bits" LOLOL....
  Feel free to have a listen, I won't go quite as far as to say "enjoy" - and although penned in the 80's, you'll get transported back to the sounds of the 70's !!!   And no, don't ask me what I was "on" when I wrote the tunes and lyrics - I can't remember...  ohhhh - does this qualify for a "Composer" badge ?   Sheet?  What sheet?  LOLOL
Bill
I seriously recommend not copying my mistakes. D'oh - 
Please make your own, different mistakes, and help us all learn :-)

November 15, 2014 - 7:49 am
Member Since: May 4, 2012
Forum Posts: 2379

Offline




Tape is fun.  Digital is fun too, but in a different way, somehow.  I have an old Vestax MR-300 four track from "the bad ol' days".  Used to use one track for the SMPTE synch, so we could keep the midi gear in synch with the analog stuff and record the drums off a Mirage sampling keyboard in stereo and then a dirt rhythm track and then over-write the SMPTE with the bass and re-do the rhythm guitar or keyboards to get it tight... and..and..

Well, lotsa stuff that is relative childsplay in this era of DAWs.  But back then it took some ingenuity.. and no small amount of fussin' and cussin.. LOL 
I used to dreeeeeam about getting to work in digital and maybe having more than 4 tracks and an old Akai reel-to-reel for bouncing down. 
Ah, those were the days, though, MadBill.
Anyway, sounds good.  Well, for what we could do at the time. 

"This young wine may have a lot of tannins now, but in 5 or 10 years it is going to be spectacular, despite the fact that right now it tastes like crude oil. You know this is how it is supposed to taste at this stage of development." ~ Itzhak Perlman

BillyG
Brora, North-east Scotland
November 17, 2014 - 4:12 am
Member Since: March 22, 2014
Forum Posts: 3741








@DanielB - yup those were the days !
@Fiddlerman - LOL - no no - I wasn't angling for a "Composer" - it was just my thoughts running on at the end of the post - a hypothetical question!   Sorry about the confusion.  
I made the post really because I was so pleased to unearth stuff that was 30 years old and that I had thought was forever lost - also - for the "youngsters" (LOL) on the forum who've never known anything other than digital - just to show the hoops and loops we had to jump through in the old days !    [ No longer owning the Tascam, I was actually even MORE pleased to discover that I still had a tape cassette player so I could get it digitally captured ]
The badge thing and jokey comment about "Sheet?  What sheet?" was irrelevant to the post !  And yes, since I'm wittering on about that - from my own point of view - I would think that a badge (of any sort) should really apply to "work done here, and in connection with the forum and fiddlerman.com".  So, come the day I write a fiddle tune, and yes, with sheet, LOL, and post it for others to enjoy, play, adapt, etc - only then once it is "out there and useable" - would I expect to achieve/qualify etc for such a distinction - and not to claim it on the basis of past, or unrelated achievements...!    That's just the way I see it from my perspective.   It's all good - I think the "badge" concept works as a great incentive for people to set goals - which is way cool.
Bill
I seriously recommend not copying my mistakes. D'oh - 
Please make your own, different mistakes, and help us all learn :-)

coolpinkone
California, the place of my heart
November 18, 2014 - 3:14 pm
Member Since: January 11, 2012
Forum Posts: 4180






Cool stuff Bill.  I think it is very cool.  (sexy rock... cool man




)
Thanks for posting.  I hope that in time I will be able to come up with a jingle or two and write it down.  

 You (and others) have done some cool stuff. 
Cheers.. ....mmmmmeeeeeeemmoriieeeees..... like the corner of my mind.... 



Vibrato Desperato.... Desperately seeking vibrato

Forum Timezone:
America/New_York
Most Users Ever Online:
696
Currently Online:
Jim Dunleavy
Currently Browsing this Page:
1
Guest(s)
Members Birthdays

Upcoming
Kevin M., NewFiddlerGirl, Soldier, srogers, sampow, oldtimebanjo, bus4us5
Top Posters:
ELCBK: 3551
Mad_Wed: 2849
Barry: 2680
Fiddlestix: 2647
Oliver: 2439
DanielB: 2379
ABitRusty: 2066
damfino: 1992
Kevin M.: 1972
cdennyb: 1815
Member Stats:
Guest Posters: 3
Members: 30221
Moderators: 0
Admins: 7
Forum Stats:
Groups: 16
Forums: 79
Topics: 9473
Posts: 118631
Administrators:
Fiddlerman: 15833, KindaScratchy: 1757, coolpinkone: 4180, BillyG: 3741, MrsFiddlerman: 2, Jimmie Bjorling: 0, Mouse: 3637
©
Simple:Press
—