A
A
A


Topic RSS

Making a violin.
A journey into the unkown.





(76

votes)

October 23, 2021 - 11:19 am
Member Since: September 27, 2021
Forum Posts: 311

Offline
Hi,
Thanks Emily for your lovely reply; congratulations on you and Kevin being together for so long and long may it continue; I understand exactly what you say. Bron and I love the rabbit/kitty picture; we're animal lovers especially cats.
I've always fancied having a go with stained glass Emily but here in the UK put off by the high cost of everything and add to this I'm hopelessly colour blind; Bron and I once sat at the computer and ran a colour blind test involving 26 samples; Bron got them all correct I managed three; I don't want to be perfect anyway it would be so boring. I've not heard of Vellum or even touched Vellum for many years; so many old skills are dying out as are suppliers of materials needed. The last time I used lead cames was when I fully restored two very old coach lamps. I bet working with stained glass is very interesting indeed; I've still got the pair of pliars used for snapping glass.
I've been banging my head against a wall for the last three days but today I've finally knocked the wall over. How hugely frustrating to have the violin paper plans in my hands only to waste two days trying to locate a company which could simply put them through a copier; one company only a mile away can print to over 4' size without the slightest problem but only from a digital image not from a paper master; I've spent ages on the web and phoning around but at last it dawned on me to do as I usually do and do it the long hard way.
Thanks for your confidence in me Emily; yes I've got there in the end and on my terms without compromise  of any kind but I hadn't a clue what I was in for just for this simplest of jobs.
I tried using my favourite "emachinshop" free CAD but it refused to recognize the digital format of the saved file from my scanner/printer.
I've used Gimp for many years; Bron and I watched a YouTube Gimp tutorial to bring me up to date; my old Gimp was way out of date so now I've got the latest version entirely free and trustworthy.
I've looked at so much on the web I even followed a steam to Adobe PDF; I used Adobe years ago and then it was free; this time there's a free trial so I followed the instructions only to end up having given personal details like email address to be asked for my bank details at which point I backed out; I dislike passing on my email and as expected I'm now fighting three lots of spam; it drives me mad just logging onto my regular sites having to jump through hoops like playing Captcha games with fire hydrants etc and having to enter email and password twice but this is what it's like these days full of frustration geared to slow everything down.
Going to bed last night I said to Bron I'll spend all day tomorrow and also as long as it takes in order to make a violin template. This morning immediately after breakfast I set up a small table next to my desk allowing full use of the scanner to be made; my scanner is an HP Scanjet 3800; I don't have instruction manuals and I've seldom used this scanner so start on another learning curve; then the printer I've used for over ten years it's an HPLaserjetP1100w mono printer; usually no problems and I've used this combination to copy and print only A4 documents.
I've sure been put through it today; I've bought an extra 500 sheet pack of A4 printer paper so with around 800 sheets in total and a full box of toner cartridges I wasn't going to run out of printing material.
The sheer frustration of printing page after page of copies either too large or too small; I checked the printer settings but there were few although at one point I did get rid of margins; I printed on all settings but after two and a half hours this morning I worked it out; I ended up cropping the scanner image in Gimp then scaling the remaining image now I was getting somewhere; I'd aligned the A2 original on the scanner as accurately as I could unable to use Gimp to nudge it round a bit; I used my engineers steel rule to measure the original drawing and used the measurements for scaling; at first they were now quite near so with slight adjustment to the measurements at last I now had the first bottom half bout printed to full size it being exact; next I did the same with the top bout and having cut these out and joined them I now had half the Stradivarius violin plan to use as a paper template.
I've just used the paper template and having attached it to sheet aluminium using self adhesive double sided tape I've cut the aluminium template very accurately to size; I used my home made 2" wide belt grinder fitted with a 60 grit belt bringing it quickly mostly to size finishing by hand filing using an half round engineers file; with the cut edges fettled I've now succeeded without the slightest damage to the original plans.
I could so easily have taken the quick route of using tracing paper or even carbon paper but I was determined to keep the original plans in perfect condition.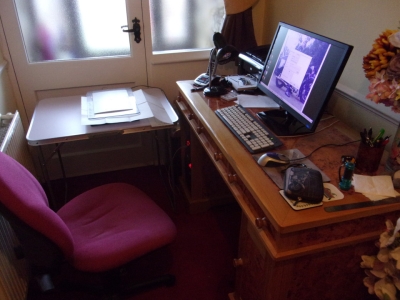 I converted our entrance hall into a very comfortable small office years ago I even made the bespoke oak desk. I can usually use the scanner for A4 size but these A2 sheets are much larger hence I set up the additional table.
The scanner loaded with the original plan.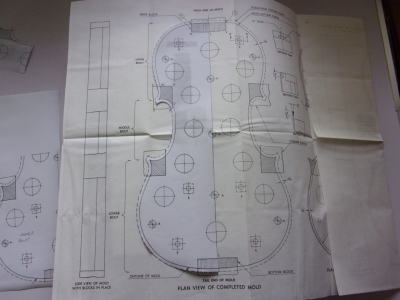 Here's the perfect copies taped forming the half violin I wanted.
The waste paper pile kept increasing in size.
Testing for fit and it's perfect.
This is the new aluminium template flipped over it still has the paper pattern attached; I left the paper pattern on and I'll use this to drill location holes before discarding it.
This is virtually a quarter of the full sized violin after using Gimp and cropping then scaling. I'm too stupid to know when to quit but once I start something I'll not let go however long it takes.
I've now done what professional printer stores were unable to do all because they couldn't copy the original plans. I think the main violin body plans will be the hardest so the rest should be easy within the scope of a single scan to A4 size with Gimp scaling.
The last three days have been frustrating to say the least but I've learned so much and gained experience; I never begrudge spending time until I obtain exactly what I want; my engineering training didn't involve compromise of any kind.
Kind regards, Colin.
Forum Timezone:
America/New_York
Most Users Ever Online:
696
Currently Online:
,
stringy
,
Katie L
Currently Browsing this Page:
1
Guest(s)
Members Birthdays

Upcoming
coolpinkone, ADK-Mark, ErViolista, Nokturne, RosinRepublic, Helene, Panda-P, OP Alaraasakka, KarenSquared, Shane "Chicken" Wang, PoisonJay, ClaireS
Top Posters:
ELCBK: 6923
ABitRusty: 3495
Mad_Wed: 2849
Barry: 2687
Fiddlestix: 2647
Oliver: 2439
DanielB: 2379
Gordon Shumway: 2368
damfino: 2113
Mark: 2046
Member Stats:
Guest Posters: 3
Members: 31549
Moderators: 0
Admins: 7
Forum Stats:
Groups: 16
Forums: 81
Topics: 10413
Posts: 131255
NatalieSindelar, dfitzger, GeorginaLeach, ronaldcurry, erocktattoo, deloresoleary, hornbillclan, sania_davis, lin241, danielalexa
Administrators:
Fiddlerman: 16356, KindaScratchy: 1760, coolpinkone: 4180, BillyG: 3744, MrsFiddlerman: 2, Jimmie Bjorling: 0, Mouse: 4823
©
Simple:Press
—