Check out our Forum Rules. Lets keep this forum an enjoyable place to visit.
A
A
A



Topic RSS

Simple fix/trick for one low string on a bridge





(0

votes)

July 17, 2013 - 9:38 am
Member Since: May 4, 2012
Forum Posts: 2379

Offline




The only slight problem I've run into with my string experiment is that the A string being plain rather than wound, it is smaller in diameter.  That makes it sit just a tiny bit lower in the notch of the bridge, and that makes it harder to bow without nicking the E or D.  Oh, I can mange with it, but it just isn't the most comfortable way.  
So if you ever maybe end up with a string that is smaller than what the bridge may have been grooved for, or if the string maybe cuts into the bridge or nut enough to start making bowing more difficult, this is a trick you can use as a temporary fix.  I only want a temporary fix in this case, since I really like this bridge and I will likely go back to using a wound A string at some point in the future.
I cut a little strip of parchment, approximately as wide as the top edge of the bridge.  If you don't have parchment, I've heard that the packing material "tyvek" also works well, but really, you can even use just paper.  Only drawback to paper is that the string will eventually cut though it and you'll need to do the fix again.  So I am using parchment, but bear in mind that other things could be used.
Now you take that little strip of parchment or whatever, and you colour in a spot in the middle with a pencil, to coat it with graphite.  Parchment has a rough side and a smooth side, so I coloured on the smooth side.  With paper or etc, it wouldn't make a difference, usually.
Next, fold the little slip of paper, so the graphite is on the inside of the crease.  Then loosen the string you need to lift, and slide the slip of paper in between the string and the groove/notch of the bridge.  Or the nut, if you ever had to do this on the nut.
Then you tune the string back up, being careful to keep the slip of parchment/paper/whatever in the right spot.. and snip off the excess from the little slip.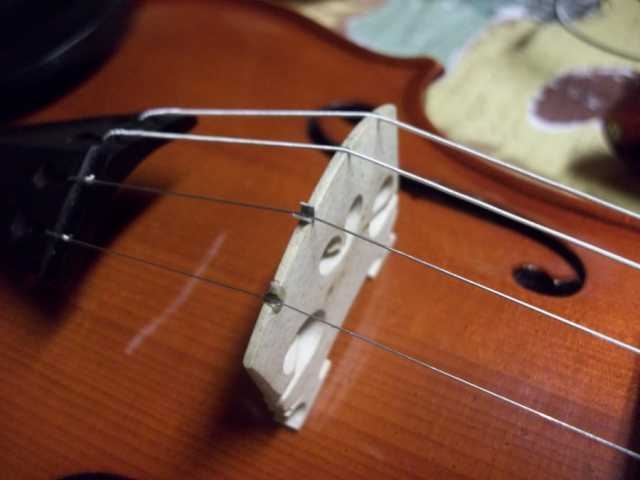 Et voila!   Problem solved.  I *could* have trimmed it even a bit closer, but it is actually so small that it wouldn't likely be noticed by a listener even a few feet away.
Did it solve the problem?  Sure did!  I knew it would, since this is an old guitarists' trick.  No "experiment" involved here. 
It's nothing all that amazing, but I figured maybe I should photo-document it and show it here, since some of you might never have seen it done before, and might be able to use it someday.  Doesn't hurt the instrument or the string, and it is completely reversible when you change back to a wider diameter string later or when you or a luthier go to do a real repair later, if it is used because of strings cutting into the bridge or nut.
Another reason I did it was I don't care to risk having that non-wound A string cutting into that bridge, because I like the curve and spacing on that bridge a lot, it plays very comfortably for me.  String experiments are interesting, but there's no extra points for risking unnecessary damage when one can avoid it.
So there ya go.  Simple.  Easy-peasy, and even with a little slip of paper, it can get you through a practice or rehearsal or even a gig, if necessary.  If you never saw this trick before, well.. you have now.
"This young wine may have a lot of tannins now, but in 5 or 10 years it is going to be spectacular, despite the fact that right now it tastes like crude oil. You know this is how it is supposed to taste at this stage of development." ~ Itzhak Perlman

Forum Timezone:
America/New_York
Most Users Ever Online:
231
Currently Online:
155
Guest(s)
Currently Browsing this Page:
1
Guest(s)
Members Birthdays

Upcoming
HP, UtahRoadbase, Briant, ElisaDalViolin, Faith, Raven
Top Posters:
Mad_Wed: 2849
Barry: 2673
Fiddlestix: 2647
Oliver: 2439
DanielB: 2379
Kevin M.: 1969
damfino: 1913
cdennyb: 1814
TerryT: 1726
Ferret: 1575
Member Stats:
Guest Posters: 2
Members: 21864
Moderators: 0
Admins: 8
Forum Stats:
Groups: 16
Forums: 58
Topics: 7800
Posts: 97524
rosalieeo4, Aarontaund, BigTitkekly, tahjcbym.irfaderfory, nelsoncr16, zeelenscka
Administrators:
Fiddlerman: 14356, KindaScratchy: 1735, coolpinkone: 4168, BillyG: 2880, MrsFiddlerman: 1, Jimmie Bjorling: 0, SimplePressHelp: 0, peopleshost: 0
©
Simple:Press
—