Check out our Forum Rules. Lets keep this forum an enjoyable place to visit.
A
A
A



Topic RSS

Violin Nut Setup
Looking for help on where to find files and feeler guages





(0

votes)

December 12, 2014 - 1:05 pm
Member Since: January 13, 2012
Forum Posts: 5

Offline

December 13, 2014 - 1:33 am
Member Since: September 19, 2013
Forum Posts: 234

Offline
Hey Dino ,
 I've never messed with an electric wheel barrel but here's some instructions fer acustic from a book i highly recommend to anyone who is interested in repairs or just understanding what's involved ..
Price is about $ 13 and the name is ...Violin Repair Guide by Michael Atria ..
I'm sure there are videos online to guide you as well ..good luck and good playing to ya ...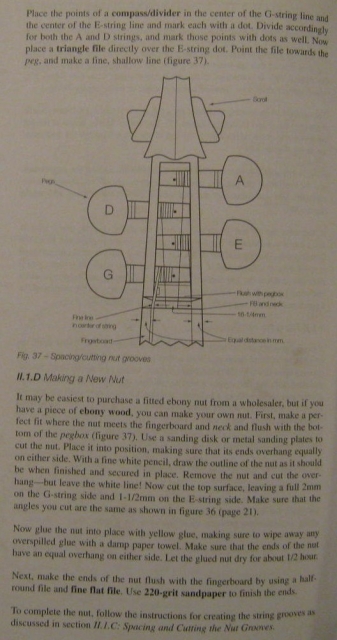 December 13, 2014 - 2:07 pm
Member Since: May 4, 2012
Forum Posts: 2379

Offline




Well, I am definitely not an actual luthier, but I do usually DIY most adjustments and some repairs or mods on my instruments.  I have re-done some nuts for assorted instruments, including violin.  I don't think I can give you as good of a step-by-step as Denny or Kevin did when it comes to bridges, but I can tell you what I usually try for and the reasons why for each bit, and maybe that will help.
First reason to know is "Why would you want to do that?"  Well, the nut and how it is trimmed has a lot to do with how easily notes can be fingered in the low positions, and how the open strings will sound.  More than just how hard they are to finger, though, I have found with violin nuts that the higher their "action" is (the higher the string is from the fingerboard), the harder it is to get things like doublestops to sound right.  See, if the strings are higher above the fingerboard at the nut than they need to be, then when you put a finger down, you aren't just changing the length of the vibrating part of the string.  You are stretching the string at the same time.  The more factors we try to control at once when trying to get decent intonation, the more chance we have of messing it up.
So yes, it can make a very noticeable difference in how an instrument feels under your fingers and how it sounds. 
Next thing to bear in mind is that some people will caution you to be real careful not to take too much off and etc.  But of all the parts on the violin that directly affect the vibrating part of the string, the nut is one of the cheapest little pieces of ebony to replace if you manage to butcher it bad enough that you have to, and there are a lot of fixes that work pretty darn well.  So it isn't *that* scary, and it actually isn't a bad place for a beginner to start with doing this sort of adjustment on their own.  In my opinion and experience, bridges are a lot harder to get right, and you've already worked on a bridge.  It wouldn't hurt to buy a few nut blanks (I think Fiddlershop sells them, and if they don't a lot of places online do), just in case.  I personally like to have a backup or two, just in case I mess something up badly, but that is up to you, really.
Now, the next thing to consider is what tools you'll need.  There is probably a proper way of doing this that takes specialized tools.  I wouldn't be surprised to find out that the real luthiers have invented a tiny plane or something and some measuring devices just for trimming the nut of the violin.  But since I don't know what they use and probably wouldn't have it even if I did know, what I use is:
Credit/bank/gift card
Metal nail file
Painter's masking tape
Sharp pencil
Paper
X-acto knife, razor blade, or other small thin sharp blade
Patience
I figure other folks will mention other tools and how they would use them as well.  But for the sake of argument here, I'm assuming you don't have any specialized or unusual tools, and you don't want to spend money on them right now or wait a few weeks for the order to get delivered.  I can and have trimmed a violin nut with just the items listed.  Well, and a computer, but since you posted a question on an internet forum, we'll assume you have a computer or some other device that lets you read text and see pics on the internet.  
Ok, so if you have your "tools" and you've decided you are actually going to do this job, then you are ready for the first couple steps.
First, I mark where the bridge feet are.  While it might be possible to trim the nut and not end up having the bridge move and need to be put back in place, I never managed it or even tried to.  Personally, I like to mark where the bridge feet go with a few strips of the painter's masking tape.  Easy to put on, and easy to take off when I'm done.  "Painter's masking tape" is the kind they make that won't rip off paint or finish when it's taken off.  As opposed to the plain white kind what definitely *can* do that sometimes.  The kind for actually painting also has less of a tendency to leave a gummy residue.
Loosen the strings and pull them off to the sides, so they are out of the way.  You could also take the strings off, which would eliminate the chance of nicking any of them with the file, but that does add more steps.  I didn't.  If you are reasonably careful and patient, it's not that hard to avoid nicking the strings.  I am also a klutz.  So if I could manage it, so can most people. LOL
Now take the credit/bank/gift card and lay it on the fingerboard right against the nut.  The card is flexible, so bend it to the curve of the fingerboard, and use the pencil to mark a line on the nut.  Sources vary on how high the strings should actually be at the nut.  Some say about a half a mm, some a little more, some a little less.  A typical credit/bank/gift card is about 0.75 mm thick.  That will be low enough to be usually a huge improvement over the way an inexpensive violin's nut comes from the factory, but still high enough that there isn't a chance of the strings buzzing.  It will even be high enough to give us a little margin for error and customization.
Next, take some more of that tape and wrap it around the neck and fingerboard right next to the nut, to protect the fingerboard when you are working on the nut.  A couple layers should be enough, and you don't want to use more than that, or it will get in the way when you are filing the nut.  You need to be able to see all of that pencil line you just drew.
Then you do the same with the part of the pegbox right next to the nut, to protect it as well.  You might need to cut strips of tape lengthwise to get it thin enough to fit there, since the tape may be a bit wide.
Now you are finally ready to "do some damage".  Take the file and file off all the wood of the nut that is above the pencil line.  Keep the surface of the file parallel to the fingerboard while you work, since at this point we want to remove the extra ebony (or whatever the nut happens to be made of) while keeping it nice and flat when viewed from the side.  This will likely take a while.  Just put on your favourite album or CD and take your time.
When you get it down to where you're starting to file away the part of the wood that the pencil line is actually drawn on, slow down and work more carefully.  You want to keep going until that line is just barely gone, or where you can just see a fraction of it left.
This post has been long, because I'm trying to cover everything you need to know.  I'm going to pause here, since these steps will take some time (think an hour or few), and I'll have to draw a couple pictures to explain the next steps. 
But when you are done with what we have listed so far, most of the sweat and elbow-grease work is done. 
"This young wine may have a lot of tannins now, but in 5 or 10 years it is going to be spectacular, despite the fact that right now it tastes like crude oil. You know this is how it is supposed to taste at this stage of development." ~ Itzhak Perlman

December 13, 2014 - 4:54 pm
Member Since: May 4, 2012
Forum Posts: 2379

Offline




Okay, so for the next steps.. You have the nut trimmed down more to size, so now it is time to shape it a bit.
You want to round the side that is towards the scroll, but leave the side that is towards the bridge as a nice straight drop-off.  So that looking at it from the G string side, it looks something like this...
 Now, the reason for doing it this way is because if we round the side facing the bridge, it could buzz or give other odd sounds.  So we want that transition for the string to be as clean and sudden as possible.  We round the side that is towards the pegs so the drop-off is more gradual, to avoid making another stress-spot that the string is likely to break at.  
So you take your file and put on another CD to listen to and take your time to get the side towards the scroll sloping down in a nice gentle curve.  Exactly what curve?  Well, there probably is some exact curve that actual luthiers follow, but on a beginner instrument it should be fine if it is just rounded.  But if you want to go for the extra point, hit the internet and look for some side view pics of really nice expensive violins played by great players, where the resolution is good enough that you can zoom in and see the curve.
Which brings us to the next step.  Search the internet and find a good high resolution pic of a really good violin, where it is facing the camera straight on (so you see the top and fingerboard and etc, not the sides).  Ideally, it should be a pic of a really good violin, maybe even one that one of your heroes plays on.  But in any case, a real good one, where you can be sure that the luthier who did the work on it did a great job.
Then take a scrap of paper and take the tape off your fingerboard and lay the paper on it and mark exactly where the sides of your fingerboard are where they meet the nut.  In other words, the width of the fingerboard.  
Now take that pretty pic of a violin that a professional did and open it in your usual photo editing software and adjust the size/zoom until the width of the fingerboard in the pic exactly matches the width you marked on the paper.  Holding the paper up against the computer screen, use your pencil on the paper to mark the center of where each string is on the professionally done nut. 
There is a more proper way of doing this, with measuring and using a set of dividers and etc, but unless you have good measuring tools and the dividers and so on, and some experience in using them, eyes and a pencil and paper are easier for most folks.  Besides, authorities do not all agree on the exact measurements for the string spacing, and copying what you can from instruments that definitely work well is usually more reliable than trying to match what some book says is perfect.  At least in my opinion.
Get the marks as perfect as you can, remembering to use the eraser on the pencil if necessary, to do it as many times as you need to to get it as good as you feel is possible.
Now you take the paper and use it as a guide to draw pencil marks on the top of the nut, again, erasing and re-doing if necessary, until it is as good as you can make it.
Now it is finally time to use that x-acto or razor blade or other thin sharp knife or blade.  Looking very close, lay the sharp edge of the blade right along the center of one of the pencil marks you made on the top of the nut.  Put your thumb against the back of the blade (the not sharp side) and press firmly.  Don't slide the blade, to cut.. just press.   Then check with your fingernail or thumbnail to see if it made enough of a groove or dent that you can feel.  If not, do it again, pressing a bit harder.
Repeat that for all 4 marks you made for the string grooves on the nut. 
Now for some good news.  For your E string slot, you are probably already done.  String grooves should be about 1/3 of the diameter of the string.  Most violin E strings are around .010 inches in diameter, so the groove for it only needs to be about .003 inches.  That is super tiny, and if you can feel a groove there with your fingernail, it is probably plenty deep enough. 
The others will need widened and deepened a little, though.  So you take your nail file, and lay is so the edge between the abrasive side of the file and the side of the file is lying in the groove.  Give it a couple of strokes, then turn the file around so you also file the other side of the groove.  Again just a couple strokes.  That will probably be deep enough for the A string.  A strings aren't very thick either. 
You don't want to make the grooves any deeper than you absolutely have to.  Deep grooves tend to make the note played on the open strings have a more harsh/tinny sound.  They also can make the string stick too much when you are tuning so the string is more likely to break.  You can always take more off later, if you have any problems with the string not staying in place when you play.
The D and G string will take more file work.  But still not much, compared to any of the work you've already done.  If you are not sure if it is deep enough, leave it and put the strings back in place and tune it up and see how it works.  If it seems to work fine, then it probably is deep enough.
Some other folks may point out here that using a nail file like this will give you a v-shaped groove, rather than a round one.  First off, v-shaped isn't all that bad, and the string will round it within a week or two anyway.  Secondly, I have never yet met a nail file that actually has an edge that square and perfect, so it will be at least somewhat rounded.  It will work well enough, but hey.. If you happen to have a set of specialized round files that small, or an abrasive cord, or even an old wound string, you can make the bottom more rounded if you like.
Right before putting the strings in the grooves, it is good to use the sharp blade to scrape a little of the graphite "pencil lead" off and into the grooves.  It acts as a lubricant to make tuning easier, more consistent and less likely to break strings.
So you put the strings back in place and tune it up and basically you're done. 
You might want to file down the edges of the nut along the sides, where your hand might touch it, to make them rounded and smooth.  That isn't a part of the nut that touches the string, so it won't mess anything up whether you leave it as it is or round it a bit.  Some players count on an edge they can feel there, others like it smooth.  So call that optional and up to your personal tastes. 
So there ya go, Dino.  That's at least one way it can be done, with minimal tools.  It will get the string height in the nut down to at least an acceptable place where it shouldn't interfere with comfort or intonation.  You may be able to actually go even a bit lower, depending on the type of strings you use, the bridge height, and how straight your fingerboard is.  But for basic beginner purposes, the thickness of a credit/bank/gift card will usually work pretty well. 
Hope it helps.
"This young wine may have a lot of tannins now, but in 5 or 10 years it is going to be spectacular, despite the fact that right now it tastes like crude oil. You know this is how it is supposed to taste at this stage of development." ~ Itzhak Perlman

December 13, 2014 - 5:31 pm
Member Since: September 19, 2013
Forum Posts: 234

Offline
Hey Howdy ,
Dang nab it Dan , yer scaring the poor boy to death no doubt ...written a book are ya ? lol ...

Dino , to make a long story short , if yer re-workin' the original nut to get a lower action , just place a buissness card under the A and E strings fer a gauge and see if there's daylite showin' ..if so just cut yer groves deeper ...fer D and G , use two cards thickness ...
If yer finger board is not properly shaped u need more clearance to avoid string buzz ...it's all a ballanceing act fer what ya have to work with ...
A picture is worth a thousand words so watch a video ...

December 14, 2014 - 12:43 am
Member Since: May 4, 2012
Forum Posts: 2379

Offline




Well, Tucson.. If there's too many words in my posts for your liking, feel free to just skip them.  It's a free forum, and not like there'll be a quiz on Friday or anything.  LOL
"This young wine may have a lot of tannins now, but in 5 or 10 years it is going to be spectacular, despite the fact that right now it tastes like crude oil. You know this is how it is supposed to taste at this stage of development." ~ Itzhak Perlman

December 14, 2014 - 10:17 am
Member Since: September 19, 2013
Forum Posts: 234

Offline

coolpinkone
California, the place of my heart
December 14, 2014 - 2:39 pm
Member Since: January 11, 2012
Forum Posts: 4168







December 16, 2014 - 3:30 pm
Member Since: January 13, 2012
Forum Posts: 5

Offline

December 20, 2014 - 9:44 am
Member Since: January 13, 2012
Forum Posts: 5

Offline
Hi All,
 I have found that the nut is as good as it could be, based on the business card test that Tucson posted for me.
 The reason I went down the path for fixing the bridge and checking the nut, is because I recently put new strings on my son's loaner student model violin. And I was shocked at how easy it played, compared to my Cecilio CEVN that I've been playing for a couple of years. Prior to that, I had to cut the bridge down because the string height was way too high. My first adjustment was very conservative, I cut about 1/16 or so off the top of the bridge, and just followed the current shape of the bridge.
This time around, I followed Kevin Healy's instructions, and now it plays very easily.
Thanks for everyones help with this!

Forum Timezone:
America/New_York
Most Users Ever Online: 231
Currently Online: Jim Dunleavy, bocaholly
42 Guest(s)
Currently Browsing this Page:
1 Guest(s)
Members Birthdays

Upcoming
Shell, Squiryl, Schaick, GlassTownCur, mcassidy2004, MyMing, CarolineNH, JamesRSmithJr, SethroTull86
Top Posters:
Mad_Wed: 2849
Barry: 2673
Fiddlestix: 2647
Oliver: 2439
DanielB: 2379
Kevin M.: 1969
damfino: 1907
cdennyb: 1814
TerryT: 1726
Ferret: 1575
Member Stats:
Guest Posters: 2
Members: 20571
Moderators: 0
Admins: 8
Forum Stats:
Groups: 16
Forums: 58
Topics: 7729
Posts: 96614
Newest Members:
EdwardER, hopechuryic, bhfblfchuryic, tylernw3, migueltk18, CarlosBof
Administrators: Fiddlerman: 14222, KindaScratchy: 1732, coolpinkone: 4168, BillyG: 2829, MrsFiddlerman: 1, Jimmie Bjorling: 0, SimplePressHelp: 0, peopleshost: 0