A
A
A


Topic RSS

Indian Music Structure
Multiple concepts!





(6

votes)

Gordon Shumway
London, England
June 3, 2021 - 7:11 am
Member Since: August 1, 2016
Forum Posts: 2018

Offline

June 3, 2021 - 8:17 am
Member Since: February 10, 2019
Forum Posts: 2526

Offline





June 3, 2021 - 1:53 pm
Member Since: June 10, 2020
Forum Posts: 4675

Offline





@Gordon Shumway , @ABitRusty -
The trailer's for "Tuning 2 You: Lost Musicians of India" were 1st advertised on YouTube in 2015 - 2016. 
It was a "Kick Starter" program from brothers, Soumik & Souvid Datta.  There's more film clips here.
IMDb says the actual series was released in 2017.
I thought BBC Earth had bought up the series because it was premiered in 2018 & rebroadcast in 2019. 
Still can't find anywhere to watch this series, even though Channel 4 & Discovery India also carried it at one point, also. 😒

June 6, 2021 - 10:10 pm
Member Since: June 10, 2020
Forum Posts: 4675

Offline





@ABitRusty -
Guess everyone loves a Polka! 
Just wanted to show a little "Genre-bending". 
Here's the Indian "Trikala Jathi" dance, performed by Sowmya Shree, from Kantele Music Foundation.  The syncing of the music with the dance video might be just a hair off, idk - but it's still nice.  The "Kantele Music Foundation" YouTube site has other interesting pairings. e.g., Japanese Maikos dancing to an Irish Folk tune, etc... 

The "Kantele" belongs to the Baltic box zither family - the strings are plucked.
The music is "Säkkijärven" (aka. Finnish or Leven Polka)! 
Trikala Jathi Danced to Finnish Polka
Dance influences music in Cultures.  Here's a short introduction to Indian Classical Dance (Hinduism Today Videos).  At the end of the video is a quick showcase of other Indian Dance forms.
...did Sign Language originate here?
...a tune and a dance, like 2 people, can be strange (but beautiful) bedfellows! 
Just reinforces my belief that a Classical Indian backing could work great with Irish tunes!
- Emily

June 14, 2021 - 2:14 pm
Member Since: June 10, 2020
Forum Posts: 4675

Offline





Here's Nandini's most informative post from that thread. 
nandinishankar said

Georganne said 

Oh I am interested in what you mean by Indian music.  Is it Native American or the other kind?  I live in Alaska where we have a large population of Alaskan Natives who play fiddle and have fiddle fests.  So much fun.  Anyways, welcome to the forum.  Can't wait to see that fiddle. 

  

Hi Georganne! India has two forms of Classical Music - North Indian Classical (Hindustani) and South Indian Classical (Carnatic). Both forms are extremely rich, complex and take years of practice to master. Unlike Western Classical music, Indian Classical music is totally based on improvisation. Traditionally, our violin hold is also very different (we sit cross-legged and play, which makes it easier for some left hand techniques). Here is my YouTube performance of a song in Raga Janasammohini (Ragas are different modes and the define the basic structures). We also have extremely complex rhythmic patterns (not in the above link, but generally) I also work in fusion (i.e. presenting classical music in different forms). You may relate more to my fusion tracks:

Indian Classical & Electronic:

 

Do let me know what you think!  

  

June 14, 2021 - 4:07 pm
Member Since: June 10, 2020
Forum Posts: 4675

Offline





@ABitRusty -
Been playing with the "Bollywood Mix Beat" from Post No.18 "Tabla loops w/NO DRONE!" List.  
Tried it with "Freemount Bypass". 
I have to slow the Beat video down to .75 for me to play along.  Can't just listen to the 2 videos together - speed isn't quite right (maybe needs to be .80). 
This one seems (for me) it could work great, with minimal manipulation - like maybe just making an area repeat a little longer.  Anyway, think it's a very interesting beat & worth spending time on... but there are so many others! (lol) 
EVERGREEN 

Learned "Evergreen" Indian music is like our Golden Oldies, but Hindustani Bollywood songs of the 50's - 90's. 
Started looking at some in the 50's & 60's worth noting, later. 
Top "Evergreen" Songs list sources.  
Extended List of Evergreen Romantic Bollywood Songs.  
List of Evergreen Hindi Song Recommendations on "Quora" - even lists for slow and melodious tunes. 
Quora Lists of Evergreen Favorites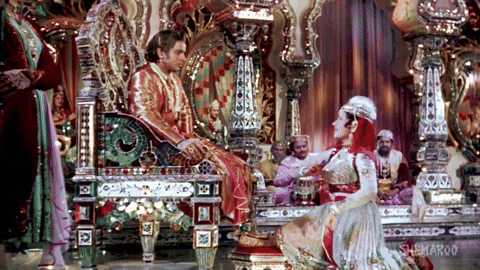 Roll out the Red Carpet! 
...still LOVE Filmi music, probably because of some fusion with Western music styles.
- Emily

August 10, 2021 - 9:25 am
Member Since: June 10, 2020
Forum Posts: 4675

Offline





I love Chris Haigh's Fiddle Books, Video Tutorials and his wonderful website - full of interesting info for all Folk Fiddling genres!  
Here's a link to what Chris has got on Indian music - VERY COOL, about the "Sarangi" (early 3-string relative of violin)! 
Fiddling Around The World - India
Found a couple of old threads on our forum: first is about Indian note frequencies & basic intonation, 2nd is about a famous Indian Violinist's legacy. 
Indian Classical Music Intonation Thread
Wikipedia info link with list of his many awards. 
M.S. Gopalakrishnan - Wikipedia
Great info & discussion in these threads! 
...curious about M.S. Gopalakrishnan's forehead - religious or sweat prevention?
- Emily

September 2, 2021 - 12:31 pm
Member Since: June 10, 2020
Forum Posts: 4675

Offline





If you haven't tried any Indian music yet, here's a very nice little melody to start with! 
It is part of a famous song from the film, "Iddarammayilatho". 
This video is the tune played by Upendra Dusa, along with notes & swaram.  The tuning is GDGD.
Iddarammayilatho - Violin Bit, Notes/Swaram
This video is a very detailed tutorial of this little tune - so you can see/hear exactly how to get the iconic dynamics of this music. 
Iddarammayilatho - Violin Tutorial

Great to learn a few new techniques - just gives us more freedom to be creative!
- Emily

October 15, 2021 - 12:11 pm
Member Since: June 10, 2020
Forum Posts: 4675

Offline





Halloween is creeping up on me, but I never expected to end up here for Halloween music! 
Music from the Anne Rice vampire film, "Queen of The Damned" (2002) - L. Shankar performed the solo violin parts (doesn't appear on screen), but I haven't been able to find out if he had free rein to improvise or if he composed any of them.
Lestat's violin ost Queen Of The Damned
Lakshminarayana Shankar (aka. L. Shankar) is famous for his 'Electric Double Violin' (Two, 5-string necks)!  I can relate that he has played with Frank Zappa and Peter Gabriel, among others. 
Much more at Wikipedia, including:
With Peter Gabriel, he wrote the soundtrack for the film The Last Temptation of Christ (1989), for which he received a Grammy Award. 

Shankar has also performed with Elton John, Eric Clapton, Phil Collins, Bruce Springsteen, Van Morrison, Yoko Ono, Stewart Copeland, John Waite, Charly García, Steve Vai, Ginger Baker, Nils Lofgren, Jonathan Davis and The SFA and Sting.
Here's a video showing L. Shankar playing one of his 'Double' Violins! 
Darlene is a song I wrote for my solo album " Touch Me There " in 1979 produced by Frank Zappa for Zappa Records. This is a different version I recently did. 

Rolling Sheet Music for "Darlene".  
L.Shankar - Darlene - Transcription
L. Shankar plays more music throughout the film. 
...weird, in all of his videos I sampled, I can only find him playing on ONE neck of his Double Violin - never the other neck. 🤔 
- Emily

November 13, 2021 - 10:56 pm
Member Since: February 10, 2019
Forum Posts: 2526

Offline





November 14, 2021 - 11:19 am
Member Since: February 10, 2019
Forum Posts: 2526

Offline





November 14, 2021 - 7:45 pm
Member Since: June 10, 2020
Forum Posts: 4675

Offline





Edited***
@ABitRusty -
That's REALLY GREAT!  
You're right - definitely a medley.
Shows perfectly how wonderful Indian rhythms work with Irish music! 
Thanks for sharing this collaboration! 

Thought I was hearing this particular Paddy Fahy Jig (I know he composed others). 
Paddy Fahy's Jig - Evelyn Healy
Maybe also hearing a much faster version of this tune, starting here - think this is his "Golden Castle"?  ...my ears might be playing tricks on me. 😄
Martin Hayes - Interview by Tom Loony
Seems someone else in the comments asked the name of this particular tune, just a short time ago (no answer, yet).  
***This is the Golden Castle version I was speaking of. 
The Golden Castle/Billy Malley's Schottishe
...DONE with tune hunting for a while. 
Appreciate the great example if what can be done if we understand similarities in tunes for variation and I want to do more exploration of using Indian rhythms with Irish tunes! 
- Emily

November 14, 2021 - 8:53 pm
Member Since: February 10, 2019
Forum Posts: 2526

Offline




eh...definitley no golden castle.  Paddy Faheys is nice but not it either... it was the 2 i listed.  but golden castle is great and worth learning.  has a haunting sound.   ive been looking at that maids of mitchelstown.  think it would go good with tuttles..once i go back and play it.. 

haha.
and you done tune hunting...YEAH RIGHHHHT..LOL.

heres golden castle of the previous album listed above
he playef it more like this in the interview.
  id say the interview was after this album because dennis cahill is with him in the interview.  seems like from his book they started working together after that first album release.  to tie this back to Indian style music he was engrossed in that style of muaic around the same time.  I i believe one of his favorite violinist was L. Shaknar from posts above.  Theres a funny story about one of the tracks called Psychic Elephant off of the Vision album that he would play every morning while drinking his coffee.

November 15, 2021 - 8:18 am
Member Since: February 10, 2019
Forum Posts: 2526

Offline




"where's the story on L. Shankar? 

It sounds familiar, but I can't place where I read/heard about it.  Maybe enough said that I think he's a bit of an eccentric, with the two-necked Violin (and I only ever see him playing ONLY one particular neck)."
nah...it has to do with a saxophone imitating the sounds of an Indian elephant and its affects on Martins roomates at the time, Dennis Cahill being one of them.  
Forum Timezone:
America/New_York
Most Users Ever Online:
696
Currently Browsing this Page:
1
Guest(s)
Members Birthdays

Upcoming
freesbee, paulinefiddle, oneloudmime, MsJoy, augustoad, Ripton, Space., loveluach, husseinHr, reedc83, Guido, A. V. Suvorov, JiminTexas, mcwey, Fashionandfiddle
Top Posters:
ELCBK: 4675
Mad_Wed: 2849
Barry: 2680
Fiddlestix: 2647
ABitRusty: 2526
Oliver: 2439
DanielB: 2379
damfino: 2026
Gordon Shumway: 2018
Kevin M.: 1973
Member Stats:
Guest Posters: 3
Members: 31070
Moderators: 0
Admins: 7
Forum Stats:
Groups: 16
Forums: 79
Topics: 9803
Posts: 123420
Administrators:
Fiddlerman: 16028, KindaScratchy: 1759, coolpinkone: 4180, BillyG: 3741, MrsFiddlerman: 2, Jimmie Bjorling: 0, Mouse: 4034
©
Simple:Press
—