Check out our Forum Rules. Lets keep this forum an enjoyable place to visit.
A
A
A



Topic RSS

Ahoy-hoy, from New York
Total amateur who could use advice to start





(1

votes)

July 14, 2014 - 2:09 pm
Member Since: July 14, 2014
Forum Posts: 4

Offline
Hi all, I'm a 27 year-old in NYC who is suddenly very interested in taking up the violin. I have practically no musical experience, but I've always loved the instrument and wished I had played music as a kid. My finances have started to improve and I've thought about investing in a hobby or two. I walked around on 4th of July and spotted a sign for music lessons and thought, "Why don't I finally try the violin?"
For an idea of how little I know about playing music: I grew up in Hawaii and so briefly played the ukulele back in middle school. And though I've spent the past week reading about the violin, music notation, music theory, etc, I didn't even remember that I once played the uke until this morning. My brain has a way of purging anything related to sound. I work in film and video, and have had many headaches trying to comprehend the audio side.
But I'm determined to do the work and learn, and thanks to this place and elsewhere, I'm feeling confident I can do it. I've always hesitated because I felt too clumsy and uncoordinated to truly make an instrument sing, but that's ultimately a matter of training, right?
So I'm starting fresh, which means the obvious question first. I had my mind set on Fiddlerman's Apprentice (the carbon bow alone makes it look like a better deal than any other recommended beginner violin), and then last night took a closer look at the Concert violin. And wow does that violin look sexier.
Taking a closer look at my finances, I do feel comfortable shelling out another $100 for the Concert, but I'm interested in the substantive differences between the two. Obviously the Concert looks better, which may be important in the long term (the Apprentice's orange color makes me think of a beginner violin, which may annoy me as I progress), but do they play differently or are they designed for different purposes? Is it a "Concert" violin because it projects substantially more? Or is it simply a better constructed instrument that gives a fuller sound?
Projection is a minor concern for me, as I am in a small apartment and likely will be for years to come. A major hesitation for me has been riling up my crazy neighbors as I figure out the violin. As I'll only be able to play after 8pm on weekdays, I expect I'll only play an unmuted violin on the weekends, and even then, I don't want to be too loud. If the Concert is going to be trying to fill a concert hall while the Apprentice is a bit softer, I wonder if the latter is a better choice for me right now.
I'm also now wondering about the issue of "dark" vs "bright" sound. I assume the Concert will be a darker as well as fuller sound? I haven't heard any comparisons between a dark and bright violin, but I think I'd prefer dark. I'm as much a fan as the viola, and a darker violin sound would be slightly more like a viola's sound, right? And if I'm going to be screeching on the violin for the next few months, it may as well be a deeper screech.
I do have a couple more questions before I place an order, but I know that the longer a new post is, the less likely someone will bother to read it at all. As a final note: this is all for personal enjoyment, maybe playing a bit for family and friends as the years go by. Unless I hit the jackpot or miraculously discover I'm a violinist who belongs in an orchestra, I'll never spend $1200 on a violin. I'd like to buy something that is not overkill for someone starting out but that will put out a respectable sound for the casual listener.
Thanks for the help and I can't wait to join you all with this great instrument!

BillyG
Brora, North-east Scotland
July 14, 2014 - 2:35 pm
Member Since: March 22, 2014
Forum Posts: 2778







Hia StayOnCue, welcome !
I have recently purchased the Concert - I class myself still very much as a beginner in terms of musical theory - but give me a cigar-box banjo and I'll get a tune out of it!  Prior to the Concert I had an old acoustic that was really "more trouble than it was worth", and, about 4 months back, purchased an EV.  Really WANTING an acoustic I could play, I decided on the Concert as a "good piece of kit that's going to do me for years to come".  In terms of "darkness/brightness" of sound - I have little to compare it against - can't help you there!
You might like to visit this link - FiddlerMan ( Pierre ) gives quick "sound / setup tests" to all stuff that leaves their premises - you'll find not only the Concert there they did for me, but many of the other violins played by FM as well. --
- feature=youtu.be
Welcome to the forum, fiddling, everything - enjoy the journey
Bill
**EDIT - Oh - meant to say - don't hesitate to ask questions of Mike (in FiddlerShop) - they are some of the most helpful, knowledgeable (and patient with noobies like me) people you are likely to meet !!!  Discuss your needs, you'll get good feedback ! - Oh - and I am loving the Concert !
I seriously recommend not copying my mistakes. D'oh - 
Please make your own, different mistakes, and help us all learn :-)

coolpinkone
California, the place of my heart
July 14, 2014 - 3:02 pm
Member Since: January 11, 2012
Forum Posts: 4168






Hello there! 
Welcome!   I hope you get some answers to your questions from those here that know  more about the differences in the violins.  I read your whole post and I can tell you are putting a lot of good thought into your decision.
My first violin, while it was not the FM Concert.. it was a very similar  violin and I still love it to bits. It has a great sound and I always felt lucky to begin on such a nice violin.  It did and still does project pretty loud.  In the beginning I had others living in the house, I did buy a simple rubber mute and it worked great for practicing. I am happy that I got to learn on a violin that sounded really good, so as I got a bit better here and there I could upgrade strings and keep content for a while. 
After two years of playing and progressing I was gifted, from one of my best friends, a Fiddlerman Soloist violin and I am in love with it.
I think the violin is a great hobby!  You are sure to love the crowd of violinists/fiddlers here.  I never get tired of watching new violinists start their journey.  Have a blast.
Good luck on your shopping.  
Toni
Vibrato Desperato.... Desperately seeking vibrato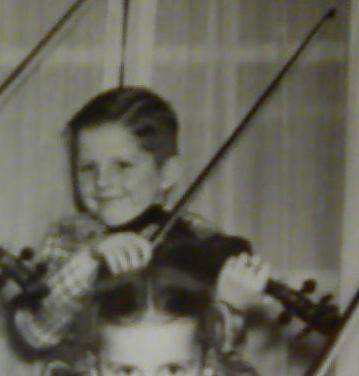 July 14, 2014 - 3:45 pm
Member Since: January 21, 2012
Forum Posts: 2647
@StayOnCue :  I bought the "Concert" about two years ago and am really satisfied with the sound and the handling of it.
I was in the market to buy a more expensive violin from, "FiddlerShop", but was in the chat box one evening while Pierre / Fiddlerman was also in there. I mentioned to him that I was going to buy a different more expensive instrument (from him of course) and he told me I may want to check out the "Concert Master" (that's what it was called at the time) before I purchased. A couple days later I "Skyped" with Pierre and he demo'd 3 different Concert Master violins and let me choose which one I liked the best (for sound). 
I received it in a few days and I really like it. As far as bright and dark, it has a darker sound than some other violins I've played. I also use a concert mute the majority of the time, as it gives a nice rich sound.
Welcome to the forum and good luck with your purchase, you won't go wrong with the "Concert".
Ken.

July 14, 2014 - 4:22 pm
Member Since: July 14, 2014
Forum Posts: 4

Offline
@BillyG Thanks a lot! I have watched several of FM's reviews, but they are on youtube, presumably recorded at different times with different audio set ups, etc, so it's hard to really compare choices. Then again, I haven't taken the time to visit any luthiers around me to hear in person just how different violins can sound, so I'm not in a position to complain. All of the violins he plays sound great, because he's a pro who knows how to make them sound great. I can't fully appreciate the differences in the instruments just yet.
I'm glad you like the Concert, I'm slowly convincing myself it's the right purchase. I've been considering an electric as well, which would help with the noise issue, but I think it'd be better for me to get the feel and understanding with a "real" violin.
@coolpinkone Thanks for the welcome! You're a patient person to read that whole thing. I get pretty obsessed about making every dollar count, and end up researching so much in such a short time that I start confusing myself and making the process a whole lot harder than necessary. That's a good point about starting with a solid base, with the option to upgrade strings and such as I grow more discerning. Good idea!
I'm excited to go through the forums now and see how other people have improved over time and possible challenges to look out for. It'll be interesting to see how my experiences compare with others'.

July 15, 2014 - 1:22 pm
Member Since: July 14, 2014
Forum Posts: 4

Offline
Thanks Ken! I had read a few of your posts and saw that you owned a Concert (I mostly had to find out who was able to snatch the username "Fiddlestix"), so I appreciate the first hand knowledge. I'm glad it's still holding up for you, and was very impressed by an anecdote you shared a few months ago, about your luthier saying you didn't need to spend money on a new violin. 
I also discovered last night that FiddlerShop has its own youtube channel, separate from FiddlerMan, and that it has many clips of FM playing the violins before shipping them. So I stayed up way too late listening to the different samples and I think I started to pick up the sound differences between the two. The Concert does strike me as fuller, while at times the Apprentice sounds a little tinny. Though sometimes it does sound like it has a bit more definition, and FM does perform "Dark Waltz" on it beautifully. But I'm sure that's my imagination and the difference in pieces performed. And that it was nearing 1am.
I'm going to shoot an email to an email to the Fiddlershop (Mike, I guess?) with some final questions before throwing down the money. My thinking is the Concert, possibly with Zyex strings substituted for the Overture ultra, and the two levels of plastic practice mutes. Thanks again for the responses!

coolpinkone
California, the place of my heart
July 15, 2014 - 2:13 pm
Member Since: January 11, 2012
Forum Posts: 4168







July 18, 2014 - 9:11 am
Member Since: July 14, 2014
Forum Posts: 4

Offline
Thanks Fiddlerman! I'm actually the Michael that you sent out a Concert to on Wednesday afternoon. I'm hoping Fedex will surprise me and get it to me today so I can start following the online lessons this weekend.
As I told your son (who was a lot of help), the one you're sending me looks and sounds beautiful.

coolpinkone
California, the place of my heart
July 18, 2014 - 1:14 pm
Member Since: January 11, 2012
Forum Posts: 4168







July 19, 2014 - 10:38 am
Member Since: May 4, 2012
Forum Posts: 2379

Offline




Yeah, the waiting for a new instrument to come in is definitely the hardest part.. And then when it does come in, it feels like it should be a holiday or something.  LOL
It is only sensible to make every dollar count.  With musical instruments, though, if you stick with them, you will end up spending a LOT of time with that purchase.  If you can afford to spend an extra hundred to get an instrument you like the sound or looks of even a little better, it's a good value.  That's what.. less than 30 cents a day, if it was spread out over your first year of playing?  What sort of a small treat could you get for yourself every day at that price?
I think you'll have fun. Music is a delightful sort of madness.
"This young wine may have a lot of tannins now, but in 5 or 10 years it is going to be spectacular, despite the fact that right now it tastes like crude oil. You know this is how it is supposed to taste at this stage of development." ~ Itzhak Perlman

BillyG
Brora, North-east Scotland
July 19, 2014 - 11:11 am
Member Since: March 22, 2014
Forum Posts: 2778








Forum Timezone:
America/New_York
Most Users Ever Online: 231
Currently Online: bocaholly
73 Guest(s)
Currently Browsing this Page:
1 Guest(s)
Members Birthdays

Upcoming
Sofia Leo, TKDennis, Ms-G, FiddleDetroit, CookiesViolin, Bobby, Dorque, Elaisa, Michael Browder, EBurrell, Gordon Shumway, ViolinD, dougga
Top Posters:
Mad_Wed: 2849
Barry: 2673
Fiddlestix: 2647
Oliver: 2439
DanielB: 2379
Kevin M.: 1969
damfino: 1905
cdennyb: 1814
TerryT: 1726
Ferret: 1575
Member Stats:
Guest Posters: 2
Members: 19646
Moderators: 0
Admins: 7
Forum Stats:
Groups: 16
Forums: 58
Topics: 7670
Posts: 96014
Newest Members:
NlagkipPremi, rosariosr2, IknewejPremi, celestezk69, PurmfqzPremi, ZbzfferPremi
Administrators: Fiddlerman: 14138, KindaScratchy: 1732, coolpinkone: 4168, BillyG: 2778, MrsFiddlerman: 0, Jimmie Bjorling: 0, SimplePressHelp: 0