Check out our Forum Rules. Lets keep this forum an enjoyable place to visit.
A
A
A



Topic RSS

Bow Rotation





(0

votes)

January 27, 2013 - 1:34 pm
Member Since: January 27, 2013
Forum Posts: 2

Offline
Watching videos, I notice people tend to rotate the bow so the wood part is furthest from their face, and the hair is closest.  I naturally tend to do the opposite.
I've been looking around but I'm having a hard time finding any official word of whether this is something you need to aim for (if so, reason?), or if it's more a personal comfort thing.  ...Or maybe the angles are just deceiving in the videos and they're actually holding it flat.
I'm still new to the instrument, so the more little things I can correct now, the better.
Thanks in advance!

January 27, 2013 - 2:14 pm
Member Since: January 14, 2013
Forum Posts: 888

Offline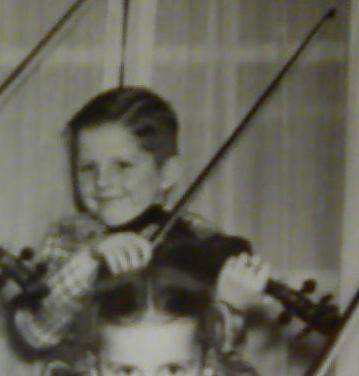 January 27, 2013 - 2:14 pm
Member Since: January 21, 2012
Forum Posts: 2647
Tilting the bow stick away from you willl help you control direction better. What I mean is then the hair's are closer to you, you have a tendency to keep the bow in a straighter line between the bridge and and the fingerboard. Holding the bow with the stick closer as in your case will have a tendency to let the whole bow slide toward the fingerboard.
Like KS, Diane said there are probably other reason's, those are my thought's.  I hope it help's some.
BTW... welcome to the Fiddlerman forum, enjoy.

January 27, 2013 - 4:21 pm
Member Since: May 4, 2012
Forum Posts: 2379

Offline




Well, you also get a bit more harmonic content when you play with the hair flat than when you tilt to use the edge. 
So the flat will give you sort of a thicker sound and the edge will be more transparent sounding.  Going onto the edge also can help with fading out a note or when you want to ease into a note. 
So that's yet another thing to consider when one is playing, as if with violin there wasn't enough things to have to learn to be aware of when playing.  LOL
I agree with Fiddlestix that tilting it so the stick is more towards me than the hair makes it a bit harder to control, though.  But if you find it works better for you, ImSoCold2323, that's cool
"This young wine may have a lot of tannins now, but in 5 or 10 years it is going to be spectacular, despite the fact that right now it tastes like crude oil. You know this is how it is supposed to taste at this stage of development." ~ Itzhak Perlman

Mad_Wed
Russia, Tatarstan rep. Kazan city
January 29, 2013 - 5:24 pm
Member Since: October 7, 2011
Forum Posts: 2849

Offline





January 29, 2013 - 7:13 pm
Member Since: August 7, 2012
Forum Posts: 53

Offline

February 1, 2013 - 5:35 pm
Member Since: January 27, 2013
Forum Posts: 2

Offline
Well, thanks for the warm welcome!
Convinced that there actually is a reason to tilt the bow away, I've started learning to play like that and I have noticed it's a bit easier to control.  I wonder why that is.  Is it an optical things, when your eyes glance down they focus on the hairs faster than the wood now (you're not pushing the bow away from you trying to get the wood to where the hair should be)?  Or is it more mechanical in that it ends up being better balanced when your fingers/wrist are in that position?  I guess it doesn't matter why, just my curious nature...
There are so many important things you need to understand about playing before you can really do anything on the violin.  And I accept that because there's a wealth of knowledge available on the internet.  I guess now I'm worried about smaller things like this.  Since it's not crucial, it's rare that an instructional video would point this out.  I wonder how many other little things I may be doing wrong...
But thanks again for all of your help!

February 1, 2013 - 5:46 pm
Member Since: February 28, 2011
Forum Posts: 2439

Offline

April 17, 2013 - 1:45 pm
Member Since: September 7, 2012
Forum Posts: 985

Offline
I think that tilting the stick away when bowing near the frog follows from usual human anatomy and kinesiology.  There is an efficient way of moving the hand and arm for a smooth bow stroke.  Doesn't the wrist naturally rise higher than the knuckles near the end of the upbow?  I think this rotation of the stick comes mainly from raising the wrist that way.
If you are a golfer, think of the way the face of a golf club rotates during the standard golf swing. Upon maximum backswing, the club faces the same way the golfer does.  At the maximum follow through, the club is facing the opposite direction.  The shaft of the club is rotated during the swing mainly because it is necessary to fit in with the rest of an efficient swing, not because the rotation itself is particularly useful.
So I say that this rotation of the stick is mostly accidental to the more important features of the usual bow stroke.

Picklefish
Merritt Island, Fla
April 17, 2013 - 8:09 pm
Member Since: June 25, 2012
Forum Posts: 1281

Forum Timezone:
America/New_York
Most Users Ever Online: 231
Currently Online: BillyG, Irv
67 Guest(s)
Currently Browsing this Page:
1 Guest(s)
Members Birthdays

Upcoming
Shell, Squiryl, GlassTownCur, mcassidy2004, Reptile Smile, MyMing, CarolineNH, JamesRSmithJr, SethroTull86
Top Posters:
Mad_Wed: 2849
Barry: 2673
Fiddlestix: 2647
Oliver: 2439
DanielB: 2379
Kevin M.: 1969
damfino: 1907
cdennyb: 1814
TerryT: 1726
Ferret: 1575
Member Stats:
Guest Posters: 2
Members: 20471
Moderators: 0
Admins: 8
Forum Stats:
Groups: 16
Forums: 58
Topics: 7725
Posts: 96571
Newest Members:
juanitaym69, tanyacu16, Isisoleou, fyutkbychuryic, paigeck18, filmobog
Administrators: Fiddlerman: 14219, KindaScratchy: 1732, coolpinkone: 4168, BillyG: 2820, MrsFiddlerman: 1, Jimmie Bjorling: 0, SimplePressHelp: 0, peopleshost: 0