Check out our Forum Rules. Lets keep this forum an enjoyable place to visit.
A
A
A



Topic RSS

Practice Routine
Discussion about what to work on in practice.





(4

votes)

HDuaneaz
Chandler, Arizona
September 26, 2013 - 2:29 pm
Member Since: February 27, 2013
Forum Posts: 239

Offline
This is an area where I have always struggled. What areas should I practice and how much time should I give each area.
My latest thought on practice is that I will mainly concentrate on the basics. Right now my practice is broken up into the following areas:
-Relaxing my right hand when using the bow. (I believe I am still pretty weak on this.)
-Vibrato (Still needs much improvement.)
-3rd position (exercises out of the Wohlfahrt, Foundation Series)
-Strengthening my pinky (All the time when I was young I never used my pinky. I brought that habit into adulthood when I started playing again at about 48.)
-Bowing (I an old book that my favorite teacher copied for me. The book was originally sold for $1 if they gives you an idea how old it is. I bet his teacher copied it for him.)
-Double stops (I am practicing out of a book by Harvey Whistler.)
-I thought I would start working on a difficult piece of music, Maybe "Meditation ..... Thais".    (I think I might take this a phrase at a time, and if it gets too difficult, maybe I will break the phase into a few measures.) I believe I will memorize it because I have found that I can play with a lot of feeling if I'm not looking at paper while I play.
I have recently started placing 10 pennies on the desk near where I play and I move a penny for every time I work through something. With some of these exercises, particulary Wohlfahrt, it can take a while to move all of those pennies.
I remember hearing a very talented woman violinist state that when she first started college she met her violin professor 3 months before the beginning of the semester. He told her to simply stand in front of a mirror and do nothing but practice the "paint brush" motion that Pierre talks about. She was to concentrate on this all summer. Can you imagine doing only that for 3 hours straight?
What do you all think about my routine? Would you change anything?
I also always had the philosophy that a violinist should be good enough to siteread anything. I think I have had the wrong approach.
Duane
"Violin is one of the joys of my life."

September 26, 2013 - 9:51 pm
Member Since: January 14, 2013
Forum Posts: 888

Offline

I feel that everything that you have listed is important and its a good thing to have a set of goals to accomplish. My list is short > pick it up and play it. Thats it, and things I need to work on just become obvious to me as I am playing. Some days I will spend on just running one scale and lots of things happen in my head when I do that > it just explodes with other issues I need to work on. Then some days I work on a song > and all kind of stuff just explodes > Some days I just play it like a mandolin, and things just explode. What I feel is most important is not so much pulling out ones list on what one should work on today but to just pick it up and go for it. I used to go to the gym and work out. Some guys would come in with a list of what they were gonna work on.
They spent more time checking off stuff on their list than lifting. Didn't make sense to me. My thoughts > just pick it up and see what flys. It is more fun for me to do it that way. Might not be the proper way > but thats the way I do it. Guess one could say I have no routine except to simply play it every moment I get. Cause it ROCKs me. 

September 26, 2013 - 11:28 pm
Member Since: August 16, 2013
Forum Posts: 64

Offline

@StoneDog you are one happy guy; I love it. You always cheer me up. My practice philosophy is close to yours - just do whatever feels like needs doing today. Although, I do think there's a benefit to more structured routines. In my experience with piano lessons, they were indispensable. But the piano and violin are very different instruments for me. I've never been able or interested really to just sit down at a piano and plunk out a song by ear, or do any improvisation or anything like that. I'm all about the books and the list of things to work on and the written music. But with the violin so far, it's like the exact opposite. I hate trying to practice with books and while I can read (simple) sheet music and feel it's helpful, I get into it more once I'm able to look away and just play and figure stuff out by ear. But I'm sure it's different for some people, so going back to the original topic, HD I say if your setup is working for you then hot dang, keep doing it.

HDuaneaz
Chandler, Arizona
September 27, 2013 - 12:29 am
Member Since: February 27, 2013
Forum Posts: 239

Offline
When I took lessons and played in this orchestra, which played very advanced music at my level; I would practice for five hours a day and barely keep up with.
If I just sat down and played only what I felt like playing all the time I would never really improve much because not a lot of what I play calls for, as an example, 5th position and double-stops along with speed.
I like hearing about what your practice routines are like.
Duane
"Violin is one of the joys of my life."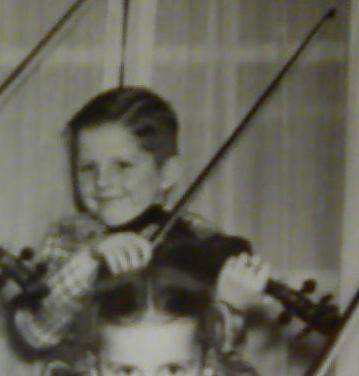 September 27, 2013 - 1:13 am
Member Since: January 21, 2012
Forum Posts: 2647

September 30, 2013 - 1:38 pm
Member Since: September 21, 2013
Forum Posts: 489

Offline


I know I'm new at this whole violin thing but i thought i'd add my routine to your wall to

I usually start out with just simple bowing exercies. trying to work on my position, relaxation and straight bows for the whole length of the bow and the paint brush to. Then once I think i'm doing well (or realistically get bored) I begin working on the major scales. Trying to hit each note with long done out notes so i get the sound and the placement of my fingers right. and at the end i usually just have a bit of fun. My practice sessions aren't very long though since i'm new and still working on building all those muscles

your routine sounds great! though by the way

i don't know exactly what you need to work on but hey a routine is better then none at all.
Lead me, Follow me, or get out of my way!
             ~General George S. Patton

Forum Timezone:
America/New_York
Most Users Ever Online: 231
Currently Online: BillyG
44 Guest(s)
Currently Browsing this Page:
1 Guest(s)
Members Birthdays

Upcoming
Shell, Squiryl, Schaick, GlassTownCur, mcassidy2004, Reptile Smile, MyMing, CarolineNH, JamesRSmithJr, SethroTull86
Top Posters:
Mad_Wed: 2849
Barry: 2673
Fiddlestix: 2647
Oliver: 2439
DanielB: 2379
Kevin M.: 1969
damfino: 1907
cdennyb: 1814
TerryT: 1726
Ferret: 1575
Member Stats:
Guest Posters: 2
Members: 20534
Moderators: 0
Admins: 8
Forum Stats:
Groups: 16
Forums: 58
Topics: 7728
Posts: 96602
Newest Members:
raeca1, henryxy69, Claytnreaw, adeleha11, lindseymk2, bridgettyx60
Administrators: Fiddlerman: 14222, KindaScratchy: 1732, coolpinkone: 4168, BillyG: 2826, MrsFiddlerman: 1, Jimmie Bjorling: 0, SimplePressHelp: 0, peopleshost: 0