Check out our Forum Rules. Lets keep this forum an enjoyable place to visit.
A
A
A



Topic RSS

Too Much Rosin?





(0

votes)

November 8, 2013 - 11:20 pm
Member Since: January 28, 2012
Forum Posts: 207

Offline
This happen to anyone else?
I kept noticing over the past two days that my bow strokes sounded awful.  (At least by comparison to my norm.  It's always bad

)
Anyways, it kept slipping on the E and sounding very scratchy.  String changes were hard and so was playing softly.  I had this terrible gut feeling that I was getting worse at playing. 
So I decided to whip the stings and the bow hairs down to bare and start anew.  I make two swipes onto the cloth with my bow, noticed a huge amount of rosin rubbing off, and decided to try it out.  To my surprise, my playing improved about ten fold.
I guess the moral of the story is, don't under rosin and definitely don't OVER rosin. 
Never mind maneuvers, just go straight at them.

November 9, 2013 - 3:17 am
Member Since: September 7, 2012
Forum Posts: 985

Offline
I've found that keeping the strings clean makes a huge difference.  I clean them with isopropyl on patches of tee-shirt material, taking care not to get the alcohol on the wood.  I rosin the bow only once or twice a week, playing, IDK, 10-15 hours per week.  Some time after applying rosin, I reach a time when the playing is the best.  I think it may be just that the strings get fouled quicker when the bow has a lot of rosin, and I get lazy sometimes about cleaning the strings.
Also I think this is a time of year for problems of tone, those being related to humidity changes and their effects on rosin.

coolpinkone
California, the place of my heart
November 9, 2013 - 7:14 pm
Member Since: January 11, 2012
Forum Posts: 4168






I concur with this rosin on the strings building up and making things sound a bit bad.

  I don't do this every week, usually I just keep  playing and being grumpy at my sounds..and then  I look and there is build up.  (duh)

... .I just use a plain cotton cloth that I knitted and it pulls it off.  I also got a great cloth from Fiddleshop and it works great too.

AND like @RosinedUp says  It does sound even better if I do alcohol, but I don't do it that often.

Vibrato Desperato.... Desperately seeking vibrato

November 10, 2013 - 7:21 am
Member Since: May 4, 2012
Forum Posts: 2379

Offline




I rosin every day, about 2 swipes seems to be good.  I don't get more than a little dust on my instruments, so I doubt it is too much. 
I clean the strings every day.  First I wipe them with cork, which takes off most of the loose rosin and then with a cotton cloth.  I have also cleaned them with alcohol a few times, with some rosins I've used that seemed to leave more build-up that just didn't come off easily.
If I put in several hours playing and the bow starts to stutter or it's taking more pressure than usual to get it to "bite", then I'll give it another swipe and see if that was it.
Too much rosin makes a mess, but I haven't noted it doing anything bad to the sound as long as it wasn't built up from not cleaning them every day.  If it builds up, it gets hard and the strings can start wanting to make some ugly sounds.  Usually the first sign of that badness that I've noticed is the strings just don't respond as quickly.  And they just don't sing as well.  They can also get a bit "dead" sounding, like old strings do.
That's why I developed the habit of cleaning them every time before I put the violin away. 
Well, the acoustic gets cleaned and wiped down every time before it is put away.. 
My electric never gets put away, so sometimes it goes for some days before it just isn't sounding right and cleaning the strings is one of the first things I'll try to fix that.  But my electric hasn't seen the inside of the "gig bag" it came with except for a couple of times since I got it, and I clean the electric when it gets to looking scruffy with rubbing alcohol, paper towels and duck tape.   LOL
So to the original question yeah, I've noticed that if the rosin cakes up on the strings it can make the sound worse.  But from what I've seen if there was a little extra fresh rosin on reasonably clean strings, I haven't noticed a problem with that.  If rosin is allowed to build up over time, it quits being just a powder and kind of hardens into chunks and can make a sort of a coating that I think dampens the string.
I think I recall Pierre once mentioning that the main problem with too much rosin is it makes a mess.  While too little will make you sound worse.  I kind of doubt he lets it build up on the strings over time, though.  Maybe if we're lucky, he'll chime in on this topic.
"This young wine may have a lot of tannins now, but in 5 or 10 years it is going to be spectacular, despite the fact that right now it tastes like crude oil. You know this is how it is supposed to taste at this stage of development." ~ Itzhak Perlman

November 10, 2013 - 9:12 am
Member Since: September 7, 2012
Forum Posts: 985

Offline

November 10, 2013 - 11:10 am
Member Since: January 28, 2012
Forum Posts: 207

Offline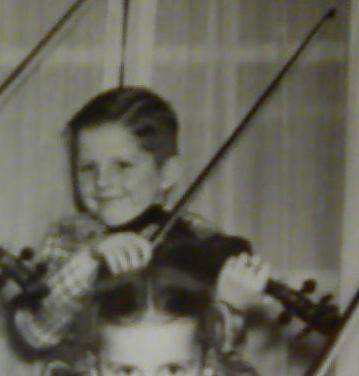 November 10, 2013 - 12:38 pm
Member Since: January 21, 2012
Forum Posts: 2647
I've been cleaning my bow hairs for a long time using this method.  One thing I do that he doesn't, is, after the alcohol bath, I rinse / wash mine in a solution of shampoo and water to keep the hair's from drying out.
I do this with my wood bow's, fiberglass and carbon fiber bow.
In fact, I think this is the video I learned from.
Ken.

Forum Timezone:
America/New_York
Most Users Ever Online: 231
Currently Online: BillyG, bocaholly
52 Guest(s)
Currently Browsing this Page:
1 Guest(s)
Members Birthdays

Upcoming
Sofia Leo, TKDennis, Ms-G, FiddleDetroit, CookiesViolin, Stephen, Bobby, Dorque, Elaisa, Michael Browder, EBurrell, Gordon Shumway, ViolinD, dougga
Top Posters:
Mad_Wed: 2849
Barry: 2673
Fiddlestix: 2647
Oliver: 2439
DanielB: 2379
Kevin M.: 1969
damfino: 1906
cdennyb: 1814
TerryT: 1726
Ferret: 1575
Member Stats:
Guest Posters: 2
Members: 19746
Moderators: 0
Admins: 7
Forum Stats:
Groups: 16
Forums: 58
Topics: 7672
Posts: 96051
Newest Members:
adrianrj69, kristina16, mercedesnm18, Pavlyukachuryic, sidneyjn1, Woodhamchuryic
Administrators: Fiddlerman: 14138, KindaScratchy: 1732, coolpinkone: 4168, BillyG: 2782, MrsFiddlerman: 0, Jimmie Bjorling: 0, SimplePressHelp: 0