A
A
A



Topic RSS

Ending the lockdown





(1

votes)

Gordon Shumway
London, England
July 7, 2020 - 4:43 am
Member Since: August 1, 2016
Forum Posts: 1404

Offline
In a way I had resigned myself to orchestras not beginning again until January - that gave me more time to prepare myself.
But I did email the organiser of the South London String Orchestra a few weeks back to suggest that at least we could all wear facemasks, whereas wind and brass players can't. He got in touch with the church that owns the hall, to ask if we could reconvene in September, and they replied we could move in at the end of July if we wanted!
Which is nice. Otoh, I'm scared because I'll be less good than I wanted. And also I need to apply for an over 60s travel pass, so I'd better get my e-Skates on.

AndrewH
Sacramento, California
July 7, 2020 - 6:47 pm
Member Since: November 5, 2017
Forum Posts: 1120




We're probably going to be much more cautious in the US, given the situation here.
My orchestra has not officially canceled anything yet; officially we are still resuming normal rehearsals in our usual venue in late August.
HOWEVER... it appears unlikely that will actually happen. Orchestra management is currently exploring alternate options, all of which involve rehearsing and performing outdoors. I don't think playing indoors is even being considered now. Depending on both the coronavirus situation and the availability of appropriate venues, we may decide to perform as a full orchestra outdoors (appears unlikely), split into a string orchestra and a wind band for the fall, or organize an outdoor chamber music series. Also depending on venue, we would either play in front of a socially distanced audience or produce livestream-only concerts. An email went out to orchestra members asking for venue suggestions for both outdoor rehearsals and outdoor concerts that would allow musicians to be safely distanced.



BillyG
Brora, North-east Scotland
October 4, 2020 - 11:04 am
Member Since: March 22, 2014
Forum Posts: 3569







@John Bracone - thanks for sharing that - it has a certain potential for those more fortunate than I !  ( although - I wouldn't exactly call it "real time" - but equally in a sense yes - or at least "close enough" on a good connection ! )
Must admit - been there with that on JamKazam - and - yes OK - "wifi" to my router (not cellular - which is even slower than my "broadband") - it's well capable of 75Mbps - but the underlying "super fast broadband" over copper to the exchange (yes, that's REALLY what they call it) - is this - 
And no - it don't work here - such a shame !
Still, very well worth drawing it to folks attention - TY !
For live-streamed (solo - no "jamming with others" possible - well not "live" anyway - it can always be captured by others for a subsequent mix-down and edit...) - I fall back to StreetJelly - it "just-fits and-no-more" into my upload speed - the video and audio stream on SJ sits around 750kbps outbound - man it's close to all I got ! LOL 
Thanks again for pointing that out - can be useful for many I'm sure ! 
I seriously recommend not copying my mistakes. D'oh - 
Please make your own, different mistakes, and help us all learn :-)

AndrewH
Sacramento, California
October 4, 2020 - 11:37 pm
Member Since: November 5, 2017
Forum Posts: 1120




My orchestra is back, more or less. (I'm still not rehearsing due to injury.) Rehearsing outdoors, strings orchestra only, masked and distanced.
The first concert of the season was supposed to be last night; obviously it didn't happen. The new concert program is set, but the concert date is still up in the air because the start of rehearsals was delayed by wildfire smoke, and because we're still trying to find an appropriate outdoor performance venue. For selfish reasons I don't mind the delay at all, because it gives me a decent chance of returning in time to rehearse adequately and play the concert.
Just to assure people we're still around, the orchestra released short video clips from the first two rehearsals.
Again, I'm not involved so far, but still hoping to recover from my car accident in time to perform.

BillyG
Brora, North-east Scotland
October 5, 2020 - 2:12 am
Member Since: March 22, 2014
Forum Posts: 3569








AndrewH
Sacramento, California
March 10, 2021 - 8:28 pm
Member Since: November 5, 2017
Forum Posts: 1120




Camellia Symphony ended up never actually playing a concert. We didn't have an outdoor rehearsal venue with sufficient lighting to rehearse after dark (and couldn't rehearse earlier in the day because of people's day jobs), and didn't have enough time to prepare a full program because wildfire smoke caused the cancellation of multiple rehearsals, so the decision was made to stop at the end of October when Daylight Saving Time ended.
Instead of performing a full program, the orchestra recorded one piece from it, a new composition by Iranian-American composer Aida Shirazi.
I just got an email on Monday. We're going to try to reconvene to play one outdoor concert later in the spring, weather permitting. In light of more recent findings on droplets and aerosols from wind instruments, we will try to include everyone this time, provided that we can find rehearsal and performance venues with enough space for proper distancing. (If we can't include the wind players, we'll probably play the string orchestra program that was planned for the fall.)

March 11, 2021 - 12:40 am
Member Since: June 10, 2020
Forum Posts: 1643

Offline




I can see it clearly, now.  
Thirty years from now for my Daughter, fifty years from now for my Grandchildren - they will be telling each of their respective Grandchildren:
"You have life so easy and know nothing about hardship!  When I was young we had Covid!  Had to walk 10 miles to the Grocery because gas prices were too high!  Couldn't see what we bought because we had 10 layers of masks on our face.  All toilet paper had mysteriously vanished off the planet... Kids would've gladly walked even further, thru a blizzard, if there had just been a School open... and Violinists, Violists and Cellists would've hiked for days to meet up with an outdoor Orchestra!"  
What will I tell my Great Grandkids about us Fiddlers? 
"We sat around the Kitchen table, fiddling months on end - until we all ran out of tunes to play... then, played them all over again!"  
- Emily

March 11, 2021 - 5:06 am
Member Since: May 19, 2020
Forum Posts: 233

Offline




ELCBK said 
"and Violinists, Violists and Cellists would've hiked for days to meet up with an outdoor Orchestra!"  
YES, absolutely yes!! 😂 
I miss so much my cello group...😭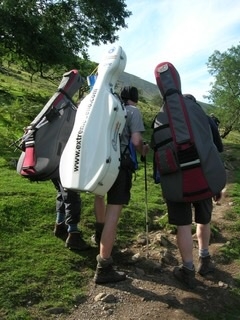 Gordon Shumway
London, England
March 11, 2021 - 8:50 am
Member Since: August 1, 2016
Forum Posts: 1404

Offline
Mouse said
@Gordon Shumway, I was wondering, how is it going with the South London String Orchestra? Were you able to start up? Is it still able to continue, if it did start up in July? 

Did you see the wind instrument masks for orchestras? I am thinking they might affevt sound? I can't remember where I saw them last week. Maybe it was news section in the news.

  
Sorry, haven't been logged on for a week. The SLSO is due, like most of Britain, to meet up on or after May 17th, I think.

Forum Timezone:
America/New_York
Most Users Ever Online:
696
Currently Online:
AndrewH
,
Irv
,
Currently Browsing this Page:
1
Guest(s)
Members Birthdays

Today
BaldBeardedViolinist, AnnyJ
Upcoming
Squiryl, mcassidy2004, Reptile Smile, MyMing, CarolineNH, JamesRSmithJr, SethroTull86
Top Posters:
Mad_Wed: 2849
Barry: 2680
Fiddlestix: 2647
Oliver: 2439
DanielB: 2379
damfino: 1992
Kevin M.: 1971
cdennyb: 1815
TerryT: 1728
ELCBK: 1643
Member Stats:
Guest Posters: 3
Members: 27446
Moderators: 0
Admins: 7
Forum Stats:
Groups: 16
Forums: 75
Topics: 8982
Posts: 111426
charliecron, BrianRossman, ARTISTO, Lady McGuiver, steveripper, politicallyincorrectpuppy
Administrators:
Fiddlerman: 15403, KindaScratchy: 1756, coolpinkone: 4180, BillyG: 3569, MrsFiddlerman: 2, Jimmie Bjorling: 0, Mouse: 2821
©
Simple:Press
—