A
A
A



Topic RSS

Sheet Music at Christmastime!
Suggestions for utilizing old or unwanted sheet music.





(2

votes)

December 1, 2020 - 10:15 am
Member Since: June 10, 2020
Forum Posts: 7267

Offline
Here's my last few suggestions to help keep music in everyone's thoughts during the Holidays using sheet music. 
🎄 Simple Candle Decor! 
Just cut a piece of your sheet music so it wraps around the circumference of each candle - make sure the paper is not higher than the actual candle (fire hazard).  Cut maybe up to a 2" wide fancy ribbon or lace, same length as the paper, layer around the middle - then secure it all in place with a thin piece of raffia or 1/4" ribbon (tie in bow or knot).  
group 3 or 5 candles of different height and circumference
try printing your music on parchment or even vellum, you want the glow through the candle to be strong - so don't use super thick paper 
tuck a sprig of evergreen behind the raffia or 1/4" ribbon and maybe attach a Christmas gift tag or small ornament. 
🎄 Or, try a different look! 
This method uses printed tissue sheet music, you melt into the wax!   
Making Christmas Sheet Music Candles
🎄 Découpage Stags!  
Buy a pair of plastic Reindeer (or paper pulp Stags from the craft store).  Tear up your printed sheet music into 2.5cm wide strips and glue (overlap) pieces of the strips to cover the form. Use White Elmers glue or Modge Podge, etc... 
for a glossier/smooth finish, after completely dry, you can apply a light coat of the glue or acrylic sealer overall 
accent antlers with gold or black craft paint and/or glitter (ref 1st post). 
🎄 Origami Star!  
you only need one printed side of the paper for this - great gift ornament
it would be wonderful in a larger size!  Draw out some of your own music on larger pieces of paper, or use spray adhesive to adhere your sheet music on a larger piece cut from a roll of butcher paper (just DON'T spray adhesive INSIDE your house) - or just have your sheet music enlarged on bigger paper (lol)
punch a hole in 1 tip and hang from your tree  
warning!  Making these stars will make you feel like a kid again! 
🎄 Kusadama Flower!  
these look really nice if the final edges are pat with a black or red stamp pad, but you can always use glitter (refer to 1st post) 
use single flowers to decorate gifts or make a Christmas bouquet
once you try 1, or make more!   
🎄 Kusadama Ball Ornament or Topiary!
You can glue the flowers together, making a ball - or, if glued to a 1/4" wood dowel, it becomes a fabulous Topiary! 

Make A Kusudama Ball - wikiHow
🎄 Easy Origami Tree Gift Wrapping!  
use tips from above to make larger sheet music in the proportions needed to wrap your specific gift 
pretty sure you only need paper printed on 1 side for this
this would be a great project to hit with a couple shots of spray pearl/shimmer type paint (check online craft stores) 
Maybe Also Try:
🎄 Christmas Cardboard, Foamboard or Thin Wood Cutout Ornaments! 
Before you cut anything out, spray 1 side of your cardboard (or wood, foamboard) with adhesive (not in the house) - I like 3M repositionable spray.  Attach a sheet of music to the sticky side of the cardboard side - start a corner, then smooth down as you go.  Repeat with the remaining side.  Trace out your silhouettes, then cut away the excess (sharp blade or scissors).  Apply paint and/or glitter to finish the edge. 
might find you can buy ready made die cuts at the craft store - just brush (or spray) with glue, lay glue side down on back of music and cut away excess.  Repeat with other side.  Finish edge with paint/glitter.
punch a small hole to hang on the tree or use as a gift tag
sheet music-covered cutouts can also be staggered/layered over a donut-shaped base cut of foamboard, thin chipboard or hardboard (cover that with sheet music, too) for a Wreath.  Hot glue the pieces in place.
Use a variety of sizes of cutouts with just 1 shape, or a variety of shapes. 
try mixing subtle differences found in aged music with a spark of energy from newer, bright white sheet music! 
Go a step further and decorate the wreath with some red or green plastic cookie cutters (can also be painted to look like old tin), then add a few personal items that make your own Holiday special.  Maybe cut out some musical note shapes, painted black (or gold) or symbols used in musical notation - add a few to the wreath.  Add a bow if you like.
Okay, that's enough to get anyone started with using sheet music for Holiday decor!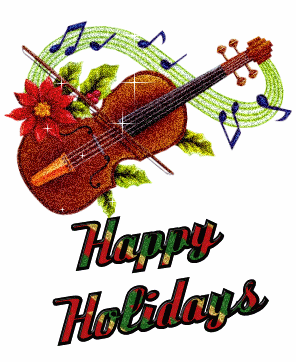 - Emily

Forum Timezone:
America/New_York
Most Users Ever Online:
696
Currently Browsing this Page:
1
Guest(s)
Members Birthdays

Upcoming
HeadCheese, Mad_Wed, Andrew, Prudence, lakelivr, ButteryStuffs, harvestman, fiddlinmama, kit, makinnoise, wisco kid, Nathalie, marta, Raef, AmandaKulp, vocaliw95, nancyjoshua
Top Posters:
ELCBK: 7267
ABitRusty: 3614
Mad_Wed: 2849
Barry: 2690
Fiddlestix: 2647
Oliver: 2439
Gordon Shumway: 2388
DanielB: 2379
damfino: 2113
Mark: 2088
Member Stats:
Guest Posters: 3
Members: 31602
Moderators: 0
Admins: 7
Forum Stats:
Groups: 16
Forums: 81
Topics: 10487
Posts: 132513
vikjohn, untimelyrelate, xeniaeri, RBrown, sibanda123, Banned_1, Opinionated Amateur, elaine b, salmawisoky, ukulelegeek
Administrators:
Fiddlerman: 16395, KindaScratchy: 1760, coolpinkone: 4180, BillyG: 3744, MrsFiddlerman: 2, Jimmie Bjorling: 0, Mouse: 5034
©
Simple:Press
—