Check out our Forum Rules. Lets keep this forum an enjoyable place to visit.
A
A
A



Topic RSS

How not to make a recording.
Will a shirt pocket note taker work with a violin?





(0

votes)

August 17, 2014 - 5:46 pm
Member Since: February 28, 2011
Forum Posts: 2439

Offline
Not really a great idea but maybe for learning (I sound like that?) purposes.
Now, this recoding is special.  I just recorded the entire room.  No mixers or other hassles.  The computer plays the backup but there are not wires all over the place to trip on.  There's more!
I am playing melody in the group and the violin is not very audible.  It's a viola strung as violin.  It is not very audible but I love the "dark" presence and it fits just right. (ergonometrically)
Finally, my computer also displays the written music so I just play off the screen.  The problem is that the dumb program turns the page sometimes at a critical point and I'm momentarily lost.  (I shudda had a teacher!)
When you come to a fork in the road, take it.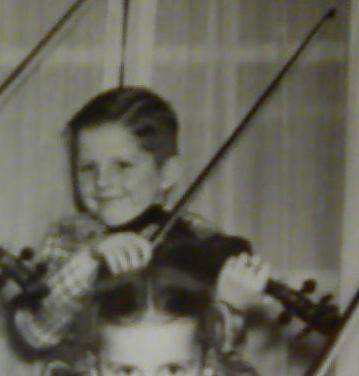 August 17, 2014 - 9:17 pm
Member Since: January 21, 2012
Forum Posts: 2647

BillyG
Brora, North-east Scotland
August 18, 2014 - 3:22 am
Member Since: March 22, 2014
Forum Posts: 2827







I like the idea @Oliver - had never thought of that!  Out of interest - your "shirt pocket note taker" - I'm kind of curious about that - I have an "old tech" one (tape cassette based - which of course then would have to be coupled up to the PC and re-recorded, hiss and all).  I take it your recorder directly creates some kind of digital audio (.wav or .mp3 etc etc) which you can then just upload over USB?
BTW - sounding good there!
Bill
I seriously recommend not copying my mistakes. D'oh - 
Please make your own, different mistakes, and help us all learn :-)

August 18, 2014 - 7:49 am
Member Since: May 4, 2012
Forum Posts: 2379

Offline




Pocket recorders, whether the new fancy ones that can do a nice stereo recording or the old tape ones, are great. 
Sure, maybe not "studio quality" sound, but as devices to catch a quick "snapshot" of an idea or moment, or as a learning tool?  They are great.
This recording?  Well, maybe not perfect sound quality. It has a certain charming ambiance, though.  Not so bad that it wasn't enjoyable to listen to.  I liked it, personally.  Nice playing, Oliver.
@BillyG: I used one of the little "microcassette" pocket recorders for years, for catching musical (or other) ideas quickly.  Little noisy, not great fidelity, but good enough to get a song idea down.
A few years ago, I upgraded to one of these..
http://www.amazon.com/Coby-MP8.....dia+player
Again, not great sound quality and def not great video recording quality.  But I can load it with vids of tutorials I've been working from, backing tracks, etc.  The only thing I consider a shortcoming to it (other than quality) is that it can't record audio alone.  It's record function is low-fi audio and video that is maybe as good as an old webcam.  But as an easy-to-use device that can run for a few hours off a USB charge and can connect to my computer, it has been worth far more than the about $25 I paid for it a few years back.  Also no tapes to buy or fumble around with. 
Before somebody says it, yeah.. I am aware that some people's cell phones can do all that now.  I am still a cell-phone "luddite" though, and avoid the pesky things.  LOL
But there certainly is a place for devices that are easy to use for making a quick impromptu recording anywhere, any time.  Sometimes by the time you get "better" gear set up and cable run and etc, you've lost the idea you had or really don't feel like recording any more.  You can always do it better later, if you want. 
Getting it down now with even a small pocket recorder avoids the problem of an idea being "lost in time.. like tears in the rain.."
And for just a quick "take" for your own learning purposes, audio and/or video that you can make easy and on the spot is a great tool.  You can get more of an idea of how well a piece/song is coming along, and maybe even some idea of if your delivery is developing well. 
Anyway, great stuff, Oliver!

"This young wine may have a lot of tannins now, but in 5 or 10 years it is going to be spectacular, despite the fact that right now it tastes like crude oil. You know this is how it is supposed to taste at this stage of development." ~ Itzhak Perlman

August 18, 2014 - 8:52 am
Member Since: February 28, 2011
Forum Posts: 2439

Offline

August 12, 2015 - 12:24 am
Member Since: August 5, 2015
Forum Posts: 12

Offline

Forum Timezone:
America/New_York
Most Users Ever Online: 231
Currently Online: cid
55 Guest(s)
Currently Browsing this Page:
1 Guest(s)
Members Birthdays

Upcoming
Shell, Squiryl, Schaick, GlassTownCur, mcassidy2004, Reptile Smile, MyMing, CarolineNH, JamesRSmithJr, SethroTull86
Top Posters:
Mad_Wed: 2849
Barry: 2673
Fiddlestix: 2647
Oliver: 2439
DanielB: 2379
Kevin M.: 1969
damfino: 1907
cdennyb: 1814
TerryT: 1726
Ferret: 1575
Member Stats:
Guest Posters: 2
Members: 20537
Moderators: 0
Admins: 8
Forum Stats:
Groups: 16
Forums: 58
Topics: 7728
Posts: 96603
Newest Members:
JeromKar, raeca1, henryxy69, Claytnreaw, adeleha11, lindseymk2
Administrators: Fiddlerman: 14222, KindaScratchy: 1732, coolpinkone: 4168, BillyG: 2827, MrsFiddlerman: 1, Jimmie Bjorling: 0, SimplePressHelp: 0, peopleshost: 0