Check out our Forum Rules. Lets keep this forum an enjoyable place to visit.
A
A
A



Topic RSS

Advanced beginner strings





(0

votes)

June 7, 2016 - 12:09 am
Member Since: June 6, 2016
Forum Posts: 2

Offline
My daughter has been playing for a couple of years, and I would consider her an advanced beginner ( intermediate? Lol)
It's her 13th birthday on the18th, and I would really like to get her some new strings for her violin.
I don't want something too basic, but I also don't want to spend a ton on new strings either! What are some good strings that aren't going to cost me an arm and a leg? I have no idea what is on her violin now as they were on it when we bought it 2 years ago. (I know... Bad me!) 
Any suggestions?

June 7, 2016 - 3:51 am
Member Since: June 7, 2016
Forum Posts: 373

Offline

We need to know a bit more.
First, what is your budget?  It's pointless to recommend a $90 set of strings if your budget, stretched to the max is $50.  (Of course, every time this kind of question comes up, you have people showing off how much they know and saying such-and-such are the only strings that are good enough.  I'm betting lower quality strings that you CAN get are going to do your daughter more good than super-fantastic-wonder strings that you can't.)
Second, what does your daughter want in a new set of strings?  There are strings intended to be bright (but will sound shrill to someone who doesn't like that), and others that are intended for a much more mellow and rich tone (which will sound muddy to people who don't like THAT.) She is going to be the best judge of what she'd like to get out of her current strings, and can't.
I don't think this is the sort of present that should be a surprise. You might even have your daughter listen to some of the string comparison videos on Youtube and see what she can tell. (Going to a shop that has a bunch of similar violins strung with different kinds would be best, but isn't always an option.) 
Forgot one point: what size?  That doesn't make a huge difference (as far as I know) between one brand of string and another, but if you're searching for a particular brand of string, you may be able to find one size for a really good price, but not the size you need. (Somebody correct me if I'm wrong about this (I'm very new), but I would think you could use a larger size on a smaller violin (you just have to cut away the excess.) But if all they have is 3/4, and you need 4/4 and will have to pay a lot more to buy them somewhere else, it matters.

June 7, 2016 - 6:46 am
Member Since: March 15, 2014
Forum Posts: 244

Offline


Hi Nacho,
      Charles is right, string are somewhat different to each player. Asking your daughter her opinion on what strings she would like might take the mystery out of the gift , but save you in the long run.
That said, I will offer my opinion on these mid ranged priced strings.
1. Fiddlerman Strings - I have found these for the price to be great strings.
2. Pirastro Tonica - very warm strings
3. D'Addarrio Pro Arte - these tend to be brighter.
As I said these are my choices and others my offer more and different oppinions.
hope this helps.
With violins there is no fretting over the music.

June 7, 2016 - 8:12 am
Member Since: June 6, 2016
Forum Posts: 2

Offline
I watched the FM Master violin video and I thought those strings sounded amazing! I guess I will have to sit down with her and watch a few videos of the strings and see what she likes. 
I guess my budget for new strings would up to about $55? I have never had to buy new strings before, so I'm not sure how much strings for a "beginner" should cost! Lol 
She does play a 4/4 as well. I'm actually very glad I found this site! 🙂

June 7, 2016 - 3:05 pm
Member Since: April 25, 2016
Forum Posts: 43

Offline
It would be good to know what she's using now.
D'addario Helicore strings are stranded-steel that are easy to play and sound pretty good. About $37.
Fiddlerman strings are Perlon core(?)—intended to resemble playing on gut strings. About $30. According to the write-up these strings are supposed to be similar to and as goods as Thomastik Dominant strings, which are very popular and cost about $60. I intend to give Fiddlerman strings a try for my next set.
If she's an advanced beginner, she's probably ready for synthetic core strings. In the beginning I think they will feel a little different than steel strings—if that's what's she's been using.
The good news is that she'll probably like any choice after playing on 2 year old strings. I think 6 months is a good time to change strings or sooner if she's playing a lot.

BillyG
Brora, North-east Scotland
June 7, 2016 - 3:50 pm
Member Since: March 22, 2014
Forum Posts: 2827







Yup - at 2 years in to playing (but very aware and understanding of the variables contributing to sound production) and having the finance available to experiment with various things ( hmmm... LOL my good lady wouldn't agree ) I pretty much agree with all of the above comments.   
I regularly switch between steel and synth strings for the style of music I'm playing.  I RARELY play true "classical" pieces, but my repertoire is not all "fiddle tunes" which - for the instrument I have, steel works well ( to MY ears anyway, I just like it ).  When I branch out into other things I truly love to play - like slow airs, nice melodic pieces (my current faves are summertime, over the rainbow, moon river, mocking bird hill, modern pop, rock, etc and so on) I go for the synth strings.
I have used expensive Larsens (and still have them) but, personally, because of my limitations, I find the lower tension "troublesome" - they are so loose they vibrate wider and often a lower string will "buzz" against a fingernail stopped on a higher string, but they really do have a nice warm sound, and, I will get to grips with them eventually !!!   ( All part of the journey ) 
I also have dominants and, I have a set of the FM strings - both - again to my ears, my instrument, and my level of ability with the bow - are absolutely fine.   What else have I tried - oh yes - obligatos - and overture ultras ( not to forget the non-whistling Kaplan E of course !!!! Hahahahaha - not kidding ! )
So, as a relatively short-time player - sure - I have been experimenting - it's what I do.... I guess, if I had a choice to make - I would go for the FM strings - I don;t see much difference (other than price) over the dominants, which otherwise would be my suggestion ( for MY instrument, MY bow, MY technique and MY and rosin choice - absolutely everything makes a difference !!!!! )   
To cut to the chase - and it's only from my own experience - the FM string set would be my option.     And DO check the violin size as Charles suggests, JUST IN CASE..... at 13, it might just be a 4/4 she's using, but if a fractional sized violin, there can be a bit more difficult string choice I imagine....  something to consider... 
Good luck and happy 13th to your daughter when it comes around - never stop playing !
I seriously recommend not copying my mistakes. D'oh - 
Please make your own, different mistakes, and help us all learn :-)

June 9, 2016 - 12:01 am
Member Since: January 19, 2014
Forum Posts: 973

Offline
If she's played it a lot, most strings are going to sound better than what she has.  Probably the most common string found on classical violins are Dominants.  However,   the Fiddlerman strings are supposed to sound like Dominants, but cost half the price.  That's pretty much a no brainer.   I have a set here, but I haven't put them on my violin yet, so I can't give you a personal opinion whether any of the above is true.  Generally, however, if Pierre says it is true, that's good enough for me.  
A couple of other moderately priced strings sets are the D'Addarrio Pro Arte and Zyex strings. When you get a string set, be sure to look at the E string (the littlest string) to see if it is ball-end or loop-end and order appropriately.  Ball-end and loop-end will be self-explanitory when you look at how the string attaches to the tail piece. 
A positive attitude may not solve all your problems, but it will annoy enough people to make it worth the effort. ~Herm Albright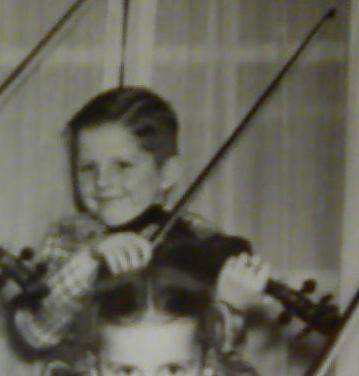 June 11, 2016 - 1:50 am
Member Since: January 21, 2012
Forum Posts: 2647
Re: strings....About 6 weeks ago, I had my luthier (Mark Schwartz) put a set of "Obligato's" on my violin. Two weeks ago I took them off and put on a set of, "Fiddlerman" strings. I like the sound of the, "FM" strings best on this particular violin.
IMHO, I think any new string is going to produce a better sound as opposed to the old strings that were/are on the violin now. Then there's the quality of the instrument itself to be factored in.
Just my opinion.
Ken.

Forum Timezone:
America/New_York
Most Users Ever Online: 231
Currently Online: MoonShadows
63 Guest(s)
Currently Browsing this Page:
1 Guest(s)
Members Birthdays

Upcoming
Shell, Squiryl, Schaick, GlassTownCur, mcassidy2004, Reptile Smile, MyMing, CarolineNH, JamesRSmithJr, SethroTull86
Top Posters:
Mad_Wed: 2849
Barry: 2673
Fiddlestix: 2647
Oliver: 2439
DanielB: 2379
Kevin M.: 1969
damfino: 1907
cdennyb: 1814
TerryT: 1726
Ferret: 1575
Member Stats:
Guest Posters: 2
Members: 20537
Moderators: 0
Admins: 8
Forum Stats:
Groups: 16
Forums: 58
Topics: 7728
Posts: 96604
Newest Members:
JeromKar, raeca1, henryxy69, Claytnreaw, adeleha11, lindseymk2
Administrators: Fiddlerman: 14222, KindaScratchy: 1732, coolpinkone: 4168, BillyG: 2827, MrsFiddlerman: 1, Jimmie Bjorling: 0, SimplePressHelp: 0, peopleshost: 0