A
A
A



Topic RSS

Related Topics

First violin
considering starting violin, looking for an electric





(0

votes)

August 15, 2012 - 4:41 am
Member Since: August 15, 2012
Forum Posts: 1

Offline
Ok, I am considering starting to play violin, I need electric, due to living in a block of flats, I have a limited budget.
Can I go with spending no more than £150 on say a Cecilio??
I have asked around and people seem to think I shouldn't spend less than $600, no way can I afford this amount of money when I'm just starting but I'd rather buy one than rent it.

August 15, 2012 - 5:36 am
Member Since: May 4, 2012
Forum Posts: 2379

Offline




Different people will have different views on it.. But I have generally felt that with musical instruments, one that you can afford now is worth more than several you might be able to afford "someday".
As I recall, Fiddlerman reviewed a Cecilio at about that price and said good things about it.  I would say he is more honest than he is a salesman, and if it hadn't been at least ok, he wouldn't say otherwise.
So get one and play.  Hope to see you around. 
I play electric mostly, but not the Cecilio.  Mine is even cheaper, but it holds tune and has held up to a lot of playing so far, so I have no complaints.  If I had known a bit more or had seen FM's review at the time, I might even have gotten one of the Cecilios myself.  They look like nice little instruments.
"This young wine may have a lot of tannins now, but in 5 or 10 years it is going to be spectacular, despite the fact that right now it tastes like crude oil. You know this is how it is supposed to taste at this stage of development." ~ Itzhak Perlman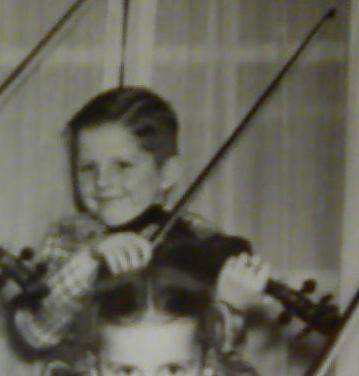 August 15, 2012 - 9:17 am
Member Since: January 21, 2012
Forum Posts: 2647

August 15, 2012 - 10:20 am
Member Since: September 10, 2011
Forum Posts: 1973

Offline




TerryT
Coleshill, Warwickshire
August 15, 2012 - 5:09 pm
Member Since: December 15, 2011
Forum Posts: 1731



August 16, 2012 - 3:32 am
Member Since: May 20, 2012
Forum Posts: 304
Fiddlestix said
I think that with all the Q's and A's FM is asked maybe there should be a seperate Forum Topic called, "Pierre-a-Pedia".   
lol... Very True.  It would be nice to have a section laid out that is nothing but reviews of all the violins pierre has done a vid for.  All in one place and labled.  Cecilio Black Electric, Concert Master, Kohr, etc...  Thats way people can see the vids and reviews, but find them real easy.  Like an entire section on the home page that just says Violin reviews by Brand, or what not.  That's way Pierre doesn't have to answer the same question everytime. 
Nothing bad on you, djpixc, don't think I am ragging on you at all.  But because this very question has been brought up before, it would be an interesting idea.
"Everyone is a genius. But if you judge a fish on its ability to climb a tree, it will live its entire life believing that it is stupid." -Albert Einstein

Forum Timezone:
America/New_York
Most Users Ever Online:
696
Currently Browsing this Page:
1
Guest(s)
Members Birthdays

Upcoming
Mad_Wed, Reacher, Andrew, Prudence, Lenicus, wookieman, ButteryStuffs, Gil, kit, makinnoise, wisco kid, Longstride46, Nathalie, marta, klezmerkat, vocaliw95, winxart, nancyjoshua
Top Posters:
ELCBK: 5714
ABitRusty: 2934
Mad_Wed: 2849
Barry: 2680
Fiddlestix: 2647
Oliver: 2439
DanielB: 2379
Gordon Shumway: 2204
damfino: 2079
Kevin M.: 1973
Member Stats:
Guest Posters: 3
Members: 31184
Moderators: 0
Admins: 7
Forum Stats:
Groups: 16
Forums: 79
Topics: 10093
Posts: 127245
Administrators:
Fiddlerman: 16205, KindaScratchy: 1760, coolpinkone: 4180, BillyG: 3741, MrsFiddlerman: 2, Jimmie Bjorling: 0, Mouse: 4334
©
Simple:Press
—