Check out our Forum Rules. Lets keep this forum an enjoyable place to visit.
A
A
A



Topic RSS

Uncomfortable with new violin...normal??
Is there a "getting to know each other" period with a new violin?





(0

votes)

February 26, 2013 - 4:00 pm
Member Since: February 7, 2013
Forum Posts: 49

Offline
A few weeks ago, I picked up a little german violin with a wonderful deep rich sound. I had 2 stuck pegs, so couldn't really tune it for real play. I played the G string alot & admired the patina! I decided to drive it 200 miles to the closest violin repair shop last Friday & have it checked out. Ended up with a new tailpiece w/tuners (easier for me),  2 stuck pegs that he took care of, new Dominant strings, & reshaping/slimming of the bridge.
So now it's all set.....I CAN"T PLAY IT!!!  First, it's darn uncomfortable to hold. I think I got that one figured out with a new chinrest & shoulder rest from FM that I will be ordering in a few days. I feel like I'm back at week 1 every time I try to play it....screeching, squeaking, scratching strings....finger placement problems with my fingers stumbling all over each other....it's awful! 

I can cut down on the screeching noise if I put more pressure on the bow than I usually use. Yes, I have rosin on the bow. To see if it was something with me, I grabbed my little chinese violin & had no problems.
I told myself that I just have to keep playing it & get used to it....also the strings are brand new....but my little chinese friend is calling me & I miss really playing. So, what in the world is happening....is it normal that a different violin feels like a foreign object?  Are the awful noises due to the new strings? It's very discouraging as it sounds beautiful at times....sometimes....


February 26, 2013 - 4:16 pm
Member Since: May 4, 2012
Forum Posts: 2379

Offline




It can take time to get used to a new or different instrument.  They are all a little different.  But play on the new one a while each day, and you will probably get more comfortable on it within a couple of weeks.  You may have to get used to a bit different bow pressure/speed/point-of-contact to be able to consistently get the "beautiful" to come from it.  Fingering the notes may feel a bit different at first.
In the meantime, no reason not to play on your "little Chinese friend" as well. 
Are both instruments strung with the same kind of strings?
"This young wine may have a lot of tannins now, but in 5 or 10 years it is going to be spectacular, despite the fact that right now it tastes like crude oil. You know this is how it is supposed to taste at this stage of development." ~ Itzhak Perlman

February 26, 2013 - 5:01 pm
Member Since: February 7, 2013
Forum Posts: 49

Offline
Thank you Daniel....I will continue to fight the battle! It is very different in every way as you mentioned, which is why I'll have to devote my time to this one only until I get used to it. I think going back & forth between the two will only make it more confusing!
The other has Tonica strings. This one has brand spankin new 4 day old Dominants. The chinese is bright & happy....this one is dark & moody...if I can conquer it, I'll have a violin for every mood!

February 27, 2013 - 12:07 am
Member Since: November 8, 2012
Forum Posts: 555

Offline

Screetching for me usually ends up being 3 things. Not enough bow pressure, not enough rosin, or sliding the bow up/down the strings (unintentionally)
Its possible your bridge is not cut right or at all. Did that get replaced by chance? Also, I think it was either Danial composer, FM or Ferret (or others forgive if i forgot to mention you) once (or twice) said to me, it very well could be the tuners vibrating or the tail piece itself loose and also vibrating. Make sure the strings are in the slots at the nut and set in the bridge (using graphite for lubrication)
As a final note, I had to replace my original bow. I was just not right. I still have it and it still sounds horrible. Its almost like the hair grain is not all the same direction or something. It screeches like an old owl fighting an alley cat.
"I find your lack of Fiddle, disturbing" - Darth Vader

February 27, 2013 - 6:15 am
Member Since: September 7, 2012
Forum Posts: 985

Offline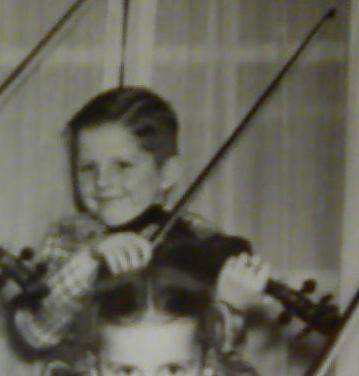 February 27, 2013 - 3:30 pm
Member Since: January 21, 2012
Forum Posts: 2647
@ dogandponyshow: If your luthier set up your new German violin properly, then everything should be right/correct. String height at the nut and bridge end of the fingerboard, proper bridge height, proper scoop in the fingerboard and spacing between string's. The distance between the nut and bridge should be the same on both violin's, if they're not the same, your finger placement will be different from one to the other. If the set-up on both violin's are the same, they should play identical, but like cdennyb said, every instrument is different from another. Just keep playing it and you WILL get used to it, it just take's time.
Good luck with it.

March 3, 2013 - 9:09 pm
Member Since: March 28, 2012
Forum Posts: 822

Offline
Hang in there it was PAINFUL for me when I started but about a month after maybe 3 weeks the vilin felt as if it belong on my shoulder. Have fun adjusting your shoulder rest, try with and without, be careful of your position. You'll buils up those muscles you had no idea existed and will feel great soon.
"It can sing like a bird, it can cry like a human being, it can be very angry, it can be all that humans are" Maxim Vengerov

March 3, 2013 - 9:29 pm
Member Since: February 7, 2013
Forum Posts: 49

Offline
Thanks all for the kind words & advice. I think I've got this one taken care of. I changed my strings....the Dominants were unraveling 

(A & D) & now, the screeching & strange feedback noises are all gone! I ordered new chinrest & shoulder rest a few days ago, hoping that will solve the comfort problem. Having a blast working on some Beatles tunes....thanks again!!


Forum Timezone:
America/New_York
Most Users Ever Online: 231
Currently Online: MostafaAyman96
57 Guest(s)
Currently Browsing this Page:
1 Guest(s)
Members Birthdays

Upcoming
Shell, Squiryl, Schaick, GlassTownCur, mcassidy2004, Reptile Smile, MyMing, CarolineNH, JamesRSmithJr, SethroTull86
Top Posters:
Mad_Wed: 2849
Barry: 2673
Fiddlestix: 2647
Oliver: 2439
DanielB: 2379
Kevin M.: 1969
damfino: 1907
cdennyb: 1814
TerryT: 1726
Ferret: 1575
Member Stats:
Guest Posters: 2
Members: 20519
Moderators: 0
Admins: 8
Forum Stats:
Groups: 16
Forums: 58
Topics: 7728
Posts: 96594
Newest Members:
fhntvchuryic, borulchuryic, jamixq69, Jamesthast, marvinsg60, MalaWheva
Administrators: Fiddlerman: 14222, KindaScratchy: 1732, coolpinkone: 4168, BillyG: 2826, MrsFiddlerman: 1, Jimmie Bjorling: 0, SimplePressHelp: 0, peopleshost: 0