Check out our Forum Rules. Lets keep this forum an enjoyable place to visit.
A
A
A



Topic RSS

Fiddlerman Carbon Fiber Bow
Information and question.





(0

votes)

August 10, 2015 - 9:30 am
Member Since: January 29, 2015
Forum Posts: 3

Offline
Today, two days after my 78th birthday, I wanted to report on the Fiddlerman Carbon Fiber Bow after 30 days using it. I had called the shop because I had some concerns with the way it tightened and loosened, and was told by Pierre that if I needed to send it back I could---that I would be made happy. I soon got it working smoothly and I just love the thing. I'll never own a $500 bow to compare it with, of course, but it is a wonderful bow for me. I'm a self-teaching student who played drums professionally as a teen with a well-known Western Swing Band and who fooled around with trumpet in Beginner's Band and never really understood music. Now I want to add a question after a short preamble. 
Both Allison Sparrow and Pierre Holstein have given good reviews to the Cecillio CVN 700 violin.  I started with a CVN 400 and still try to play it, and at my skill level there would never be much point in a really expensive violin, even a $750 violin, but the reviews and the sound for the 700 were so good I might move up that that violin.  Do any of you here have an informed opinion? 
Tex (aka Kokomo Bob Snort)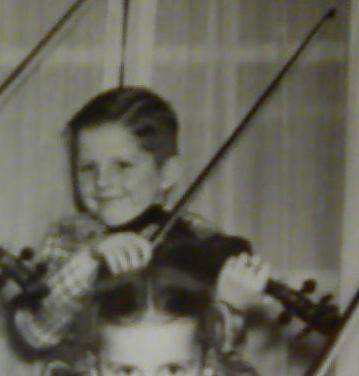 August 10, 2015 - 2:56 pm
Member Since: January 21, 2012
Forum Posts: 2647

August 10, 2015 - 4:39 pm
Member Since: March 18, 2015
Forum Posts: 62

Offline

I started with the mendini 300, which as I understand it is about as low as you can get in Cecilio/mendini lines and still have a playable instrument.  I loved it so much that after 6 months I started looking for an upgrade. I decided I would save up for a Fiddlerman Concert violin. I was browsing around Amazon and came across an open box CVN-700 for $200. I also watched Alison and Pierre's reviews and decided I'd be crazy not to grab it. It's a beautiful violin and I absolutely love it. However, if I hadn't found that deal and I had $500 to spend I would have picked the Fiddlerman. I felt confident with Amazon's return policy that it was worth taking a risk ordering the CVN-700 even though Cecilio reviews are mixed. My violin is great, but Fiddlerman violins are tested and adjusted before being sent out so you know you are getting a great instrument. 

damfino
my own little world
August 10, 2015 - 6:12 pm
Member Since: July 23, 2015
Forum Posts: 1906





If the price I see is average ($499+) I would recommend going for the FM concert Violin. The FM violins already have all the tweaking done when it comes. I don't have a lot of experience, but my violin teacher was impressed with it, and compared it to the Eastman violins that music shop rents (which I was curious about the price, so I took a look and they run around $1,200). 
unless you find that violin cheaper like the previous poster did, I would recommend (going off how much my teacher liked my concert violin, and how much I as a beginner love it) going for a Fiddlerman tested and approved one. 
☆•*¨*•¸¸¸.•*¨*•☆•*¨*•¸¸¸.•*¨*•☆•*¨*•.¸¸¸.•*¨*•☆
World's Okayest Fiddler
☆•*¨*•.¸¸¸.•*¨* •☆•*¨*¨*•¸¸¸.•*¨*•☆

August 11, 2015 - 8:44 pm
Member Since: January 29, 2015
Forum Posts: 3

Offline

damfino
my own little world
August 12, 2015 - 11:00 am
Member Since: July 23, 2015
Forum Posts: 1906






December 18, 2016 - 8:48 pm
Member Since: August 19, 2015
Forum Posts: 37

Offline

The Fiddlerman Carbon Fiber Bow feels great to play with. Does anyone have tried another carbon fibre bow that feels similarly great and provides clearer, sweeter tone?
It seems people prefer carbon fibre bows for easy handling; and wooden bows for tone?
"Music washes away from the soul the dust of everyday life."

coolpinkone
California, the place of my heart
December 18, 2016 - 9:09 pm
Member Since: January 11, 2012
Forum Posts: 4168






I have tried the FM bow and I love it.  I have tried another bow that was quite similar from another place before I found FM.  It is probably the same as the FM Fusion bow that he offers.  
I am investingating wood bows.   I use one now.  It is just a 50 dollar wood bow.  My issue with it is that it is circumference-wise different and it is a bit heavier than my FM carbon fiber bow.  So it seems to be screwing up my bowing, as I had a relaxed and more straight bow going, and lately it is not the case.
Good luck with your question, I hope others chime in.
Cheers,
Toni
Vibrato Desperato.... Desperately seeking vibrato

Forum Timezone:
America/New_York
Most Users Ever Online: 231
Currently Online: BillyG
50 Guest(s)
Currently Browsing this Page:
1 Guest(s)
Members Birthdays

Upcoming
Sofia Leo, TKDennis, Ms-G, FiddleDetroit, CookiesViolin, Stephen, Bobby, Dorque, Elaisa, Michael Browder, EBurrell, Gordon Shumway, ViolinD, dougga
Top Posters:
Mad_Wed: 2849
Barry: 2673
Fiddlestix: 2647
Oliver: 2439
DanielB: 2379
Kevin M.: 1969
damfino: 1906
cdennyb: 1814
TerryT: 1726
Ferret: 1575
Member Stats:
Guest Posters: 2
Members: 19745
Moderators: 0
Admins: 7
Forum Stats:
Groups: 16
Forums: 58
Topics: 7672
Posts: 96050
Newest Members:
adrianrj69, kristina16, mercedesnm18, Pavlyukachuryic, sidneyjn1, Woodhamchuryic
Administrators: Fiddlerman: 14138, KindaScratchy: 1732, coolpinkone: 4168, BillyG: 2781, MrsFiddlerman: 0, Jimmie Bjorling: 0, SimplePressHelp: 0