Join the forum discussion on this post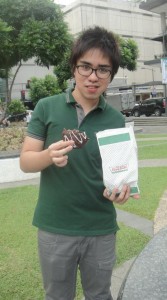 • If you like, please begin by telling us anything you would like to about yourself. Age, place of birth, residence, etc.
I'm Roque Valmoria, I'm 17 years old turning 18 this July 9. I was born in East Avenue Medical Center, Quezon City Metro Manila. My Father is a music lover, he's a guitarist and karaoke singer LOL! but I really didn't appreciate any music since I saw David Archuleta auditioning for American Idol Season 7 he really inspiring me until today. Since then I started to learn through internet specially on youtube, my first piece that I completed was " A Thousand Miles by Vanessa Carlton" but inspired by David
• What made you decide to play the violin?
I saw Henry Lau playing while dancing the 3rd movement of Vivaldi's "Summer" also Sue Son from BGT from youtube. And I really love listening to any sad and slow violin piece. And I thought violin was easy to play so I started dreaming my self playing a violin.

• How long have you been playing the violin?
I've been playing violin for 8 and a half months, and I'm proud to say that I just learned violin all by myself of course with the help of Fiddlerman.com but I also dreamed attending to a formals music class.

• How often do you play? How long are your practice sessions?
I play violin everyday. I don't limit my practice session as long I'm in mood to play. But honestly my longest minute of practicing violin is between 20-30 mins lol.

• In your opinion, what's your proficiency on the violin?
• Your greatest personal experience with playing?
Nothing yet, I should learn more.

• If any, what other instruments do you play?
Go back to the first question lol.

• What does music mean to you?
Music is the way of expressing yourself, and you're playing music because you love it and not to impress other people.

• What are your goals for playing violin? short and long.
Of course every violinist are dreaming to be professional, but for now I'm focusing on dynamics and intonation to express music perfectly.

• What type of violin training?
No idea? lol

• How do you warm up?
Do I need to warm up? lol I've been playing violin for months but I just play directly to the piece.

• What is your favortie type of music?
Slow classiccal piece, OPM, and David's songs x).

• What is your favorite piece of music? Why?
This question is kinda hard coz I fell in love into a lot of music, but….uhmmm…. I chose… Obito's theme. Because it's my new video lol.

• What are your 2 favorite things to do other than playing violin?
1.Playing games on computer especially DoTA and bRO.
2.Petting my pet cavies, they're so cute :3

• Do you come from a musical family? If so please tell us about them.
No, not really because only my Dad, Sister, and I can play at least one musical instrument.

• Are you a member of any orchestra?
No, but I wished too :3

• Do you ever perform publicly?
Not yet, maybe 5 years later haha.

• If you don't mind, please share with us information about your violin and bow and if you have several please tell us about them as well.
I have my new violin it's antique styled but it's cheap so it's not high end like those hand crafted violin, my bow is just a basic bow nothing special on it and I shifted to Synthetic core from Steel core, I've been using Pirastro Tonica since Zyex is hard to find.