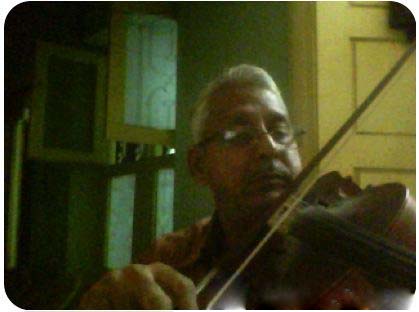 • Please begin by telling us anything you would like to about yourself. Age, place of birth, residence, etc.  63 years – Madurai, India – Tuticorin, India.
• What made you decide to play the violin?  When I was 12 years old, for the first time, I attended a live carnatic music concert and there I was attracted by the violin.
• How long have you been playing the violin?  Since August 12, 2010.
• How often do you play? How long are your practice sessions?  Before February 2012, I was practicing a total of an hour every day. Now I practice 3 hrs a day.
• In your opinion, what's your proficiency on the violin?  If there is an Intermediate and Advanced category in the Beginner's section, I may be classified under Advanced Beginner category.
• Your greatest personal experience with playing?  It happened one day in May 2012.  My violin came alive.  I could generate sweet sound and was smooth to play and I wanted to go on and on and on..
• What other instruments do you play?  I don't play any other instrument.  Thinking of taking up flute.
• What does music mean to you?  I need air to breathe, water to drink and music to hear and feel.
• What or who has been your greatest influence?  A seven-string carnatic violinist T.Chowdiah
• What are your goals for playing violin? Short and long.  Short Term: To learn all the major and minor scales. Long Term: To play Beethoven's Violin Concerto Op.61
(I am confident at my current pace, I can play it in another 300 years..)
• What type of violin training?  I am taking weekly lessons from a teacher who is located nearly 35miles/56 Km away
• How do you warm up?  I play the open strings and then one or two scales and a very well known piece…all consuming nearly 45minutes.
• What is your favorite type of music?  Classical music in Western, Carnatic and Hindustani.
• What is your favorite piece of music? Why?  Beethoven's violin concerto Op. 61;  The opening drum beats and the 3rd movement transports me to a new world.  There are other pieces as well.
• What are your 2 favorite things to do other than playing violin?  Reading books and listening to music.
• Do you come from a musical family? If so please tell us about them.  My mother learned carnatic music for some years.  She had a beautiful voice and to me she was better than world famous carnatic vocalist M.S.Subbulakshmi.  My daughter is learning violin.  My son plays Guitar, Keyboard and Harmonica.  My wife plays the veena
• Are you a member of any orchestra?  I hope to be a member in another 100 years.
• Do you ever perform publicly?  I practice in the open area in front of our house.(if you treat this as my public performance)
• What do you work with?  I am a retired banker.
• Would you please share with us information about your violin and bow and if you have several please tell us about them as well.  Mine is a Granada MV888 violin, made in China.  It cost me $100.  I am using the heavy bow that came with it.  I like my violin and the bow.